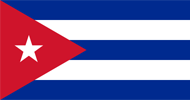 Travel Vaccines and Advice for Cuba
Cuba is an exotic travel destination that is slowly opening up for more tourists.
Strong influences from Spanish and African roots make it culturally diverse. Exotic rhythms like salsa and rumba can be found everywhere in Cuba, as many dances and music originated there.
Cuba has remained relatively untouched by outside influence, making it a unique destination.
Do I Need Vaccines for Cuba?
Yes, some vaccines are recommended or required for Cuba. The CDC and WHO recommend the following vaccinations for Cuba: hepatitis A, hepatitis B, typhoid, cholera, rabies, meningitis, polio, measles, mumps and rubella (MMR), Tdap (tetanus, diphtheria and pertussis), chickenpox, shingles, pneumonia and influenza.
COVID-19 vaccination is recommended for travel to all regions, both foreign and domestic. Check with your local Passport Health clinic if immunization is offered in your area.
See the bullets below to learn more about some of these key immunizations:
See the tables below for more information:
Recommended Travel Vaccinations for Cuba

VACCINE
HOW DISEASE SPREADS
DETAILS

COVID-19
Airborne & Direct Contact
Recommended for all unvaccinated individuals who qualify for vaccination
Hepatitis A
Food & Water
Recommended for most travelers
Hepatitis B
Blood & Body Fluids
Recommended for travelers
to most regions.
Typhoid
Food & Water
Recommended for travelers
to most regions.
Cholera
Food & Water
Though rare, cholera is present in Cuba. Vaccination may be recommended for long-term travelers, aid works and those visiting rural areas.
Rabies
Saliva of Infected Animals
High risk country. Vaccine recommended for long-term travelers and those who may come in contact with animals.
Routine Vaccinations for Cuba

VACCINE
HOW DISEASE SPREADS
DETAILS

Measles Mumps Rubella (MMR)
Various Vectors
Given to anyone unvaccinated and/or born after 1957. One time adult booster recommended.
TDAP (Tetanus, Diphtheria & Pertussis)
Wounds & Airborne
Only one adult booster of pertussis required.
Chickenpox
Direct Contact & Airborne
Given to those unvaccinated that did not have chickenpox.
Shingles
Direct Contact
Vaccine can still be given if you have had shingles.
Pneumonia
Airborne
Two vaccines given separately. All 65+ or immunocompromised should receive both.
Influenza
Airborne
Vaccine components change annually.
Meningitis
Airborne & Direct Contact
Given to anyone unvaccinated or at an increased risk, especially students.
Polio
Food & Water
Considered a routine vaccination for most travel itineraries. Single adult booster recommended.
Dengue is one of the few mosquito-borne diseases present in Cuba. Unlike many other Caribbean nations, Cuba was able to avoid a major Zika outbreak. Mosquito repellents and netting are recommended for Cuba.
Rabies is present in the country as well. Consider vaccination, especially if going to rural areas or staying for more than two weeks.
See our vaccinations page to learn more about these infections and vaccines. Ready to protect yourself? Book your travel health appointment today by calling or schedule online now.
Is There Cholera in Cuba?
While Cuba is more developed than some other Caribbean nations, cholera is still a threat to visitors to the island nation.
The most recent outbreak of cholera occurred in January 2015. But, it is believed cholera cases can go unreported by visitors to and citizens of Cuba.
The best protection against cholera is through vaccination. Passport Health clinics offer the cholera vaccine. Book your cholera vaccination appointment today!
Do I Need a Visa or Passport for Cuba?
Yes, all the U.S. visitors need to have a visa to enter the country. Currently there is no regular tourist visa for U.S. citizens. All the travelers need to fall into one of the 12 Visa categories.
Cuba Entry Requirements

Do I Need A…
For My Trip to Cuba?

Passport
Tourist Visa
Business Visa
Vaccinations
Sources: Embassy of Cuba and U.S. State Department
What Is the Climate Like in Cuba?
The climate in Cuba is sub-tropical. The average year-round temperature is approximately 77°F and there's plenty of sunshine.
The hottest time of the year is summer, from June to August. Summer is also the most festive time of the year with carnivals and event held in many cities throughout the country.
Cuba has a rainy season from May to October. Occasional bursts of rainfall can be expected in the afternoons. Cuba remains a popular summer destination, as the rainfalls bring relief in the heat.
December, January, and February are the coolest months of the year. During the winter months, occasional cold fronts can decrease the temperatures to the low 50's for short periods of time.
How Safe Is Cuba?
Cuba is a relatively safe country for travelers. The roads are good condition, but driving at night should be avoided, as there are no streetlights. Crimes are very uncommon in there. There are virtually no firearms or illicit drugs.
But, still practice common sense, since pick-pocketing and opportunistic theft are popular as in every tourist resort.
Strong military and police presence can be expected. The biggest threat to traveler's safety is attending demonstrations and gatherings, as even peaceful demonstrations can turn confrontational without warning.
What Should I Pack for Cuba?
While more developed than many other Caribbean nations, it is still important to bring key items with you to Cuba.
Cash – Most credit and debit cards issued in the U.S. are not accepted in Cuba. Most transactions are carried out in cash. U.S. dollars can be changed in most national exchange offices. Make sure to bring enough cash to last during your vacation.
Swimsuit – Get ready for a warm weather and hot sun! Bring your own swimsuit, to make sure you enjoy your holidays to the fullest.
Sunscreen – The endless hours by the pool might start to sting if you don't protect your skin. Bring your own sunscreen, as outside of Havana and Varaderoas it might be hard to find.
First-aid kit – Cuba's pharmacies can only offer a small selection of medications. Pack your own medicine kit equipped with bandages, pain killers, digestion medicine and any prescriptions.
Insect repellent – Tropical insects can carry various diseases. To avoid any health threats caused by the insects, it is important to protect yourself from them. It is best to bring your own repellent, as the Cuban stores and pharmacies may have a limited selection.
Visiting the Varadero
Avoid an Embarrassing Stop
Varadero is a popular place in Cuba for people to go on vacation because it has beautiful beaches and many fun things to do.
There are over 20 kilometers of white sandy beaches where you can swim, sunbathe, and play in the water. You can also try different water activities like snorkeling, kayaking, and windsurfing.
Varadero has many natural areas to explore, like the Varahicacos Ecological Reserve which has hiking trails and caves to explore. If you like to play golf, Varadero has some golf courses with amazing views.
You can also learn about the local culture by visiting places like the Bellamar Caves, the Tropicana Cabaret, and the Josone Park. If you enjoy trying different foods, there are many restaurants in Varadero that serve Cuban and international dishes.
At night, there are bars and nightclubs where you can dance and have fun.
U.S. Embassy in Cuba
All Americans visiting Cuba should register online with the U.S. Department of State before departure. This will inform the office of your travel plans within the country and will allow them to reach out in the case of an emergency or evacuation.
Once in Cuba, the information for the U.S. Embassy is:
U.S. Embassy Havana
Calzada between L & M, Vedado
P. O. Box 606 Village Market
Havana, Cuba
Phone: (+53) 7839-4100
Visit the Embassy to Cuba website before departure to confirm correct contact details for the office.
Stay safe abroad with Passport Health. Call or book online now and start traveling safely today!
Customer Reviews
Passport Health – Travel Vaccines for Cuba