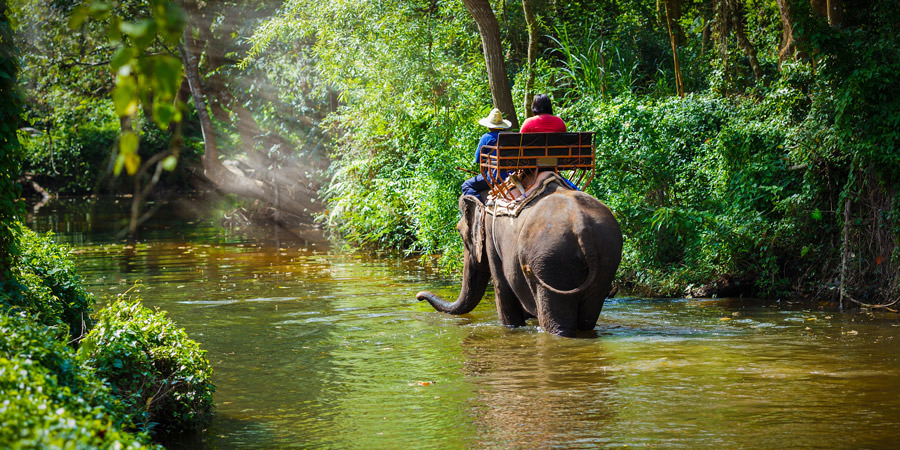 Japanese Encephalitis Vaccine
What Is Japanese Encephalitis?
VIDEO: My Japanese Encephalitis Story

Via Beffinee on YouTube
Japanese encephalitis is a mosquito-borne virus found throughout Asia. It is closely related to other infections like West Nile Virus. It is the most common cause of vaccine-preventable encephalitis in Asia. Travelers who are staying in regions with JE for an extended period of time should be vaccinated against the illness.
How Does Japanese Encephalitis Spread?
JE is a mosquito-borne disease, meaning it spreads through mosquito bites. A mosquito will usually spread the virus to pigs or birds, the virus cannot pass from human-to-human. Human-to-mosquito transmission is rare.
Travelers and residents should take extra precautions in the summer and fall. This time is when spread is most likely.
What Is the Japanese Encephalitis Vaccine?
A Japanese encephalitis vaccination provides the best protection. Two doses given 28 days apart provide a more complete barrier against infection.
The vaccine is considered very safe by the CDC and other health organizations.
Do I Need a Japanese Encephalitis Booster Dose?
Yes, booster doses of the Japanese encephalitis vaccine are recommended for individuals who receive the first dose. Second doses are usually given within seven to 28 days and will provide protection for over a year. A third dose of the vaccine is given one year after the first dose and offers at least six-years protection.
Individuals between the ages of 18 and 65 qualify for an accelerated second dose booster at seven days instead of 28. Those outside the 18 to 65 age range will need to follow the 28 day booster guidance.
Who Should Receive a Japanese Encephalitis Vaccine?
Vaccination is recommended for some types of travelers and individuals:
Travelers to regions with active transmission
Travelers to rural areas where infection could occur
Travelers staying longer than one month
Travelers engaging in certain activities that pose more risk
To learn if the vaccine is right for your trip, speak with a travel health specialist by calling or book an appointment online today!
Where Is Japanese Encephalitis Found?
Risk areas of Japanese encephalitis are present through most of East Asia. Countries with known risk include: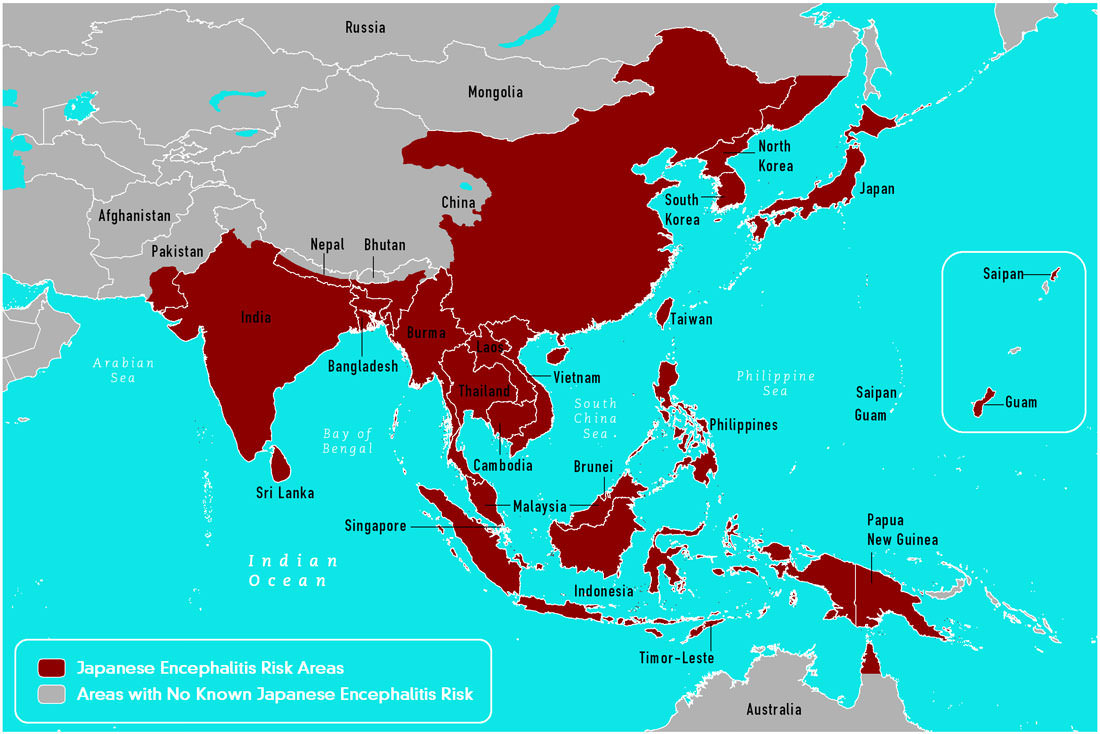 Source: CDC
Any region of the Western Pacific with temperate climate and the presence of mosquitoes have the virus. This section's map provides an idea of the highest risk areas.
Vaccination is required for some military and government personnel traveling to these regions. Be sure to check any requirements before your trip.
What Are the Symptoms of Japanese Encephalitis?
The majority of JE cases show no symptoms. It can take five to 15 days for symptoms to develop. Travelers may have returned home or is in the middle of a trip when it becomes serious.
Symptoms often start mild with fever, headache or vomiting. Over the next few days, there can be mental or neurological changes. Weakness and movement problems occur. Seizures are common, especially among children.
About 20 to 30 percent of those infected die. Between 30 and 50 percent of survivors have serious mental, neurological or cognitive problems. Paralysis similar to polio can also occur.
There is no treatment for Japanese encephalitis, only supportive care. This means an infected person can be made comfortable, but may not always recover.
Where Can I Get a Japanese Encephalitis Vaccine?
Passport Health clinics throughout the country carry JE vaccine. Schedule your vaccination today by calling or book online now.
Customer Reviews
Passport Health – Japanese Encephalitis Vaccination
Overall rating: 5 stars – 5 reviews
"

Excellent Knowledge & Care

"

"Knowledgeable nurse practitioner. Useful traveler products. Convenient. Good place for the Japanese encephalitis vaccine."
"

Very nice, professional staff

"

"We were in only to get a japanese encephalitis vaccination for my 16 y.o. old son. The nurse was remarkably nice, knowledgeable, and just very good with both me and my son. She explained what he needed to do during his travels, and did so in a way that made him feel respected (i.e. not in a condescending way), which ultimately makes it that he actually listened and took in the advice. We walked out both saying to each other this was one of the best health care experiences we have ever had."
"

Very Accommodating

"

"For my first visit to Passport Health, Reston, I was in a group of 4 to receive the Japanese Encephalitis vaccine ahead of a trip to India. Everyone else in the group had all the other vaccinations required, and even though I already had a later appointment scheduled, they accommodated my request to have my other vaccines administered during the same visit, so that they could be included in the billing for the JE vaccines on our corporate credit card. They went out of their way to make the whole experience both logistically and physically painless! Thank you!"
"

Vaccines for Anywhere

"

"The personnel that interviewed and counseled us on inoculations for China, SE Asia and South America recommended we also receive Japanese Encephalitis, which made sense. We did both inoculations with the second Japanese Encephalitis scheduled for approximately 4 weeks later. The entire counsel session was very professional, yet easily understood."
"

Perfect!

"

"Called yesterday for appointment, had consultation with an RN today. Incredible experience. Obviously got in super quickly, was provided with health & safety plan, given education/options, with absolutely no pressure tactics. Walked out with my Japanese encephalitis vaccine and scripts, ready to travel safely! Thank you!"
On This Page:
What Is Japanese Encephalitis?
How Does Japanese Encephalitis Spread?
What Is the Japanese Encephalitis Vaccine?
Who Should Receive a Japanese Encephalitis Vaccine?
Where Is Japanese Encephalitis Found?
What Are the Symptoms of Japanese Encephalitis?
Where Can I Get a Japanese Encephalitis Vaccine?