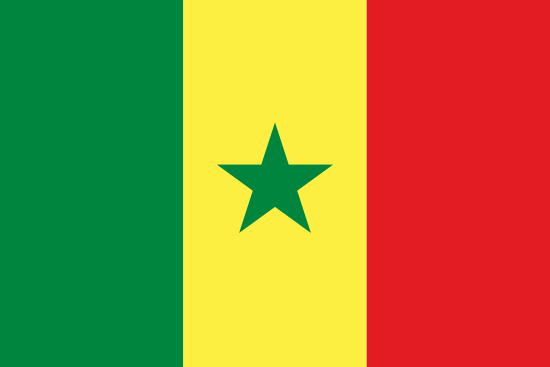 Travel Vaccines and Advice for Senegal
Senegal is known as 'The Country of Teranga' or the 'The Country of Hospitality'. This name is very reflective of the experience travelers have when visiting the country; locals are very hospitable and welcoming. There are local markets to explore filled with mouthwatering food, handmade fabrics, and amazing music.
Dakar, the country's capital, is rapidly growing with a great nightlife and a wide variety of amazing restaurants. On the coast are amazing beaches that are great for surfing or wading in warm water. To the north are beautiful baobab trees and to the west mangroves and wildlife to see.
Travelers can experience the culture with year-round music and art festivals, vast museums, and colonial ruins.
Do I Need Vaccines for Senegal?
Yes, some vaccines are recommended or required for Senegal. The CDC and WHO recommend the following vaccinations for Senegal: hepatitis A, hepatitis B, typhoid, yellow fever, rabies, meningitis, polio, measles, mumps and rubella (MMR), Tdap (tetanus, diphtheria and pertussis), chickenpox, shingles, pneumonia and influenza.
See the bullets below to learn more about some of these key immunizations:
See the tables below for more information:
Recommended Travel Vaccinations for Senegal

Hepatitis A
Food & Water
Recommended for most travelers
Hepatitis B
Blood & Body Fluids
Accelerated schedule available
Typhoid
Food & Water
Shot lasts 2 years. Oral vaccine lasts 5 years, must be able to swallow pills. Oral doses must be kept in refrigerator.
Yellow Fever
Mosquito
Required if traveling from a region with yellow fever. Recommended for all travelers over 9 months of age.
Rabies
Saliva of Infected Animals
High risk country. Vaccine recommended for long-term travelers and those who may come in contact with animals.
Meningitis
Airborne & Direct Contact
Located in the meningitis belt, vaccination is recommended during the dry season (Dec. – June)
Routine Vaccinations for Senegal

Measles Mumps Rubella (MMR)
Various Vectors
Given to anyone unvaccinated and/or born after 1957. One time adult booster recommended.
TDAP (Tetanus, Diphtheria & Pertussis)
Wounds & Airborne
Only one adult booster of pertussis required.
Chickenpox
Direct Contact & Airborne
Given to those unvaccinated that did not have chickenpox.
Shingles
Direct Contact
Vaccine can still be given if you have had shingles.
Pneumonia
Airborne
Two vaccines given separately. All 65+ or immunocompromised should receive both.
Influenza
Airborne
Vaccine components change annually.
Polio
Food & Water
Considered a routine vaccination for most travel itineraries. Single adult booster recommended.
Travelers should take antimalarials before, during, and after their trip to prevent malaria. Travelers should also take steps to avoid mosquito bites.
The risk for rabies is a risk for some travelers. If you will be involved in outdoor activities, work with animals, or who plan on taking an extended trip, consider vaccination.
The government of Senegal requires proof of yellow fever vaccination if you are traveling from a country with a risk of yellow fever.
For more details on any of the above vaccinations, visit the detailed Passport Health specialty vaccination pages or make an appointment with your local Passport Health by calling or book online now.
Customer Reviews
Passport Health

Travel Vaccines for Senegal
Overall rating:

5.0

stars –

11

reviews
"

Excellent Resource for World Travelers

"

"Bottom line: I feel 100% more ready for my trip to Senegal…with a clear understanding of how to stay healthy while I am there. The staff is TERRIFIC–very knowledgeable, and they act like everyplace in the world is a wonderful place to go."
"

Wonderful Preperation

"

"The ladies, both the receptionist and the RN, took excellent care of me and gave me a great overview of the possibilities of what I may come into contact with while in Dakar, Senegal. I will always come back to Passport Health for future out of country trips. Thank you both!"
"

Very helpful!

"

"The clinician at the location in Roswell, GA was very helpful and generally interested in me as a person. I had a good experience and am now set to go to Senegal, Africa!"
"

Great Immunizations

"

"The nurse who helped us did a great job in providing the needed information for our trip to Senegal and the yellow fever vaccination we needed. Thank you so much!"
"

What a Trip I'll Have

"

"I loved meeting the nurse. She was very helpful in going over everything that I may need for my time abroad and what I should do as far as staying healthy while I'm there. I feel confident that now I know more about what to expect, health and safety wise, for my time in Senegal!"
"

Informative

"

"My husband has used Passport Health over the years due to his work overseas. Now that I have to go to Senegal, I made the call too. They had a binder ready for me with all kinds of great information. They reviewed each disease in the area and suggested shots based on my past vaccine history. They were so helpful and knowledgeable. I even purchased the military grade insect repellent from them. I'm all set!"
"

Second Visit

"

"I took my daughter to Passport Health in August in preparation for a student travel program to Senegal. We were pleased with the support and suggestions that were provided at that time. Now, in preparation to visit to my daughter, it was my turn. I was pleased with the comprehensive information and the answers to my questions. Thank you for the one-stop convenience and great service!"
"

Excellent

"

"I went in because my daughter needed shots for her mission trip to Senegal. Our nurse was very good. She gave us a lot of information about Senegal and helped us figure out what we needed. I just wish you would submit insurance. But other than that it was great."
"

Knowledgeable

"

"The nurse explained clearly what vaccine and supply options were available and what was recommended for our trip to Senegal. She took the time to answer all our questions. Very glad we used Passport!"
"

Excellent, Efficient Service

"

"My mother and I are traveling to Senegal for Christmas to meet my sister. Our nurse was affable yet efficient in delivering crucial information on what we needed vs. what we may want. When we decided on a particular batch of vaccines, she gave us what we needed and had us on our way! Took only about 30-45 minutes."
"

Great experience

"

"Very thorough explanation. I was pleasantly surprised to receive such a detailed report on Senegal. Knowledgeable nurse who really knew his stuff."
Do I Need a Visa or Passport for Senegal?
A visa is not required to visit Senegal. But, if you intend to stay for longer than three months, you will need to get a 'Carte d'Etranger' from local authorities.
Senegal Entry Requirements

Passport
Tourist Visa
Business Visa
Vaccinations
Sources: Embassy of Senegal and U.S. State Department
All travelers visiting Senegal must have a passport that is valid for at least three months beyond the intended date of departure. Additionally, you can be refused entry if you do not have evidence of return or onward travel.
For more information contact a Passport Health Passport and Visa specialist by calling or by filling out our online form.
What is the Climate Like in Senegal?
Senegal is generally tropical, meaning it is very hot and humid. There is a rainy season from May to November with strong winds and a dry season from December to April with hot, dry winds. The warmest month is August, the coolest month is February, the wettest month is September, and the driest month is January.
How Safe is Senegal?
Senegal is a relatively safe country to visit. It has not experienced any recent terrorist attacks; but, terrorist groups are present in West Africa and have targeted westerners. All travelers should maintain situational awareness when traveling.
Street crime is very common in Senegal, particularly in urban areas. U.S. citizens have been robbed at knife-point, particularly in the Corniche d'Ouest area. Take precautions when visiting, such as not walking alone after dark and avoiding carrying valuables in public. Additionally, be wary of scam artists who may request funds from you.
Visiting the Fathala Wildlife Reserve and Lodge
17 km (10.5 mi) south of Toubakouta is the Fathala Wildlife Reserve and Lodge, a 60 square-kilometer reserve created in 2006. The area is home to the giant eland, antelopes, giraffes, rhinos, warthogs, buffaloes, and various monkey species. Travelers can also spend the night in luxury safari tents and go on sunset boat trips or birding safaris.
What Should I Take to Senegal?
A money belt – Due to the amount of pick-pocketing that occurs, a money belt will allow you to keep your money and passport safe.
Bug spray – The climate in Senegal is hot and humid, meaning there are plenty of bugs, including mosquitoes.
An inhaler (if you have respiratory problems) – Due to all the sand in the area, some individuals may notice their respiratory issues become more severe.
Walking shoes or sandals – there are lots of places to explore and a good pair of shoes will keep your feet from hurting at the end of the day.
U.S. Embassy to Senegal
When traveling it is very helpful to find out exactly where the U.S. embassy or consulates are located. Keep the address written down in case you have a legal problem, you lose your passport, or you want to report a crime. Be sure to keep a copy of your passport with you in case you lose the original.
U.S. Embassy to Senegal
Route des Almadies
Dakar, Senegal
Telephone: +(221) 33-879-4000
Emergency After-Hours Telephone: +(221) 33-879-4444
DakarACS@state.gov
Visit the Embassy to Senegal website before departure to confirm correct contact details for the office.
If you have any questions about traveling to Senegal or are wondering what shots you may need for your trip, schedule an appointment by calling or booking online today.
On This Page:
Do I Need Vaccines for Senegal?
Do I Need a Visa or Passport for Senegal?
What is the Climate Like in Senegal?
How Safe is Senegal?
Visiting the Fathala Wildlife Reserve and Lodge
What Should I Take to Senegal?
U.S. Embassy to Senegal