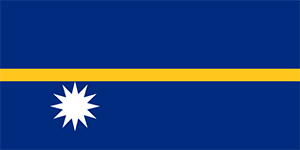 Travel Vaccines and Advice for Nauru
Nauru is an island country located in the South Pacific Ocean. Its closest neighbor is Banaba Island 186 miles east. It is the third smallest state in the world, behind the Vatican City and Monaco. The country is the smallest independent republic.
The warm, humid climate means that beach-goers will have plenty of time to explore. Even inland there is water. The Buada Lagoon is a freshwater lagoon surrounded by tall palm trees and greenery. While you can't swim in it, it's an amazing photo opportunity.
Travelers who enjoy being active will never be short of something to do in Nauru. A sealed road goes around the entire island so visitors can see the beautiful scenery in one trip. Walking the circuit takes about 6 hours, biking about 2-3 hours, and driving 25 minutes. Travelers can also explore relics from the World War 2 in Yaren, climb Command Ridge, or even fish out in the Harbor.
After a long day exploring, there are plenty of delicious restaurants to explore. For drinks, head to Reef Bar at the Menen hotel. Visits to Nauru are a perfect combination of exploration and relaxation.
Do I Need Vaccines for Nauru?
Yes, some vaccines are recommended or required for Nauru. The CDC and WHO recommend the following vaccinations for Nauru: hepatitis A, hepatitis B, typhoid, rabies, meningitis, polio, measles, mumps and rubella (MMR), Tdap (tetanus, diphtheria and pertussis), chickenpox, shingles, pneumonia and influenza.
COVID-19 vaccination is recommended for travel to all regions, both foreign and domestic. Check with your local Passport Health clinic if immunization is offered in your area.
See the bullets below to learn more about some of these key immunizations:
See the tables below for more information:
Recommended Travel Vaccinations for Nauru

VACCINE
HOW DISEASE SPREADS
DETAILS

COVID-19
Airborne & Direct Contact
Recommended for all unvaccinated individuals who qualify for vaccination
Hepatitis A
Food & Water
Recommended for most travelers
Hepatitis B
Blood & Body Fluids
Accelerated schedule available
Typhoid
Food & Water
Shot lasts 2 years. Oral vaccine lasts 5 years, must be able to swallow pills. Oral doses must be kept in refrigerator.
Rabies
Saliva of Infected Animals
Vaccine recommended for certain travelers based on destination, activities and length of stay.
Routine Vaccinations for Nauru

VACCINE
HOW DISEASE SPREADS
DETAILS

Measles Mumps Rubella (MMR)
Various Vectors
Given to anyone unvaccinated and/or born after 1957. One time adult booster recommended.
TDAP (Tetanus, Diphtheria & Pertussis)
Wounds & Airborne
Only one adult booster of pertussis required.
Chickenpox
Direct Contact & Airborne
Given to those unvaccinated that did not have chickenpox.
Shingles
Direct Contact
Vaccine can still be given if you have had shingles.
Pneumonia
Airborne
Two vaccines given separately. All 65+ or immunocompromised should receive both.
Influenza
Airborne
Vaccine components change annually.
Meningitis
Airborne & Direct Contact
Given to anyone unvaccinated or at an increased risk, especially students.
Polio
Food & Water
Considered a routine vaccination for most travel itineraries. Single adult booster recommended.
Dengue is present on Nauru, make sure to use repellents and netting.
See our vaccinations page to learn more about these infections and vaccines. Ready to protect yourself? Book your travel health appointment today by calling or schedule online now.
Do I Need a Visa for Nauru?
A passport and visa are required to enter Nauru. Proof of hotel booking and onward travel are also required.
Nauru Entry Requirements

Do I Need A…
For My Trip to Nauru?

Passport
Tourist Visa
Business Visa
Vaccinations
Sources: Embassy of Nauru and U.S. State Department
What Is the Climate Like in Nauru?
Nauru is a small island in the Pacific Ocean with a warm, tropical climate. It has steady temperatures from 75 to 90 degrees all year. The island is very humid and gets a lot of rain, especially from November to February.
Popular tourist spots in Nauru are Anibare Bay, Buada Lagoon, and the phosphate mines. The weather at these places is like the rest of the island. To get the latest weather updates, use a good weather app or website.
How Safe Is Nauru?
Nauru is a small island in the Pacific Ocean. It is usually safe for travelers, but it's good to follow some tips to stay safe:
Learn about Nauru: Before you go, learn about the local customs, culture, and travel requirements.
Travel insurance: Buy insurance that covers medical costs, theft, and trip problems.
Stay healthy: Get all needed vaccinations and drink only bottled or boiled water. Use bug spray to avoid mosquito bites.
Respect local customs and laws: Be polite and follow local rules, including how to dress and behave.
Keep money safe: Use ATMs in busy areas and don't show off your cash. Keep your passport and money safe.
Stay connected: Have a working phone with important contact numbers saved.
Pay attention: Be careful in crowded places and don't walk alone at night in dark or empty areas.
Swim safely: Be careful when swimming in the ocean. Always swim with a friend and follow any warnings.
Transportation: Use safe transportation and be careful when driving or biking.
Ask locals for advice: Talk to people who live there for tips on safe places to visit.
By following these tips, you can have a fun and safe trip to Nauru.
Anibare Bay
Avoid an Embarrassing Stop
Anibare Bay is a beautiful place in Nauru with a clean beach and clear water. People visit it to enjoy nature and have a peaceful time. Here are some fun things you can do at Anibare Bay:
Swimming: The water is perfect for a fun swim.
Snorkeling: You can see many colorful fish and plants underwater.
Sunbathing: Relax on the beach and enjoy the sun.
Beach walks: Take a walk along the beach and listen to the waves.
Photography: Take pictures of the pretty views and sunsets.
Picnics: Have a picnic with your family or friends while enjoying the view.
Fishing: Try catching different types of fish in the bay.
Surfing: If there are waves, you can try surfing.
When you visit Anibare Bay, remember to be kind to the environment and follow the local customs. This way, everyone can enjoy the beauty of the bay for a long time.
What Should I Take to Nauru?
When packing for Nauru, remember it's hot and has beaches. Here's what you should bring:
Clothes: Light, airy clothes, swimwear, hat, sunglasses, cover-ups, comfy shoes, and a rain jacket.
Toiletries: Sunscreen, bug spray, small bottles of shampoo and body wash, toothpaste, toothbrush and any medicines you need.
Important stuff: Passport, visa if needed, travel insurance, copies of important papers and Australian dollars.
Electronics: Smartphone, charger, adapter for plugs, and a power bank.
Extra things: Snorkeling gear, reusable water bottle, travel guide, and a waterproof bag for the beach.
U.S. Embassy to Nauru
When traveling it is very helpful to find out exactly where the U.S. embassy or consulates are located. Keep the address written down in case you have a legal problem, you lose your passport, or you want to report a crime. Be sure to keep a copy of your passport with you in case you lose the original.
While there is no embassy on Nauru, the Fiji embassy services the area.
U.S. Embassy Suva
158 Princes Road
Tamavua, Suva, Fiji
Phone: 679 331-4466
It is important for U.S. citizens traveling to Nauru to register with the U.S. embassy in Suva using the Smart Traveler Enrollment Program (STEP) so that the embassy knows you are in the area and can help you if something goes wrong.
Ready to start your next journey? Call us at or book online now!
Customer Reviews
Passport Health – Travel Vaccines for Nauru
Overall rating: 5 stars – 2 reviews
"

Great clinic

"

"Very friendly and knowledgeable. Very casual and spent ample time explaining everything that I needed to stay safe and healthy in Nauru. I would recommend this place to anyone traveling abroad. Convenient location for me."
"

They Came to the Rescue!

"

"I went into Passport Health yesterday to get a few immunizations for my trip to Nauru. Not too long after I received my third shot, I started to feel fuzzy and about to faint. The whole staff was there to give me water, help me lay down and re-nourish me with fruit. I hadn't eaten much the day I went in for my immunizations, so that was my fault; Passport Health new exactly what to do and they provided me with excellent information about travel and sanitation too!"
On This Page:
Do I Need Vaccines for Nauru?
Do I Need a Visa for Nauru?
What Is the Climate Like in Nauru?
How Safe Is Nauru?
Anibare Bay
What Should I Take to Nauru?
U.S. Embassy to Nauru