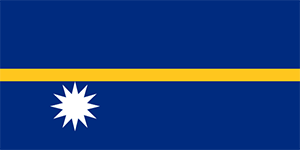 Do I Need Vaccines for Nauru?
Do I Need a Visa for Nauru?
What Is the Climate Like in Nauru?
How Safe Is Nauru?
Exploring Japanese World War II Artifacts
What Should I Take to Nauru?
U.S. Embassy to Nauru
Nauru is an island country located in the South Pacific Ocean. Its closest neighbor is Banaba Island 186 miles east. It is the third smallest state in the world, behind the Vatican City and Monaco. The country is the smallest independent republic.
The warm, humid climate means that beach-goers will have plenty of time to explore. Even inland there is water. The Buada Lagoon is a freshwater lagoon surrounded by tall palm trees and greenery. While you can't swim in it, it's an amazing photo opportunity.
Travelers who enjoy being active will never be short of something to do in Nauru. A sealed road goes around the entire island so visitors can see the beautiful scenery in one trip. Walking the circuit takes about 6 hours, biking about 2-3 hours, and driving 25 minutes. Travelers can also explore relics from the World War 2 in Yaren, climb Command Ridge, or even fish out in the Harbor.
After a long day exploring, there are plenty of delicious restaurants to explore. For drinks, head to Reef Bar at the Menen hotel. Visits to Nauru are a perfect combination of exploration and relaxation.
Do I Need Vaccines for Nauru?
Yes, some vaccines are recommended or required for Nauru. The CDC and WHO recommend the following vaccines for Nauru: typhoid, hepatitis A, hepatitis B, rabies, and influenza.
---
Dengue is present on Nauru, make sure to use repellents and netting.
See our vaccinations page to learn more about these infections and vaccines. Ready to protect yourself? Book your travel health appointment today by calling or schedule online now.
Customer Reviews
Passport Health –

Travel Vaccines for Nauru
Overall rating:

5

stars –

2

reviews
"

Great clinic

"

"Very friendly and knowledgeable. Very casual and spent ample time explaining everything that I needed to stay safe and healthy in Nauru. I would recommend this place to anyone traveling abroad. Convenient location for me."
"

They Came to the Rescue!

"

"I went into Passport Health yesterday to get a few immunizations for my trip to Nauru. Not too long after I recieved my third shot, I started to feel fuzzy and about to faint. The whole staff was there to give me water, help me lay down and renourish me with fruit. I hadn't eaten much the day I went in for my immunizations, so that was my fault; Passport Health new exactly what to do and they provided me with excellent information about travel and sanitation too!"
Do I Need a Visa for Nauru?
A passport and visa are required to enter Nauru. Proof of hotel booking and onward travel are also required.
Sources: U.S. State Department and Government of Nauru
For more information contact a Passport Health Passport and Visa specialist by calling 1-844-366-8472 or by filling out our online form.
What Is the Climate Like in Nauru?
Nauru has a warm, tropical climate that is humid. The most rain occurs during December to April with more than 6 inches of rain falling each month. From December to to February, up to 10 inches of rain can fall. The driest months are from May to November, though 4 to 5 inches of rain can still fall. Temperatures are in the high 70's to mid-80's all year long.
How Safe Is Nauru?
Nauru has a low crime rate. But,visitors should remain aware of their surroundings at all times.
Petty crime, such as pick-pocketing or bag-snatching, can also occur. Travelers should avoid carrying unnecessary valuables with them. Avoid demonstrations or large gatherings, as they are good opportunities for pick-pocketing. Do not leave valuable items unattended in public areas or in hotel rooms.
Exploring Japanese World War II Artifacts
Command Ridge is Nauru's highest point and a fun place to climb. On top are antennas and nearby satellite dishes. Here the Japanese built strongholds during the second world war. While walking up and down the pinnacles of Command Ridge you'll see Japanese bunkers. From the top of those you can see anti-aircraft installations pointed skywards. Hidden in thick vegetation, tucked into Command Ridge, is also a Japanese prison. World War II enthusiasts will have plenty to explore and discover on a trip to Nauru.
What Should I Take to Nauru?
Nauru is a beautiful country, but it does need some prep work.
Light Clothing – It is very hot and humid in Nauru. You will be most comfortable in light, flowy clothing.


Sunscreen – Lounging on the beach or exploring the outdoors is a must in Nauru. Make sure to lather up in sunscreen first to preventing burning.


Umbrella – Nauru gets rain year-round. Bring an umbrella to avoid getting soaked during a downpour.
U.S. Embassy to Nauru
When traveling it is very helpful to find out exactly where the U.S. embassy or consulates are located. Keep the address written down in case you have a legal problem, you lose your passport, or you want to report a crime. Be sure to keep a copy of your passport with you in case you lose the original.
While there is no embassy on Nauru, the Fiji embassy services the area.
U.S. Embassy Suva
158 Princes Road
Tamavua, Suva, Fiji
Phone: 679 331-4466
Ready to start your next journey? Call us at or book online now!