With 250+ travel clinics nationwide, Passport Health is your local leading provider of travel vaccinations and medications. Prepare your health for travel, visit us before you go.
What Is Yellow Fever?
Yellow Fever is a mosquito-borne viral disease. This disease may be mild to severe. Mild symptoms include fever, nausea, vomiting, headache, abdominal and muscle pains. More severe symptoms include hepatitis and hemorrhagic fever. It is a rare illness among travelers, but vaccination against Yellow Fever is important because the disease has a high mortality rate. There are international Yellow Fever vaccination requirements and you will not be able to enter some countries prior to receiving the Yellow Fever vaccine. In addition to Yellow Fever vaccination, travelers should take precautions against exposure to mosquitoes with appropriate repellents available at Passport Health.
What Is The Yellow Fever Vaccine
Yellow Fever is preventable by a safe, effective vaccine. International regulations require proof of Yellow Fever vaccination for travel to and from certain countries. Reactions to the vaccine are generally mild. Two percent to five percent of vaccines have mild headaches, body aches and a low-grade fever, or other minor symptoms several days after vaccination. Immediate hypersensitivity reactions, such as rash, are uncommon and occur mostly in persons with a history of egg allergy. Because Yellow Fever vaccine is very safe and the disease risk is high, the CDC recommends this vaccine for adults and children over 9 months who will be traveling to high-risk areas.
Where Can I Get The Yellow Fever Vaccine?
For purposes of international travel, Yellow Fever vaccine must be approved by the World Health Organization and administered by an approved Yellow Fever Vaccination Center. Passport Health is an approved Yellow Fever Vaccination Center. After obtaining the vaccine you will receive an International Certificate of Vaccination (ICV) completed, signed and validated with the official stamp. Find a Passport Health location near you to get vaccinated against yellow fever.
Additional Protection Against Yellow Fever
It is important to remember barrier methods, as there may still be a risk of contracting other mosquito-borne illnesses. Passport Health's controlled release insect repellent contains DEET in the appropriate concentrations for use on exposed body parts. Travelers should reduce skin exposure and use mosquito netting whilst asleep. Permethrin should be applied to clothing and netting for added protection.
Where does Yellow Fever occur?
Yellow Fever disease occurs in sub-Saharan Africa (where it is endemic), countries in South America, Panama, Trinidad and Tobago. Many countries that do not require Yellow Fever vaccination for entry, do require proof of the Yellow Fever vaccine if coming from an infected area. This vaccine is also recommended for travel outside the urban areas of countries which do not officially report the disease, but which lie in the Yellow Fever endemic zone. Actual areas of Yellow Fever virus activity far exceed the officially reported infected zones. Fatal cases of Yellow Fever have occurred in unvaccinated tourists visiting areas within the Yellow Fever endemic zone. Some countries require a traveler, even if only in transit, to have a valid international certificate of Yellow Fever vaccination if he or she has been in a country either known or thought to harbor Yellow Fever.
Countries with risk of Yellow Fever Transmission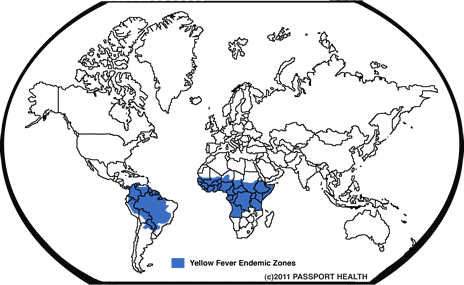 Africa

Central and South America

Angola
Benin
Burkina Faso
Burundi
Cameroon
Central African Republic
Chad2
Congo, Rep. of the
Côte d'Ivoire
Dem. Rep. of the Congo2
Equatorial Guinea
Ethiopia2
Gabon
The Gambia
Ghana
Guinea
Guinea-Bissau
Kenya2
Liberia
Mali2
Mauritania2
Niger2
Nigeria
Senegal
Sierra Leone
Sudan2
South Sudan
Togo
Uganda
Argentina2
Bolivia2
Brazil2
Colombia2
Ecuador2
French Guiana
Guyana
Panama2
Paraguay
Peru2
Suriname
Trinidad and Tobago2
Venezuela2
1Countries/areas where "a risk of yellow fever transmission is present," as defined by the World Health Organization, are countries or areas where "yellow fever has been reported currently or in the past, plus vectors and animal reservoirs currently exist."
2These countries are not holoendemic (i.e., only a portion of the country has risk of yellow fever transmission). Please see above map for details.
Table 3-25. Countries that require proof of
yellow fever vaccination for all arriving travelers1

Angola
Benin
Burkina Faso
Burundi
Cameroon
Central African Republic
Congo, Republic of the
Côte d'Ivoire
Democratic Republic of Congo
French Guiana
Gabon
Guinea-Bissau
Liberia
Mali
Niger
Rwanda
Sierra Leone
Togo
1 Country requirements for yellow fever vaccination are subject to change at any time; therefore, CDC encourages travelers to check with the destination country's embassy or consulate before departure.

Will I Need A Yellow Fever Booster Shot?
Recent studies show one dose of yellow fever vaccine may be effective for a patient's entire life. Previous evidence recommended a booster every 10 years. However, many countries still require evidence of a yellow fever vaccination within the last five to ten years in order to be allowed entry. This may mean you will need to get a yellow fever booster shot. Be sure to check with your Passport Health travel specialist regarding whether you need a yellow fever booster.
So, if you are asking yourself, "What travel shots and vaccinations do I need?" or "Where do I get the Yellow Fever Vaccine?" schedule an appointment with your local Passport Health travel medicine clinic.