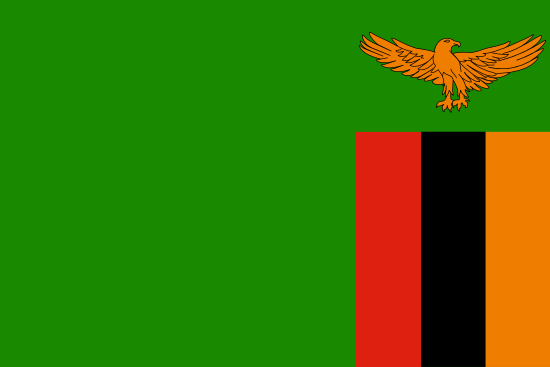 Located in Southern Africa, Zambia is a gorgeous country that provides travelers with a glimpse at beautiful wilderness and wildlife.
Though the country is landlocked, there are three rivers flowing through Zambia. One of the most popular landmarks is Victoria Falls, which is one of the World's Seven Natural Wonders and a UNESCO World Heritage Site. There are also safaris for travelers to visit, without the large crowds that often come with safaris in Kenya or South Africa.
In the cities, there are also bustling markets, delicious restaurants, and a lively nightlife.
Do I Need Vaccines for Zambia?
Yes, some vaccines are recommended or required for Zambia. The CDC and WHO recommend the following vaccines for Zambia: typhoid, hepatitis A, hepatitis B, cholera, yellow fever, rabies, and influenza.
---
Malaria is a serious threat in Zambia. Antimalarial medication is recommended for all travelers to the region. Dengue and chikungunya are also present and can be prevented through proper use of mosquito repellents and nettings.
Rabies poses some risk to travelers of various types. Consult with a travel health specialist to learn if this vaccine is right for your trip.
Visit our vaccinations page to learn more. Travel safely with Passport Health and schedule your appointment today by calling or book online now.
Is There Cholera in Zambia?
A recent cholera outbreak in Zambia accounted for more than 1,000 confirmed cases and likely many more unreported infections.
The CDC recommends cholera vaccination for all adults traveling to the region.
Passport Health locations carry Vaxchora, the only cholera vaccination approved for use in the U.S. Make sure you're protected and make an appointment today!
Customer Reviews
Passport Health –

Travel Vaccines for Zambia
Overall rating:

5

stars –

12

reviews
"

Outstanding service, answered all of my questions

"

"I had concerns about my trip to Zambia but Nicole made me feel comfortable and prepared for this unique travel experience."
"

Very Helpful

"

"The nurse at the clinic was extremely informative and provided me with everything I needed to know about vaccinations for my trip to Zambia. I have already referred several students from my school and will continue to do so. Thank you!"
"

Excellent Service

"

"My first experience with Passport Health was excellent; it was easy to make an appointment; completing required forms on-line prior to the appointment is very efficient. And the nurse provided excellent service; she was well prepared, answered all my questions and ensured I had the proper medications and vaccines for my upcoming trip to Zambia."
"

Positive Experience

"

"My experience at Passport Health was very positive. The nurse was very nice and made me feel comfortable. She was professional yet friendly. She provided me exactly what I needed and checked to assure that nothing was missing from all I needed in terms of vaccinations in order to travel to Zambia."
"

Great experience

"

"The nurse was helpful, very informative, and friendly. She provided me with more information that I was expecting. The print out specific to Zambia is extremely helpful!"
"

Convenient and Comprehensive`

"

"We were seen immediately at our appointment time, which is always important to me. The information given was comprehensive, and a one-stop place for all international travel needs (in this case, Zambia). I recommend these clinics to anyone needing information and immunizations for travel."
"

Great Clinic and Staff

"

"The nurse is a very knowledgeable nurse and provided me with excellent information about Zambia, Africa."
"

Pre-travel shots

"

"Great one-stop-shop for all of my pre-travel vaccinations before traveling to Zambia! Good travel advice as well. Travel nurse was thorough and very nice to work with."
"

Great service

"

"Staff was very fast and friendly. Explained all the vaccinations and pills for a trip to Zambia."
"

Visit to Passport Health

"

"I had a great experience with an excellent RN. She reviewed my shot card and we determined which shots were necessary for my trip to Zambia. I've traveled to Africa a number of times before and I have been confused about where to get my shots and prescriptions before I leave. This is my second visit with Passport Health and I will continue to use them and recommend them to all my friends who travel to foreign countries"
"

Wonderful Prep for My Trip

"

"I went to Passport Health to help me with preparing for my trip to Zambia. The nurse who took care of me was excellent. She carefully went over the vaccinations I would need and talked about ways to protect my health in this country I had never visited before. I now feel much more confident about staying well there and am looking forward to my trip more than ever."
"

Excellent Service

"

"I met with Vicki today, and she provided excellent service, going through my shot options for my business trip to Zambia and answering any questions I had. Great Job!"
Do I Need a Visa or Passport for Zambia?
Travelers to Zambia must have a valid passport and visa to enter the country. It is best to get this visa before departing on your trip. Proof of yellow fever vaccination may be required based on your itinerary.
Sources: Zambian Embassy and U.S. State Department
For more information, see our Zambia visa page. Or contact a Passport Health Passport and Visa specialist by calling or by filling out our online form.
What Is the Climate Like in Zambia?
Zambia is a tropical country, meaning it is warm and receives a fair amount of rain. The dry season runs from May to October, meaning there is little rain and low humidity. From November to April is the wet season. During this time, you'll experience mostly afternoon rains and high humidity.
Areas situated in lower-lying valleys, as opposed to the elevated areas in central and southern Zambia, are much hotter.
How Safe Is Zambia?
Travel to areas bordering the Democratic Republic of Congo and Angola should be limited due to border conflicts and undetected land mines.
Major cities are safe during the day. But, there have been violent attacks reported. Theft or pick-pocketing is common. Travelers should be cautious while in-country and should stay in groups when possible.
Visiting Victoria Falls
Victoria Falls is one of the most popular destinations in Zambia. Over one hundred million cubic meters of water fall over the edge of each minute during the rainy season.
The adventurous can bungee jump off the Victoria Falls bridge, zip line across the Batoka Gorge, white water raft below the fall, experience tandem kayaking or take a beautiful helicopter flight to see the river and the land around it.
What Should I Pack for Zambia?
While an amazing country, a trip to Zambia does need some extra packing:
Sunscreen – Zambia is very warm and travelers will likely be outside exploring the water or safaris.


Swimsuit – Most visitors will want to visit at least one of three rivers in the country, making an outfit fit for water a must.


Money for Taxes – When leaving the country, travelers will need to pay departure taxes and security charges.
U.S. Embassy to Zambia
When traveling it is very helpful to find out exactly where the U.S. embassy or consulates are located. Keep the address written down in case you have a legal problem, you lose your passport, or you want to report a crime. Be sure to keep a copy of your passport with you in case you lose the original.
U.S. Embassy Lusaka
Eastern end of Kabulonga Road
Ibex Hill
Lusaka, Zambia
Telephone: +260 (0) 211-357-000
Ready to start your next journey? Call us at or book online now!