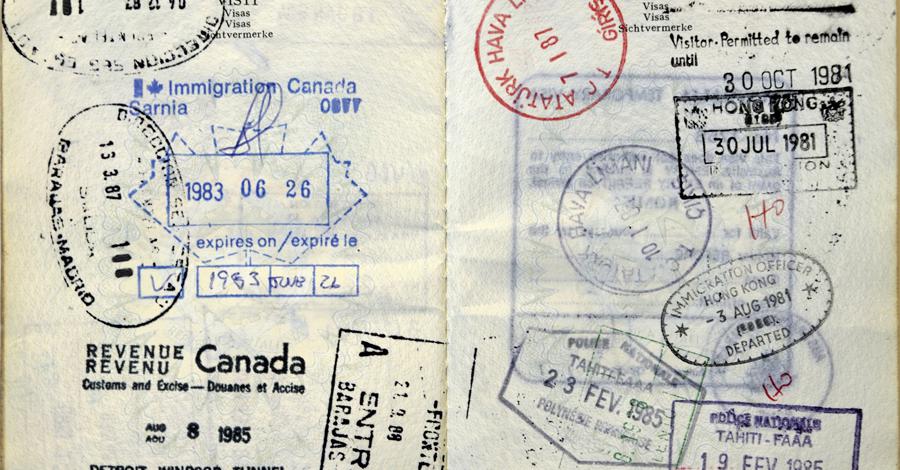 Visas can be categorized in 2 very basic ways: visas in advance and visas on arrival.
Many countries, such as China, Brazil, Russia, India, Cameroon and Kenya, require that you have a visa in advance before you are allowed to enter. For these countries, no visa means no trip. In this case, the choice is simple: you must get your visa before you go.
However, many other countries offer their visitors a visa on arrival. In this case, what should you do? Should you take a bit of extra time to complete paperwork and pay a bit extra to get your visa in advance, or should you save money to use on your trip and get the visa at the airport when you arrive?
Here are some things to consider when making your visa decision:
For many countries, you cannot just show up with your passport and expect a smooth entry. In addition to your passport, the immigration officer may request:
Proof of vaccinations
Confirmed hotel reservations
Onward or return flight tickets
Proof of sufficient funds
Additional passport photos
If you do not have these additional items, you will be detained in the immigration process, and there is a chance your entry will be denied. By getting your visa on arrival, you may face hours spent waiting at the airport and possibly having to pay for a return flight home, if you are unable to produce supporting documents or what you have is found to be insufficient.
Also, be sure to check the remaining validity on your passport. Most countries require that visitors have a passport that will not expire for at least 6 months after they plan to depart the country. If you passport is set to expire sooner than that, there is a chance the immigration officer will not permit you to enter.
Another potential problem is price fluctuation. Much like your airline sets the fare for your ticket, countries, and sometimes even individual immigration officers, set the price of their visas. That means prices can move up and down with no formal notice to you. Luckily, if you get your visa in advance via an embassy, the fees are set in stone. However, if you get your visa on arrival, the price may fluctuate between airports and entry points, at the immigration officer's discretion, or it may be required that you pay in local currency (which you may or may not have).
Here are two examples of the price and local currency issue. Imagine you are taking a trip to Tanzania. The consular fees to get a visa for this African country at the Embassy are $100. However, the on arrival visa fees have been known to fluctuate significantly between airports. Also, if you try to get a visa on arrival in Jordan, you must be prepared to pay in local currency. If you do not have dinar handy, you will be directed to the immigration currency exchange desk (requiring getting out of line, getting in another, and then getting back in line), and the exchange rates are known to be quite poor.
Another key factor in your visa decision is how long you intend to stay in the country. Visas on arrival typically permit much shorter stays in the country than in advance visas. Also, on arrival visas typically only permit a single entry, and most are only available if your trip purpose is tourism. If your trip will last more than a couple of weeks, or you are traveling for business, volunteer, or mission work, double check that the visa on arrival still pertains to you. It very well may not.
Here is an example of why it is so critical to get the proper class of visa for the exact activities you plan to engage in. Zimbabwe offers a visa on arrival for tourists. However, Zimbabwe has a very narrow definition of what constitutes tourism. One US citizen was arrested and deported for the seemingly innocuous error of attending a course on wildlife while traveling on an on arrival tourist visa because this violated the terms of the visa! Similarly, you need to be aware of the number of times you depart and re-enter a country (as commonly happens on many safari itineraries that offer travel between multiple destinations). If you have a flight in and out of one country but are going to a different one and then returning to the original destination during your trip, your on arrival visa may no longer be valid if it only permits a single entry.
If you plan to get your visa on arrival, plan to wait. You will have to get in line with the majority of the other travelers on your flight and wait for an immigration counter to open up. Unless you are seated in the front of the plane, sprint to the counter to beat everyone else, and you land at an odd time when no other flights are getting in, plan for at least an hour wait in line. If you have a visa in advance, however, you will be able to bypass much of the line.
Finally, be aware that foreign countries can change or terminate their visa on arrival programs at any time and without warning. In 2014, Mozambique abruptly terminated the visa on arrival program it had had for US travelers since 2003. Dozens of shocked and frustrated travelers, who had researched visa requirements beforehand, were turned away and forced to return home or to their prior destination. Just think of the headache and expense of adjusting flights, hotels, and tours!
Similarly, Kenya has made a recent change to its visa program. On July 1, 2015, the government of Kenya announced that visitors could no longer obtain a visa on arrival in Mombasa or Nairobi. Instead, all visas must be obtained in advance. Kenya offered a grace period of 2 months, but, as of September 1, travelers who arrive in Kenya without a visa will be turned away. Just because you have obtained a visa on arrival for a past trip does not mean this option will be available for your upcoming trip.
What's our recommendation?
Know what you are getting into with a visa on arrival. If you choose to go this route, make sure you arrive with supporting documents, have plenty of local currency, are prepared to wait in line, and that your trip is for a duration covered by the on arrival visa.
Peace of mind is powerful thing when traveling. Give yourself extra peace of mind by getting your visa in advance, and work with a travel document expert to do so.
For more information on passport and visa services, see our passport and visa pages. If you need a visa for an upcoming trip, click here to start your application.
Have you had experience with on arrival visas? Comment below, on our Facebook page or via Twitter and let us know about your experience.