Yellow fever is a common mosquito-borne illness in some parts of South America and Africa. Proof of immunization is required for travel to some regions. The vaccine is kept in-stock and ready for your visit.
Our nursing staff uses the most up-to-date information from the CDC, the World Health Organization and other groups in the field of public health. They will help you decide which vaccines you need and administer them to you.
Getting a prescription for malaria prevention is easy with Passport Health, which can send it to the pharmacy of your choosing. It's also our job to help passengers avoid mosquito-borne diseases like malaria, dengue or any other mosquito-borne illness by providing repellent, sprays and travel advise.
Details & Directions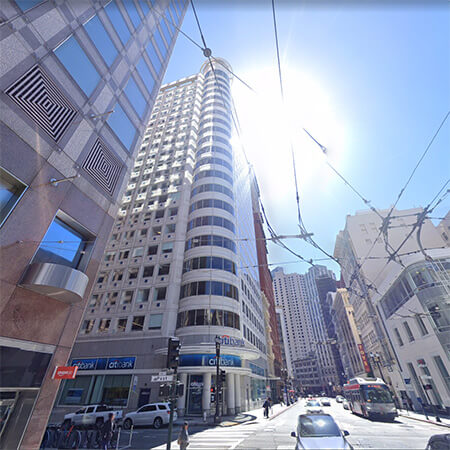 Perfectly situated in the Downtown area. Passport Health's Downtown San Francisco travel clinic on on Kearny Street and Maiden Lane, just across from the French Consulate.
See below for additional direction information.
Schedule Your Appointment Today
Customer Reviews
"

Lots of Great Information

"

"I'm so grateful that I went to Passport Health! She was so helpful and gave me lots of great information!"
"

Very Helpful

"

"Jessica, our nurse was fantastic! We needed shots in preparation for our trip to Africa. Not only did we get the necessary shots but we received so much more excellent information to help us have a safe and healthy trip. She customized the information for our specific destinations and personal health needs. We were able to purchase all the items we had been struggling to research, for example the correct skin and clothes mosquito repellant. Jessica was more informative then our tour company has been! We feel much more confident and comfortable leaving for an extended trip to Africa with many destinations!"
"

Great Knowledge

"

"Learned more about what I need to expect for my trip than I ever thought possible. Plus, the booklet was a great touch! So much more expensive than I thought too!"
"

Awesome

"

"Have a corporate account. Was easy to schedule, great location, friendly, knowledgeable and efficient staff!"
"

Great clinic

"

"Excellent service and on time. Only problem is no cheap parking close by."
"

Very Helpful

"

"Our nurse was super friendly and provided us with so much useful information, beyond just information related to vaccinations. We really appreciated the info booklet we left with, and the travel advice our nurse was able to provide us with. We were impressed with the sleek-looking and comfortable office, too."
"

Great experience, peace of mind.

"

"We're on our way to Nicaragua and realized at the last minute we needed shots. Passport did a great job assessing what we needed, making recommendations, and answering questions. Mission accomplished."
"

Friendly, honest

"

"Practitioner went to effort to look at history to make sure I wasn't taking a vaccine that I didn't need. I'm uncomfortable with needles but they made me feel at ease and it was no big deal at all."
"

Extremely helpful travel clinic

"

"Passport health made it so easy for me to figure out exactly what I needed for a safe trip- everything from vaccines to best practices in the country. I will definitely be back!"
"

Excellent Experience

"

"I had an awesome experience visiting Psssport Health. The nurse was very knowledgeable and made sure to answer each and every question I had and made sure I understood. I would totally recommend them on your next international travel."
"

Fantastic service and explanations; very efficient

"

"Loved my recent visit for a follow up shot on a vaccination. Took less than 10 minutes start to finish and started right on time. Just like my previous visit, the nurse was incredibly nice and helpful in answering all my questions. Feeling prepared and safe before heading off on my trip!"
"

Preparation for African trip

"

"Knowledgeable, helpful, organized, personable. Couldn't have expect any better."