From typhoid to cholera to hepatitis A, Passport Health carries the most common travel vaccines in-stock and ready for your trip. No need for a second appointment.
Certain vaccines, such as yellow fever, should only be administered from registered and approved clinics. All Passport Health locations are designated vaccination centers. Our teams will provide you with top-quality care that you can count on.
Vaccination is just one part of your overall protection. Our clinics also carry mosquito repellents, netting, sunscreen and can help you with antimalarial medications.
While Passport Health is the largest provider of travel health services in the nation, they also offer group and individual preventive health services. Some of the services offered are specifically for travelers that could be spending time overseas, but others are simply to help keep you, your family or your co-workers healthy.
Details & Directions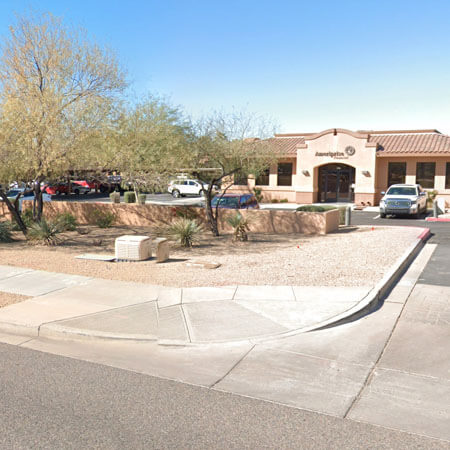 Passport Health Scottsdale Travel Clinic offers international travelers everything they need to venture abroad safely. Visit us off Northsight by Northsight Park.
Schedule an appointment today by booking online or calling .
Schedule Your Appointment Today
Customer Reviews
"

Great Clinic

"

"I have used them many times. They are professional, efficient, and thorough."
"

Knowledgeable friendly and efficient

"

"Good info and education regarding our travel destination and need for immunizations, recommended preventative medications and products (such as insect repellent and GI protection)."
"

Best for info!

"

"Immunizations and a whole lot more. Full information on risks of all kinds while traveling and more info on who to call if all else fails. Much more than I expected. Even has services to help with passports and visas."
"

Terrific service

"

"We thought we were going in for a yellow fever immunization but we learned so much more. Our nurse was prepared with a pamphlet which included all info about our destination and we learned that there were two more shots that were advisable. Well worth the time and money."
"

Great overall

"

"We came to get Yellow Fever vaccines, That staff was great and the offices were beautiful and a very clean. We will be returning – Thanks so much"
"

Excellent experience

"

"The nurse that interviewed us and administered the immunizations was pleasant, professional, and informative, carefully going over possible side effects. She answered all our questions and covered areas I didn't expect to be covered, such as insect repellent. When it came time for her to inoculate us, the experience was quick and painless. I wouldn't hesitate to recommend Passport Health to friends."
"

Efficient and Knowledgeable

"

"Simple, made it easy to figure out what we needed for our Safari in Kenya. Two doctors had given us conflicting advice. Passport clearly articulated what was critical vs. advised and helped us make an informed decision"
"

Efficient

"

"We were greeted with a smile upon our arrival. We did not have to wait. We had done our on line histories so the nurse had the recommendations prepared in a small booklet for my husband and I to prepare for our travels. She seemed knowledgeable and took time to answer our questions. We feel confident that we are prepared for our trip as far as immunizations and other recommended necessities. Thanks."
"

Excellent

"

"Passport Health is highly recommended. Their process for completing questionnaire and setting an appointment was simple and straightforward. The RN we met with was informative and had excellent customer service. Definitely revisit Passport Health for Future travel needs."
"

Excellent service

"

"I use the Scottsdale location of Passport health when I need updated vaccinations for travel abroad for work, and they have always been so fast and professional. I will continue to go here for all of my travel needs for medical."
"

Accurate concise information for our travels

"

"I was completely impressed with the process. I didn't expect to have such an educational experience during my visit. I seriously only thought I was going to get a few shots and go on my way. I am beyond thankful for all of personalized information that was given to me. It will make my trip much better."
"

Friendly, competent Nurse

"

"Nobody enjoys getting shots but the nurse I visited was instructional and empathetic. She enjoys her job and is good at it. I'm grateful for a professional job well done."
"

Excellent Service

"

"The staff was kind and friendly. They listened to me and answered all my questions. Very efficient and easy process."
"

Yellow Fever Immunization

"

"Nurse Kathy was absolutely wonderful. She was informative, very knowledgeable and expert in every way. She never rushed us and answered all our questions."
"

Excellent Experience

"

"Thank you Passport Health staff – everyone I have met has been friendly, efficient, informative and helpful. I so appreciate the help and would highly recommend your services to others."
"

Racquel was awesome

"

"Very informative. Made everything comfortable. Well researched. A+ Thanks!"
"

Great Service

"

"Very friendly and knowledgeable staff. The office is really nice and clean. I would recommend this to other travelers who need immunization prior to their big trip."
"

Very Professional

"

"Our excellent experience began in advance of the appointment by conveniently being able to complete our intake and medical forms online; we were very appreciative. My husband and I visited the Scottsdale clinic midweek and midday. We were greeted and seated in a comfortable waiting area. The health expert, a nurse, took us in the office and explained the recommendations and necessities for the travel areas we planned to visit. We felt her professionalism was first rate and the provided information thorough. We each received our vaccination with proper sterility, efficiently and with no pain. I would highly recommend this clinic."
"

Great Service

"

"Very friendly and knowledgeable staff. The office is really nice and clean. I would recommend this to other travelers who need immunization prior to their big trip."
"

Very Professional

"

"Our excellent experience began in advance of the appointment by conveniently being able to complete our intake and medical forms online; we were very appreciative. My husband and I visited the Scottsdale clinic midweek and midday. We were greeted and seated in a comfortable waiting area. The health expert, a nurse, took us in the office and explained the recommendations and necessities for the travel areas we planned to visit. We felt her professionalism was first rate and the provided information thorough. We each received our vaccination with proper sterility, efficiently and with no pain. I would highly recommend this clinic."
"

Booster Shot

"

"This was my second visit time Passport Health, first time was prior to my trip and my second was to get a booster vaccination. It's the same professional atmosphere and great customer service I saw before. I updated my shot records as well. I highly recommend this office. Parking is in front of the building, reserved for Passport Health."
"

Great experience

"

"We were welcomed as we came in the door and shown to a seat. Kathy our nurse during the appointment was great, friendly and explained everything. Would highly recommend the facility to anyone needing immunizations for travel."