General travel vaccines include ones such as cholera, hepatitis A, yellow fever, typhoid and rabies, however, they are not all recommended for the same destination. For example, hepatitis A is a global disease, while Japanese encephalitis is more likely to affect people going to rural Asia and the western Pacific. Consult a Passport Health team member to understand which immunizations are right for you.
Some countries require proof of yellow fever vaccination for entry. You can receive the yellow fever vaccine and yellow card (proof of vaccination) at Passport Health.
Travelers' diarrhea is a common issue for travelers, yet many people have not heard of it. Consider taking a travelers' diarrhea kit with re-hydration help, anti-diarrheal medication and more.
Many critical lab tests are available at our Passport Health locations, including titers. Contact us to schedule your COVID-19, titer or other test.
Details & Directions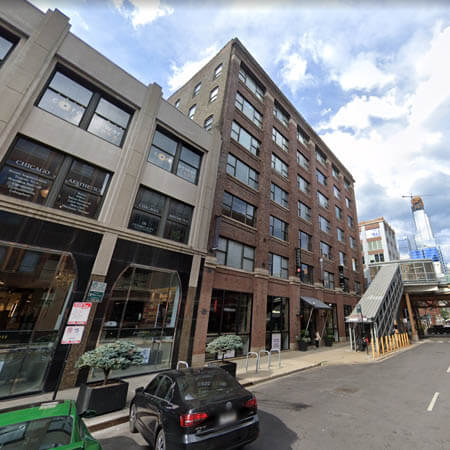 Located off the Purple and Brown lines at Orleans and Superior, Passport Health Chicago – River North offers typoid, rabies and other key vaccines for any trip you have planned.
Schedule an appointment today by booking online or calling .
Schedule Your Appointment Today
Customer Reviews
"

Time Efficient Clinic

"

"I needed a fast appointment because of other things we had to do throughout the day and Passport Health not only gave me a quick appointment but an amazing appointment."
"

Best customer service

"

"The nurse was extremely kind, courteous and professional. Very informative and educational visit. I will come back here is ever needed."
"

Excellent, Efficient and Fast

"

"The pricing was as expected. Close location. Friendly and knowledgeable staff. Clean and affordable. They know which country recommends what vaccine and the prizes don't cost an arm and a leg which is a plus. Thank you."
"

Made it Easy

"

"The nurse was just brilliant– so knowledgeable and efficient and also so kind. She made it easy!"
"

Great job

"

"Very impressed with your employees. High level of customer service. Not used that. Thank you very much!"
"

Great experience

"

"We saw the RN for a couple of pre-travel boosters. She explained everything to us clearly, gave us what we needed, and then we had a very pleasant chat before we left."