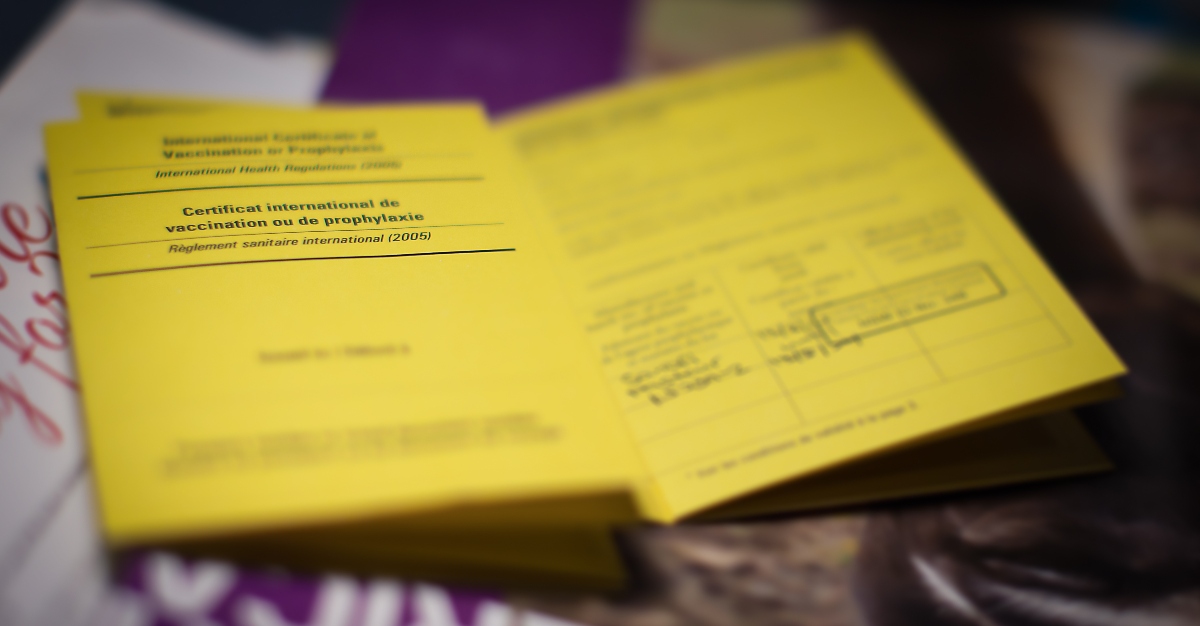 Foreign travelers have likely noticed that many countries require yellow fever vaccinations. They might also need proof that a person was vaccinated. Whether that's a card or certificate, those countries won't let you enter without the vaccine.
But, what makes this one immunization so important?
For many countries, vaccinated visitors might mean the difference between a manageable virus and full-blown epidemics.
What is Yellow Fever?
The yellow fever virus is typically found in tropical and subtropical areas of Africa and South America. The virus is spread to people by the bite of an infected mosquito.
According to the CDC, most people will have little or no problems due to yellow fever. They'll either have no symptoms, or experience a mild infection with full recovery.
Common symptoms include chills, back pain or general body aches, nausea, weakness, and vomiting.
There is currently no cure or specific medication to treat the virus. Without available treatment, the virus can still cause serious risks.
Yellow fever can be a deadly disease and roughly between 30-60% percent of those who develop a severe case die. The best way to protect yourself against the virus and possible illness is through vaccination. A safe and effective yellow fever vaccine has been available for more than 80 years.
Why is the Virus so Dangerous to These Countries?
During 2018 there were an estimated number of 84,000-170,000 cases of severe yellow fever with 29,000-60,000 deaths. With these numbers in mind it's easy to see why the WHO allows countries to require proof of vaccination before entry.
As we've seen throughout history, many diseases spread through human travel. Vaccine requirements for certain countries help counteract that risk. Countries are able to protect themselves from the risk of importing or further spreading the yellow fever virus.
Over 40 countries are considered a risk for yellow fever virus transmission. Most of those countries have high mosquito populations, like sub-Saharan Africa and tropical Latin America.
The nations that require proof of a yellow fever vaccine can be found on the WHO's International Travel and Health website. Some of those countries listed include the Democratic Republic of the Congo, French Guiana, Liberia, Niger, and Uganda.
Even if they don't have a requirement for every visitor, some may need the vaccine depending where they travel from.
Any travelers from a country with a risk of yellow fever transmission will likely need the vaccine. Even foreign visitors who only spent over 12 hours in the airport of a country with yellow fever might need the vaccine.
What is a Yellow Fever Card?
For any country with a risk of yellow fever, the vaccine is highly recommended for any traveler over 9 months old. For some countries at a higher risk, that recommendation becomes a requirement. After receiving the vaccine travelers receive a stamped signed and stamped International Certificate of Vaccination or Prophylaxis.
While that's the official name, it may also be called a Yellow Card.
And like many certificates, this one could potentially be faked.
There are many reasons for a faked yellow fever certificate. For example, depending on the country, there can be a limited supply of the yellow fever vaccine. Other people might not want the immunization due to vaccine hesitancy. For travelers with a tight budget, the potential financial costs may prevent them from the vaccination.
The waiting time for a certificate may also pose a problem for some. Travelers in a hurry may not have time for the 10-day delay between vaccination and receiving the immunity verification.
Oyewale Tomori is a professor of virology and former vice-chancellor of Redeemer's University in Ogun State, Nigeria. Tomori stated that, "this (fraud) has been going on for decades."
Just last year, in 2018, local media reported that Yellow Cards were being openly sold inside the Inter-City Bus Terminus in Lusaka to the travelers who couldn't afford the cost of the vaccine.
For countries facing a potential outbreak of the virus, these fakes pose a serious problem. Fake certificates have become more and more of a threat for the control of yellow fever.
Can These Countries Do Anything to Stop Fake Yellow Fever Certificates?
For years Nigeria has required a WHO-issued Yellow Card for entry. They are also taking action against the fake ones.
Nigeria created an e-Card that is linked to a national digital repository. According to the Nigeria Ministry of Health, the card, "has the ability to store vaccination history of the holder, was designed to put an end to the era of fake Yellow Cards issued by unauthorized personnel for years."
As of July this year all previous vaccination cards are invalid. After implementing new rules, Nigeria has more control on the battle against fake yellow cards.
Some may still see the required vaccines and proof of them as an inconvenience or even impossible. But, the rules are in place to protect the populations of those countries at risk of yellow fever transmission and those countries with no recorded cases of the virus.
For example, during an outbreak in central Africa in 2016, there were 4,347 suspected cases of yellow fever. The outbreak ultimately led to 377 deaths within the region. While that's a terrible outbreak for one area, there was a problem for a different region: 11 unvaccinated Chinese nationals were infected.
These unvaccinated, now infected, people then traveled to China. They imported the disease to an area that has never had a case of the virus before.
Luckily, this situation was handled and the virus was contained. But, with the spread of fake yellow cards, this is one situation that's likely to repeat itself without changes to the system.
For many travelers, vaccinations help keep them healthy and avoid ruining a trip. Yellow fever certificates make sure that travelers also keep the locals healthy. And as we've already seen, the vaccinations could also prevent the virus making it to a traveler's home country.
Are you traveling abroad and aren't sure if you need a yellow fever vaccine? Passport Health can help. Give us a call at or book an appointment online.
Did you know why some countries require yellow fever certificates? Or, that the documents can be faked? Let us know in the comments, or via Facebook and Twitter.
Written for Passport Health by Brianna Malotke. Brianna is a freelance writer and costume designer located in Illinois. She's an avid coffee drinker and enjoys researching new topics for writing.