General travel vaccines include ones such as cholera, hepatitis A, yellow fever, typhoid and rabies, however, they are not all recommended for the same destination. For example, hepatitis A is a global disease, while Japanese encephalitis is more likely to affect people going to rural Asia and the western Pacific. Consult a Passport Health team member to understand which immunizations are right for you.
Be sure to get your yellow fever vaccination before traveling anywhere the virus is present. Yellow fever is spread by mosquitoes, can be highly dangerous. Vaccination protects you and others in the region you are visiting.
Visiting a travel clinic knowledgeable about yellow fever, like Passport Health, is a must. We can also recommend other necessary immunizations and medications for your journey. All Passport Health clinics are authorized yellow fever vaccine centers. Each can issue a yellow card, which serves as proof of vaccination. This document is required by some countries for entry.
Travel clinics make it convenient to receive all necessary vaccinations in one session. Passport Health keeps yellow fever and other essential travel vaccines in stock, simplifying your travel health preparations.
Travelers' diarrhea affects as many as 70 percent of people while they're on the road. Prevention and post-exposure therapy are recommended.
Details & Directions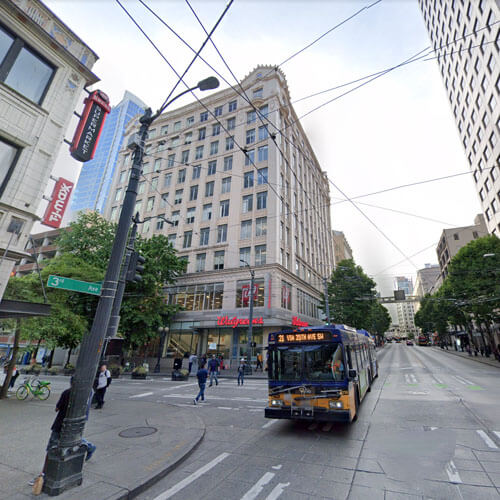 Passport Health Downtown Seattle Travel Clinic is centrally located just a block away from the Seattle Art Museum. From hepatitis A to yellow fever, we have all vaccines you may need for your trip.
Schedule an appointment today by booking online or calling .
Schedule Your Appointment Today
Customer Reviews
"

Follow up visit

"

"All went well this time as well. A short discussion and the shot; discussion about future trips. No pain, no problems !"
"

Foreign Travel Necessity

"

"I have been a passport health customer for many years. I always appreciate the timely, professional service. (Also the almost pain-free shots!)"
"

Friendly and knowledgeable nurse

"

"The nurse did a great job of giving me the info I needed and made me comfortable with with all the vaccines I needed for travel."
"

Friendly Staff

"

"Staff was very welcoming and knowledgeable. Would highly recommend to anyone."
"

Friendly, informative, efficient staff

"

"My husband and I received our final booster shots today. We were in and out in 10-15 mins. RN was fantastic. Friendly, efficient. The injections were painless :-)"
"

Good & educational clinic

"

"Our nurse was professional and very knowledgeable. We felt that we received a lot of important information to help us better prepare for our trip."