We provide on-site vaccination services at over 200 locations throughout the country. Call us for an appointment to get your influenza (flu) shot. We will come on-site to do flu shots or wellness screenings for as few as ten employees. We provide flu and other vaccinations at many Memphis City and Shelby County schools and businesses. Our Nurses are hired in person, trained by our local nurses and supervised by our Nurse Practitioner.
We pay special care to ensuring all vaccines are properly delivered in the correct part of the deltoid.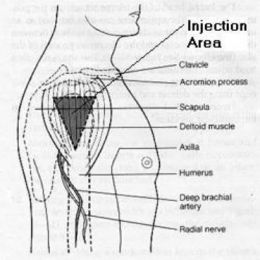 We travel to many school districts and larger companies throughout Western Tennessee, Northern Mississippi and Eastern Arkansas where there are no Passport Health local offices. We will go to every single location and we bring all routine immunizations including Hepatitis A, Hepatitis B, Tdap, Pneumonia and B12. We will even come back to administer Hepatitis Booster shots if more than 20 people are expected to attend.
About the Flu Virus:
https://www.flu.gov/pandemic/current-situation/index.html
This year, two influenza strains are different than the 2011-2012 flu season. We expect to have the vaccine in stock by early August.
Influenza (known commonly as the flu) is a contagious respiratory illness caused by influenza viruses. (www.cdc.gov/h1n1flu) Seasonal flu Infection with this virus can cause illness resulting in mild to severe symptoms with life-threatening complications. An estimated 10-20% of the U.S. population gets the flu each year, with an average of 114,000 hospitalizations and 36,000 deaths.
Symptoms include fever (usually high), headache, extreme tiredness, dry cough, sore throat, runny and/or stuffy nose, and muscle aches. Gastro-intestinal symptoms such as nausea, vomiting, and diarrhea are much more common in children than adults are.
The flu virus is spread from person to person through respiratory droplets by coughing or sneezing. It can also happen when touching the hand of someone with these droplets present, and touching your own nose or mouth before washing your hands.
The single best way to prevent the flu is through vaccination. One influeza (flu shot) or flu mist treatment prevents influenza. Depending on age, two flu shots or flu mist treatments may be necessary.
In spite of rumors to the contrary, getting a flu shot does NOT give you the flu. You may have a sore arm for a day or so, but it will not set you back. And you will have protection against the flu all winter long. Scheduling flu clinics is an effective way to reduce absences due to the flu. Start the process of scheduling your flu clinics by clicking here.
Passport Health will do wellness screenings including cholesterol, blood pressure and bodyfat percentage measurements. Individuals receive a confidential summary and the company may have an overall summary.
Why should you sponsor a flu shot clinic?
Organizations lose millions each year because their employees miss time due to sickness. Even worse, ill employees suffer pain, discomfort, even lost wages–and most of that could be prevented.
Influenza, one of the most common seasonal illnesses, is easily prevented with a vaccination. The vaccine is very effective, but needs to be repeated annually. Make it a policy to have your employees vaccinated every year. The benefits to your employees and your company can be measured in improved productivity.