The registered nurses of Passport Health Charlotte have counseled thousands of clients traveling to all parts of the world for business, pleasure, missionary work and for students studying abroad. Their professional memberships include the International Society of Travel Medicine (ISTM). Please call 704-921-5663 to schedule your travel consultation with Linda, Mary, Lindsey, Shannon, or Amanda to discuss your travel health needs today!
---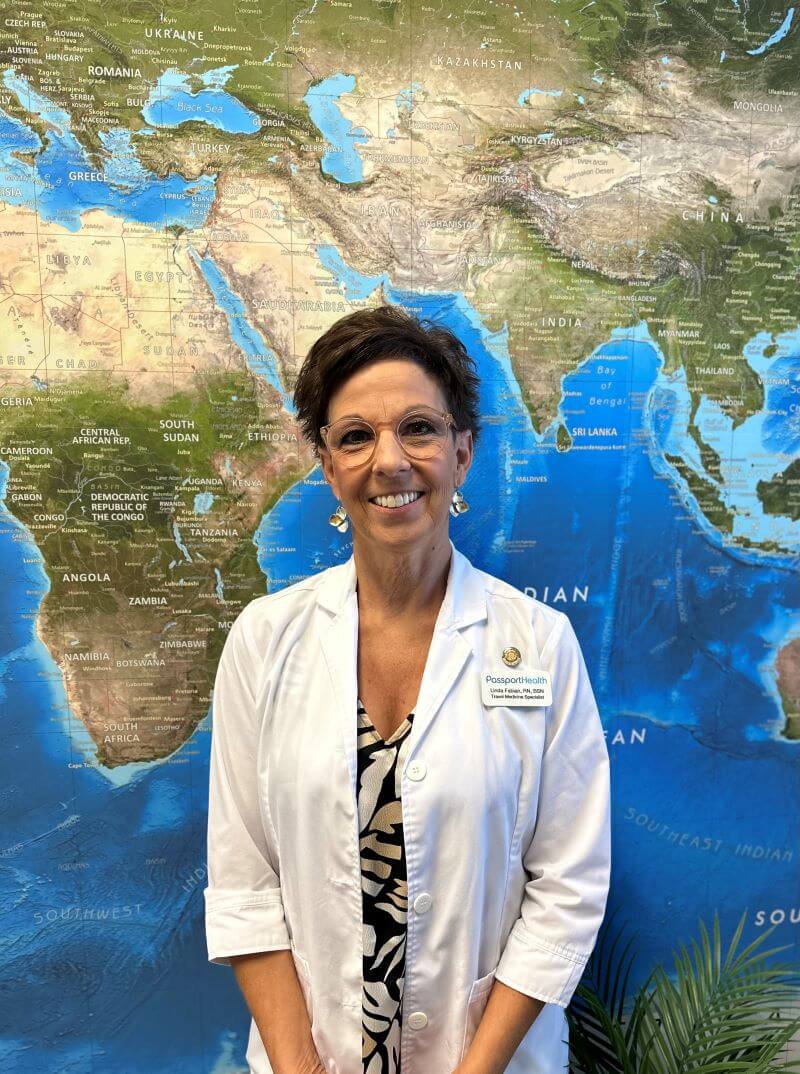 Linda Fabian, R.N., B.S.N.
Travel Medicine Specialist
Michigan State University, East Lansing, Michigan
Bachelor of Science in Nursing
Linda has been a nurse for over 28 years! She began her nursing career in Michigan, working in General Surgery. After moving to Charlotte in 1993, she became a Clinical Coordinator for an Internal Medicine, Family Practice and Pediatric Medical Group. She began working as a Travel Medicine Specialist with Passport Health in 2015.
Passport Health allows Linda to educate her clients on how to be safe and stay healthy while traveling. Each day brings a new opportunity to learn more about the dynamic field of travel medicine, and she shares that learned knowledge with her clients. Linda enjoys new challenges, meeting new people every day and talking to them about their exciting adventures abroad.
In her spare time, Linda loves spending time with her family, walking, practicing yoga, cooking, reading and cheering on the Michigan State Spartans during football and basketball season!
---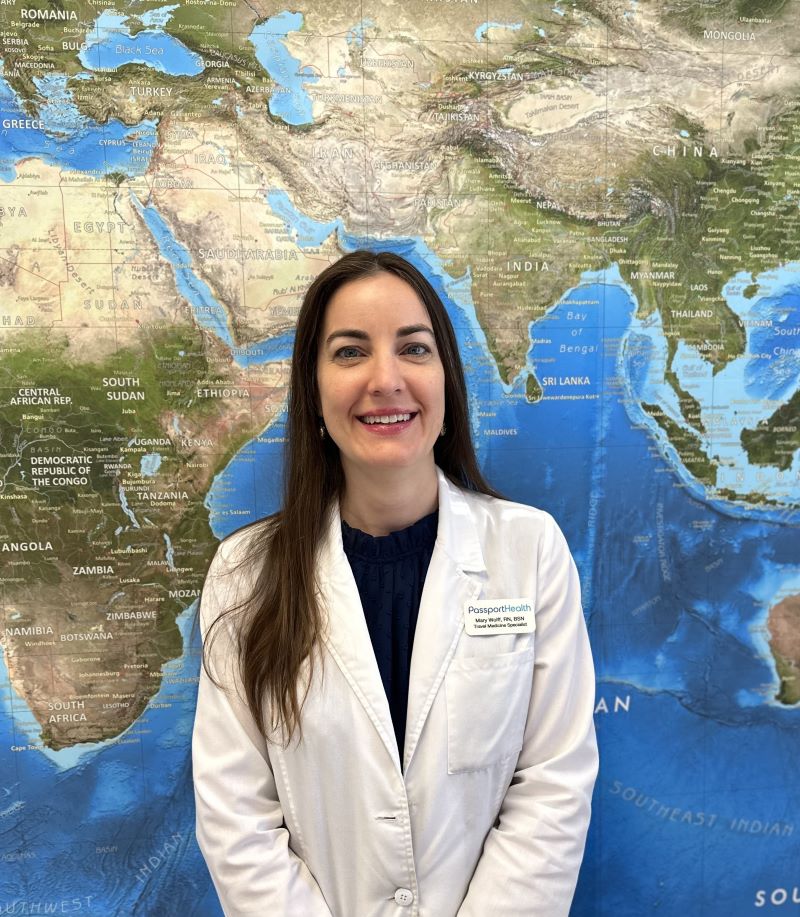 Mary Wolff, R.N., B.S.N.
Travel Medicine Specialist
New York University, New York, NY
Bachelor of Science in Nursing
Mary began her healthcare career in Boston working in Rehabilitation and Geriatric care. She then took a dream position with National Geographic Magazine in New York City. While an experience of a lifetime, Mary's passion remained in healthcare.
Mary graduated summa cum laude from New York University's Nursing program in 2010. Before settling in Charlotte, Mary's family lived overseas in London, England for several years. During her time living abroad, she traveled extensively throughout Europe and journeyed to the Middle East. While raising her children in a foreign country, Mary had the task of researching different immunization schedules for living and traveling abroad. She personally experienced the importance of understanding and following the CDC/WHO vaccination recommendations for foreign travel. Relocating to Charlotte has given her the opportunity to pursue travel medicine and Passport Health provides the perfect combination of Mary's two passions, healthcare and travel!
When out of the office, Mary enjoys spending time with her family, especially family vacations, reading, exercise and eating healthy to prolong her years on Earth to travel! She looks forward to consulting clients on the most up-to-date travel medicine recommendations for their next great adventure!
---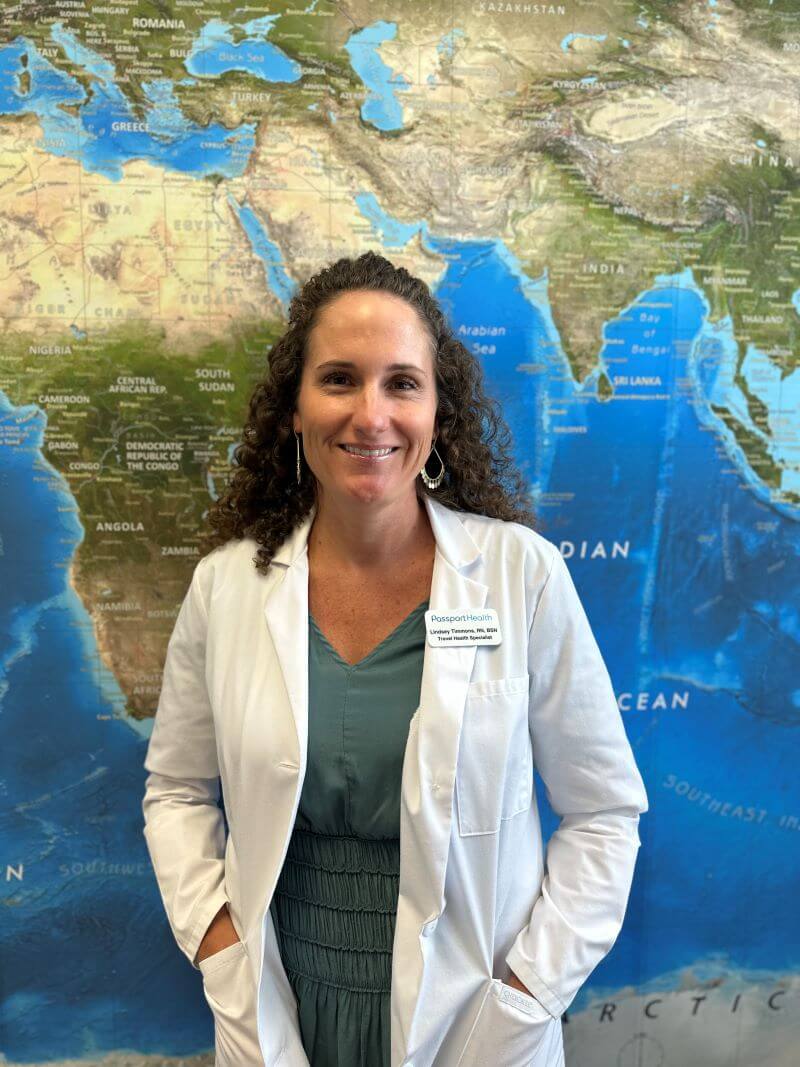 Lindsey Timmons, R.N., B.S.N.
Travel Medicine Specialist
University of Florida
Bachelor of Science in Nursing
Lindsey began her nursing career caring for children on a Pediatric unit at Shands Hospital in Gainesville, Florida after graduating with a BSN from the University of Florida in 2004. After relocating to Charlotte, she then spent 6 years working at Levine Children's Hospital before pursuing a job in school health. Lindsey began working as a Travel Medicine Specialist with Passport Health in September of 2019, combining her passion for healthcare and travel!
Lindsey has traveled all over the globe including Central America, Europe, Asia, Australia and Africa! She looks forward to sharing her travel experiences and consulting with clients to educate them and meet their travel needs while keeping them safe and healthy.
In her free time, Lindsey enjoys spending time with her family and friends, exercising and of course traveling!
---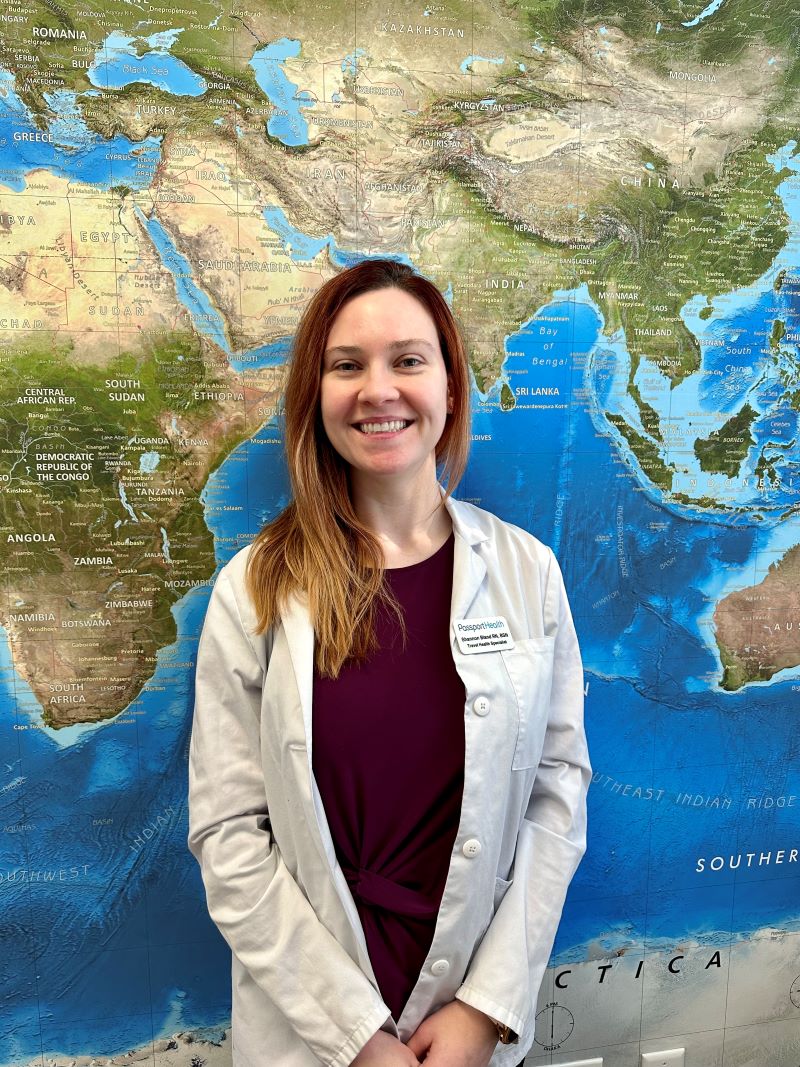 Shannon Bland, R.N., B.S.N.
Travel Medicine Specialist
University of South Carolina, Spartanburg
Bachelor of Science in Nursing / Certified Emergency Nurse
Shannon graduated nursing school in 2013 and started her career in the Emergency Department. In 2018, Shannon became a Travel Nurse where she worked in various emergency departments across the country.
Shannon joined Passport Health in May, 2023. She enjoys meeting new people and helping to educate them to keep them safe and healthy on their bucket list trips around the world!
In her free time, she loves to travel, attend concerts, and scuba dive. She has visited six of the seven continents. As she states, "I haven't been everywhere, but it's on my list! Shannon loves to share her stories and passion for International travel around the globe!
---

Amanda Mascara, R.N., B.S.N.
Travel Medicine Specialist
University of North Carolina, Charlotte
Bachelor of Science in Nursing
Amanda has been a Registered Nurse for 14 years. She obtained her BSN and also has a degree in Cross Cultural Studies from North Central University. During her career, Amanda has worked as a Circulating Nurse in the OR and as a School Nurse.
Amanda is passionate about providing quality care while remaining mindful of her patients' individual preferences and needs. She enjoys meeting her patient's at Passport Health and hearing about all of their upcoming adventures!
In her free time, Amanda enjoys gardening, running and spending time with her family.