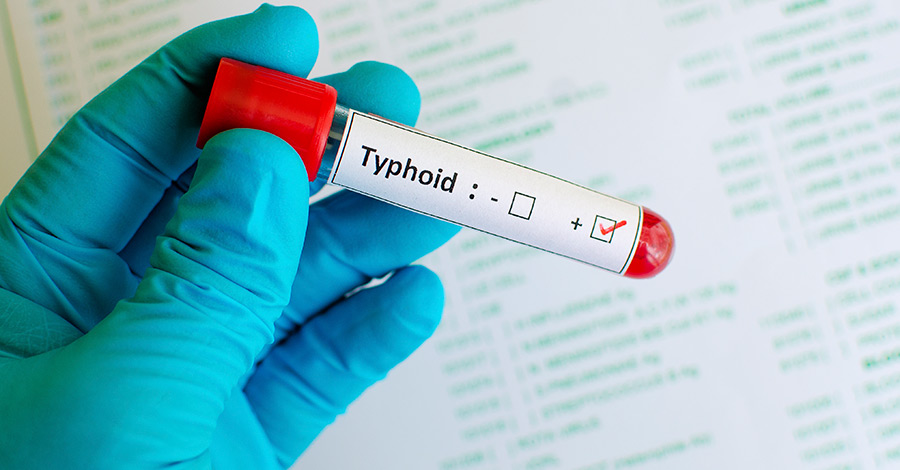 If you have plans to visit India, Pakistan, the Caribbean, or certain areas of Central and South America, Africa, and the Middle East, you've probably received a recommendation to have a typhoid fever vaccine. Typhoid fever is a bacterial disease with a history dating back to early Greek civilizations. A vaccine was developed in the late 19th century, helping to curb this potentially life-threatening infliction.
What is Typhoid Fever?
A bacteria known as Salmonella typhi causes typhoid fever. The bacteria transmits through contaminated food or water supply. Once ingested, the bacteria spread through the bloodstream and into the intestinal tract. Symptoms of typhoid fever include:
Stomach pain
Diarrhea
Loss of appetite
Rash
Fever as high as 104 degrees Fahrenheit
Extreme tiredness
Aches and pains, including headaches
Very severe cases of typhoid fever can lead to complications, such as intestinal bleeding or inflammation of major organs, as well as death.
Additionally, some people may become carriers of typhoid fever even if they no longer have symptoms. Known as "typhoid carriers," this small population of people continues to harbor the bacteria that causes typhoid fever in their feces, which means they could potentially infect others.
Mary "Typhoid Mary" Mallon is the best-known healthy carrier of typhoid fever and researchers claim she was probably the main reason for an outbreak of the disease that infected about 3,000 New Yorkers in 1907.
While typhoid fever is mostly eradicated in developed countries, it is still a health concern in developing nations. The World Health Organization (WHO) estimates as many as 20 million people https://www.who.int/news-room/fact-sheets/detail/typhoid come down with typhoid fever each year, and as many as 161,000 die from it annually.
When Was the Typhoid Fever Vaccine Invented?
Although there are antibiotics to treat typhoid fever, in recent years doctors are struggling with patients becoming resistant to certain antibiotics. The best treatment and prevention for typhoid fever is vaccination.
Historians credit two researchers — British pathologist Almroth Wright and German bacteriologist Richard Pfeiffer — with developing the first typhoid fever vaccine in 1896 as they were working simultaneously on the typhoid vaccine. The British Army commissioned Wright to develop a typhoid fever vaccine in December 1895 and he published research on the subject in September 1896. Pfeiffer published experimental studies on a vaccine in November of 1896. Although both men reportedly knew of each other's work — and even spoke at some point during their research — there was a battle over who truly was first.
Today's Typhoid Fever Vaccines
Regardless if you are Team Pfeiffer or Team Wright, both men paved the way for the typhoid vaccines available today. If you are planning on traveling from the United States to an area where typhoid fever is prevalent, you have two vaccine options:
A shot vaccine administered at least two weeks before traveling. This vaccine is approved for travelers age 2 and up.
A pill vaccine that includes four pills taken every other day at least one week before traveling. This vaccine is approved for travelers age 6 and up.
In 2018, the WHO recommended a typhoid conjugate vaccine (TCV) for typhoid fever. This new vaccine reportedly can be used administered to children as young as 6 months old and offers longer-lasting immunity than the other vaccines currently available.
To schedule your own typhoid fever vaccination or if you have questions regarding the typhoid fever vaccine, contact one of Passport Health's flu specialists at .
Written for Passport Health by Corrie Pelc. Corrie Pelc is a freelance writer in the Dallas-Fort Worth area. She has a passion for health and wellness, having written for publications including Exceptional Parent, DAYSPA, INVISION, Eyecare Professional, and Hepatitis Magazine.