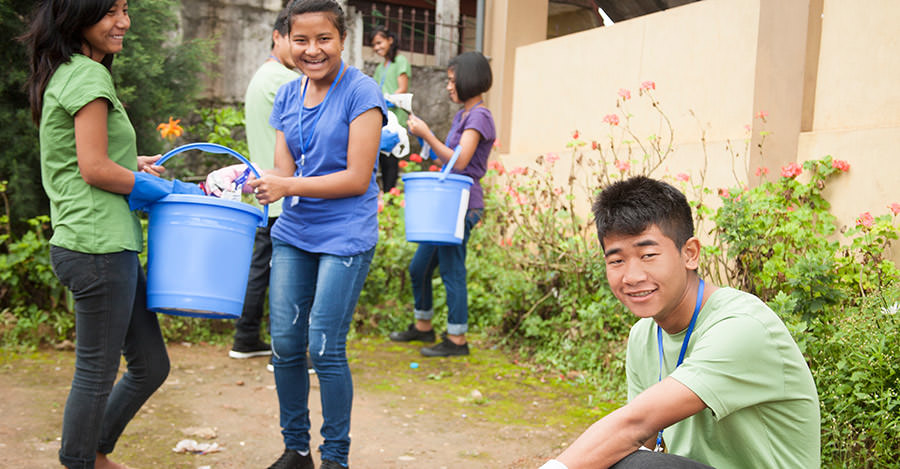 Preparing for a mission trip can be challenging for even the most experienced traveler. From handling funds to managing traveling with a group of other ministry participants, mission travel can be fraught with hiccups that general vacations just don't have. Learn how to mitigate these issues and prepare for a successful and healthy mission trip.
Should I Receive Any Vaccines Before My Mission Trip?
Mission trips can occur just a few hours from home or they may be a continent away. Whether you or your group members will need vaccination depends on where you will be going and what you will be doing. If you are planning a trip outside of the United States, or if you plan to participate in an activity domestically where you may be exposed to an infection, you should be vaccinated.
Often, vaccination may be as simple as a TDaP (tetanus, diphtheria and pertussis) booster or another routine vaccine. However, these vaccinations could make the difference between a successful trip and a miserable ride home with a potentially deadly disease.
Protection is key, making vaccination the best option when preparing for your mission trip.
Are Vaccines Worth The Cost?
Vaccination may seem like just another cost for a mission trip, possibly even one that may be seen as unnecessary given that you want to be mindful all funds are directed towards helping those in need. But, going without immunization can lead to even more serious dangers and expenses.
Recent estimates suggest a travel illness can cost more than $500 per day per illness. If two members of a mission group fell ill for two days each, that's possible as much as $2,000! Additionally, sick trip participants are not able to minister to those in need, and it is hard to put a value on that lost time.
Immunizations are often a fraction of the cost of post-exposure health care. In many ways, vaccines are like car insurance. Although you may not get in a fender bender (or come in contact with these infections), you should still be protected.
Which Vaccines Will I Need For My Mission Trip?
Avoid an Embarrassing Stop
Every mission trip has its own unique characteristics that may require different vaccinations or medications. The following vaccines are generally recommended:
A few other items that may be recommended are:
Will I Need A Visa For My Mission?
Whether or not you will need a travel visa for your mission depends on a variety of factors. These include:
Where Am I Going?– Some countries require a visa to enter the country. In these cases there isn't a choice; you will have to receive a visa.
What Will I Be Doing?– Various countries have different requirements based on what you may be doing there. For example, some nations may require a visa to proselytize but not to participate in charity work. Be sure to fully research where you will be going, and contact a Visa Services group like Passport Health to learn more.

How Long Will I Be Staying?– Length of stay is often a determining factor. Even neighboring countries like Canada and Mexico have maximum stay limits without a visa. If you are staying for more than 30 days in a region, you may need a visa. Check with the State Department or a Visa Specialist to learn more.
If your trip falls under any of these categories, contact Passport Health's Passport and Visa Services to learn if you or your group will need a visa and how to obtain one.
Should I Go Through An Outside Service To Obtain A Mission Visa?
Choosing how to obtain visas or passports for an upcoming mission trip can be difficult. Often, submitting your own paperwork and following up with embassies and consulates directly seems like the best use of funds. But, that isn't always the case.
Consulates are free to reject a visa application for any reason, and many require in-person delivery of documents. This means time and money spent in traveling to the nearest location in order to file paperwork and then hope everything is indeed filled out properly.
Many larger church organizations have in-house travel document teams whose sole job is to help missionaries and volunteers arrange for their travel. While this is a great resource, it may not be the position your group is in.
If you are part of a small- to mid-sized organization, Passport Health can become your one-stop-shop for passport, visa and travel health services. While these may seem like extra expenditures, it is money well spent as your missionaries will be able to arrive on time and stress-free, ready to help those in the area.
What Are My Best Options For Handling Mission Funds?
Handling mission funds isn't an easy task. Often, this money has been set aside by church goers with the hope of it going to help those most in need. Because of that, it can be hard to choose to spend these funds on what some may see as secondary services. But, consider the following:
Illness is the number one cause of emergency travel evacuation across the globe. Travel immunizations and medications will help ensure a mission trip is successful.
Without proper documentation, it is impossible to enter some countries, including many of those most in need of aid. Having to re-file paperwork can be a serious additional cost, while having incorrect documents can end a mission before it starts. Make sure all participants have everything they need.
Passport Health makes points one and two much easier. Whether your group has decided to band together and receive travel documents and immunizations at one time or do so separately, we are prepared to help make your mission as successful as possible.
To start your pre-travel preparations contact your local Passport Health by calling or booking online today. Group discounts are available. If you are traveling with a large group, please contact Passport Health's account team at 1-888-986-8868. If you need passports or visas for members of your group, or are unsure whether you will need them, contact our Passport and Visa Services department today at 1-844-366-8472.
To learn more about mission and volunteer travel, see our Mission, Volunteer and Adoption page.
Do you have any tips for individuals traveling on mission trips? Let us know in the comments, on Facebook or via Twitter.