Florida is a paradise, but many locals and winter visitors alike set sail for distant shores, from cruises to safaris, leaving from Sunshine State ports for exotic, remote and exciting destinations in South America and Africa. But these trips of a lifetime could be remembered for a very unpleasant reason if one becomes ill.
Since yellow fever is endemic in some African and South American countries, some require proof of vaccination and a number of cruise lines require a traveler be immunized before boarding ship. Locating the latest yellow fever outbreak information can be time-consuming. With a quick call to Passport Health Sarasota, you can get the latest disease updates.
One sought after destination, Brazil, with its beaches at Ipanema and Pernambuco, cable car to Sugarloaf, and breathtaking Iguaçu Falls, is among the most popular and magnificent of destinations. But there, since early in 2018, there's been a widespread and ongoing outbreak of yellow fever. U.S. and world health officials confirm[1] that a number of unvaccinated travelers to Brazil contracted yellow fever, with many infected in Rio de Janeiro. The devastating news is that many have died.
There is simply no better way to say this: travelers to Brazil , or any South American or African destination, must be vaccinated to protect themselves from Yellow Fever. To set off on a cruise of a lifetime, or to fly across the world for a safari adventure that will likely never be forgotten, without being vaccinated could make the trip unforgettable, but for the wrong reasons. Yellow fever, delivered by the bite of an infected mosquito, can mean fever, headache, nausea, and vomiting, chills, fatigue, loss of appetite, abdominal and muscle pain, bleeding, delirium, yellow skin and eyes and in the worst cases, fatal heart, liver, and kidney conditions. For those who have been vaccinated previously, a booster shot may be in order.
When surfing the internet and checking sites like the World Health Organization[2] or the Centers for Disease Control it's often noted that yellow fever vaccine is available at a limited number of clinics in the United States, so travelers should plan ahead to get the vaccine.[3] There are currently just several hundred locations nationally, and only 12 in Florida, with the vaccine. Passport Health Sarasota is one of them. And one of only 2 on the West coast of Florida. Though some area pharmacies are saying the vaccine is either on backorder or unavailable, Passport Health Sarasota has stocked additional yellow fever vaccine to meet the expected demand. As a matter of fact, there's simply no travel vaccine we do not have.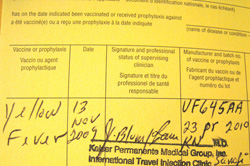 And, at Passport Health Sarasota we also prepare International Certificates of Vaccination (ICV) for our clients. The ICV is a written record of all vaccines a patient has received. Some countries require to see the ICV before they allow a visitor to enter the country.
We are here for you. And if you should contact us after regular business hours, we will get back to you the moment we get your message. We have been told some providers do not return calls. At Passport Health Sarasota we are all about our clients and their health and safety. And while appointments are necessary, we can often see clients the same day, or within a couple days. Our clients find our convenient, well-health offices to be very comfortable places to receive vaccines.
So bon voyage, after you visit us for your vaccine!
Areas with risk of Yellow Fever in Africa and South America
Src: Centers for Disease Control and Prevention