Down here in Florida the busy winter season is upon us.  Many of our winter visitors like to go on cruises and safaris that leave from Florida and make stops in exotic places like South America and Africa.  These are beautiful and fascinating destinations but there are also places where Yellow Fever, in addition to other diseases, is endemic.  Many African countries require proof of Yellow Fever vaccination and even some of the cruise lines are requiring Yellow Fever vaccination in order to board their ships.


Areas with risk of Yellow Fever in Africa and South America
Src: Centers for Disease Control and Prevention
We have Yellow Fever Vaccines. Passport Health Sarasota-Bradenton has stocked additional Yellow Fever vaccine to meet the expected demand.  Appointments are appreciated but walk-ins are welcome.  Our clients find our convenient, well-health offices to be very comfortable places to receive vaccines.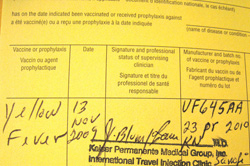 Passport Health Sarasota-Bradenton also prepares International Certificates of Vaccination (ICV) for our clients.  The ICV is a written record of all vaccines a patient has received.  Some countries require to see the ICV before they allow a visitor to enter.  Cruise lines are doing the same now with Yellow Fever Vaccinations and Certifications.
For all those travelers out there, please be sure to see a Travel Health Specialist before you visit any destination outside the US, especially third world countries.  Our Travel Health Specialists will arm you with all the latest health information regarding your destination and will offer vaccines as well as general well-health products.
Safe travels!