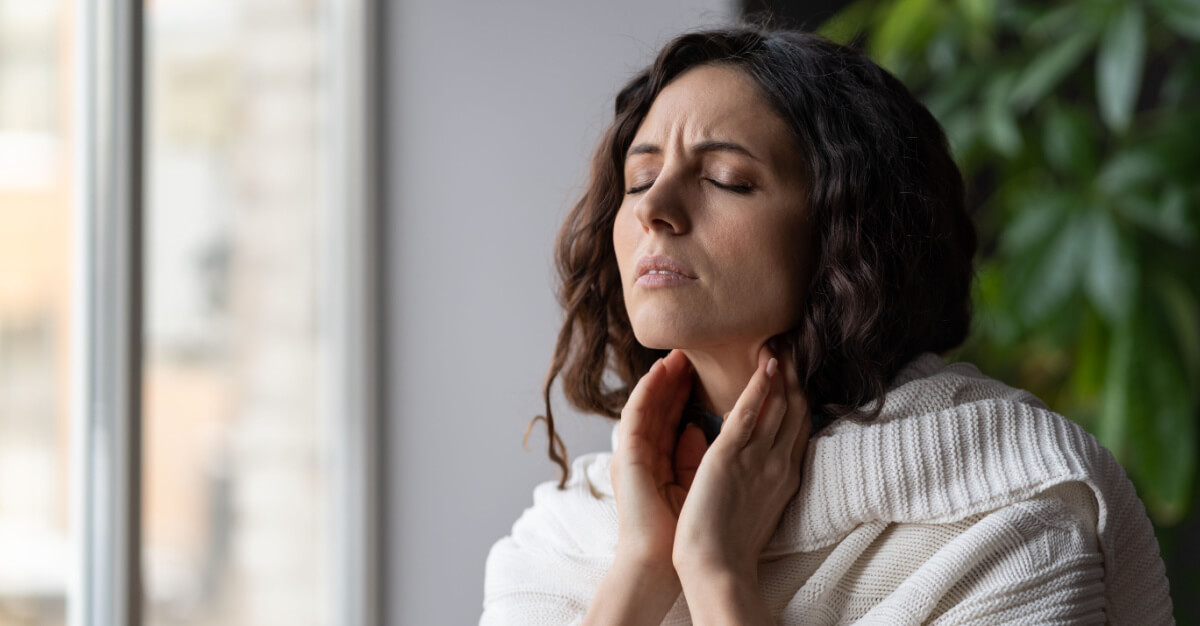 Pharyngitis occurs when the mucous membranes that line the back of the throat (pharynx) become inflamed. Pharyngitis is the medical term for sore throat and is a common condition that hardly causes significant concern. Typical symptoms of pharyngitis include difficulty swallowing, fever, stomach pain, and dryness. Viral pharyngitis often clears up on its own within a week or so. However, knowing the cause of pharyngitis can help someone determine which treatment options are best for them.
What Happens if Pharyngitis is Left Untreated?
Leaving pharyngitis untreated or not completing a treatment course as directed can lead to serious health problems. Some people experience kidney problems and rheumatic fever, which can damage the heart valves.
Causes
Doctors require a physical exam and laryngoscopy (scope exam in a clinic) to determine the causes of pharyngitis. Viral infections are the most common cause of pharyngitis, but other viruses that can cause the condition are:
Rhinovirus, coronavirus, or parainfluenza (causes of the common cold)
Adenovirus (causes conjunctivitis – also known as pink eye – and the common cold)
Epstein-Barr virus (causes mononucleosis)
Mononucleosis (Mono) is a contagious viral infection that causes various flu-like symptoms. The virus spreads through saliva, so someone can develop it by sharing utensils and cutlery, coughing and sneezing exposure, or kissing. Mono, also known as the kissing disease, mainly affects teenagers and young adults. But children can also acquire it.
Bacterial infections can also lead to pharyngitis, though that is less common. Group A Streptococcus bacteria has caused pharyngitis in children around 20-40 percent of the time. Pharyngitis created from the Group A infection is called strep throat. Other bacterial infections that can generate this illness are group C and G Streptococcus, chlamydia, gonorrhea, and mycoplasma pneumonia. Factors that can increase someone's chances of developing it include:
Having a history of allergies
Possessing a history of frequent sinus infections
Smoking or exposure to secondhand smoke
Treatment & Self-Care
Treatment for pharyngitis depends on the cause. Doctors may give someone oral antibiotics like amoxicillin or penicillin for bacterial infections. These drugs help reduce symptoms and prevent complications like rheumatic fever. You must complete the entire course of antibiotics for maximum effectiveness. That will ensure the infection has cleared up and will prevent reinfection.
Viral pharyngitis does not respond to antibiotics and typically clears up naturally. Over-the-counter medications (acetaminophen or ibuprofen) help reduce pain and fever.
Some home remedies that can help escalate recovery include:
Getting adequate rest
Staying hydrated
Using a humidifier to add moisture to the air
Sucking on throat lozenges to soothe the throat
Gargling with salt water
Changing toothbrushes
Drinking warm beverages (tea, lemon water, or broth)
Final Thoughts
Pharyngitis is hardly ever a serious condition, and it often occurs during cold and flu seasons. Viral pharyngitis tends to clear up on its own within a couple of weeks. Still, bacterial pharyngitis may need antibiotics to shield your body from complications. Rheumatic fever is rare, but if you have severe, recurring, or persistent symptoms, it is crucial to see a doctor. You can limit your chance of getting pharyngitis by covering your nose and mouth when sneezing or coughing and practicing good hygiene.
Whether it is required vaccines for your trip or routine immunizations like influenza, Passport Health is here to help. Call 937-306-7541 or book online to schedule your appointment today.
Written for Passport Health by Shelbi Jackson. Shelbi is a freelance writer from Illinois. She enjoys writing about various topics from health care to music and book reviews. In her free time, you can find her at a live event, taking a stroll outside, or playing with the family dogs.