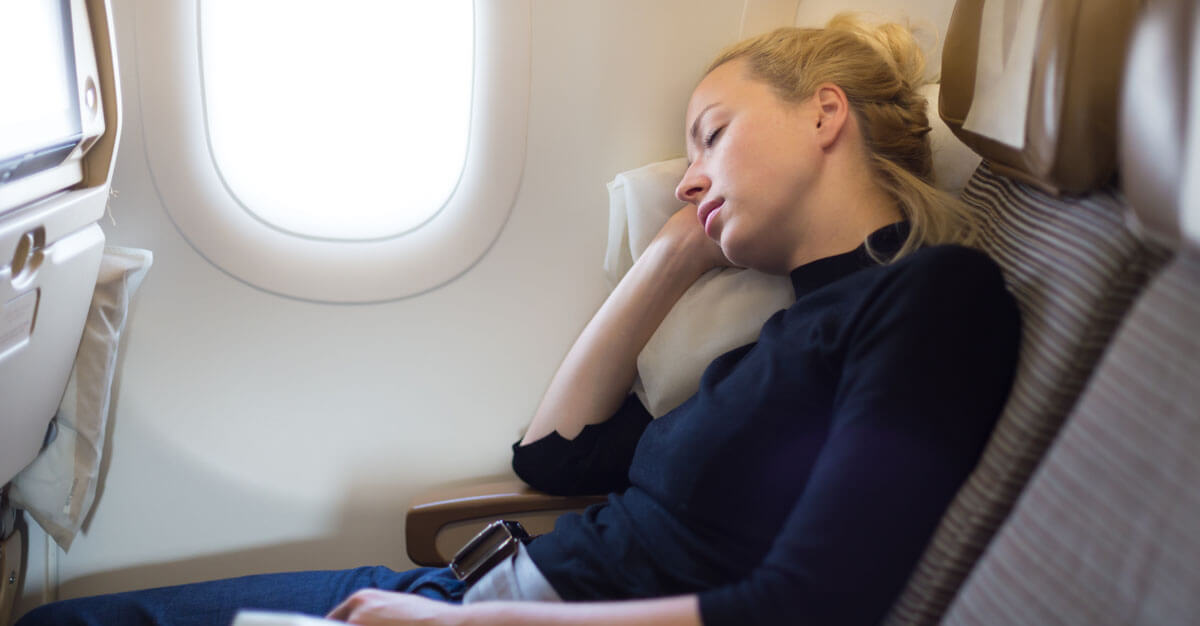 Traveling across the globe on an airplane to your vacation destination is exciting. But, flights can last eight hours or even more. It is wise to catch some sleep on the plane before you arrive, if you can. Here are five tips for better sleep on a plane.
Fly Direct If Possible
If it is possible to get a direct flight to your destination, it is better overall for your sleep. When you have connecting flights and layovers, it can disrupt any sleep you might want to catch on the plane. You will feel much more refreshed and ready to have fun if you plan for a direct flight.
Shut Off The Blue Lights
Chances are that you have your phone, tablet, computer or other electronics with you. But, if you want to grab a few winks before you land in another country, it is integral to put your devices that emit blue light away. This is so that your body can wind down and get some rest.
But, it also throws off the secretion of melatonin, which is the hormone that is responsible for your sleep cycle and has a significant influence over your circadian rhythm. That can turn your whole sleep cycle for the trip upside down. It is essential to put away any items that give off blue light, at least during the plane ride while you are trying to rest.
Grab Some Sleep Essentials
If you know that you are going to be on a plane for a while, you will want to gather up some items essential for sleep. Bring them with you on your carry-on, so you have easy access to them. Some ideas for things that can help one rest are:
Travel pillow
A warm blanket
Sleep mask
Earplugs
Headphones
You should also make sure that you are wearing comfortable clothes if you are planning to get some sleep on the plane. That way, you are not restricted by anything tight or constricting and can relax.
Avoid Caffeine Before The Flight
Drinking caffeinated beverages before your flight can mess with your sleep schedule, especially if you plan to grab a nap. It is best to skip the caffeine and get some extra rest instead. You should also not drink alcohol when you are sleeping on a plane. While in the beginning, alcohol may lull you to sleep, it can lead to more awakenings during your sleep cycle, and it can interrupt how you feel when you land. While on the plane, try to drink plenty of water, though, so you do not get dehydrated.
Stick To Your Normal Sleep Routine
When you are ready to get some rest, try sticking to what you usually do at bedtime. Whether it be meditation or listening to music, try using some of the essential sleep gear listed above to help you in this process. You could even try some light stretching just before you board the plane.
By utilizing these tips for your next long-distance flight, you'll be lulled to sleep while being swiftly carried to your long-awaited destination vacation. Make sure that you are up-to-date on all of your travel vaccinations by making an appointment here at Passport Health.
Planning an international trip? Make sure you're protected with immunizations from Passport Health. Call or book online to schedule your appointment today.
Jennifer Passmore is a stay-at-home mom, writer and beader. She loves creating art with her words and through her jewelry. She is also a passionate mental health advocate. You can find more writing at her website Positivity In Pain.