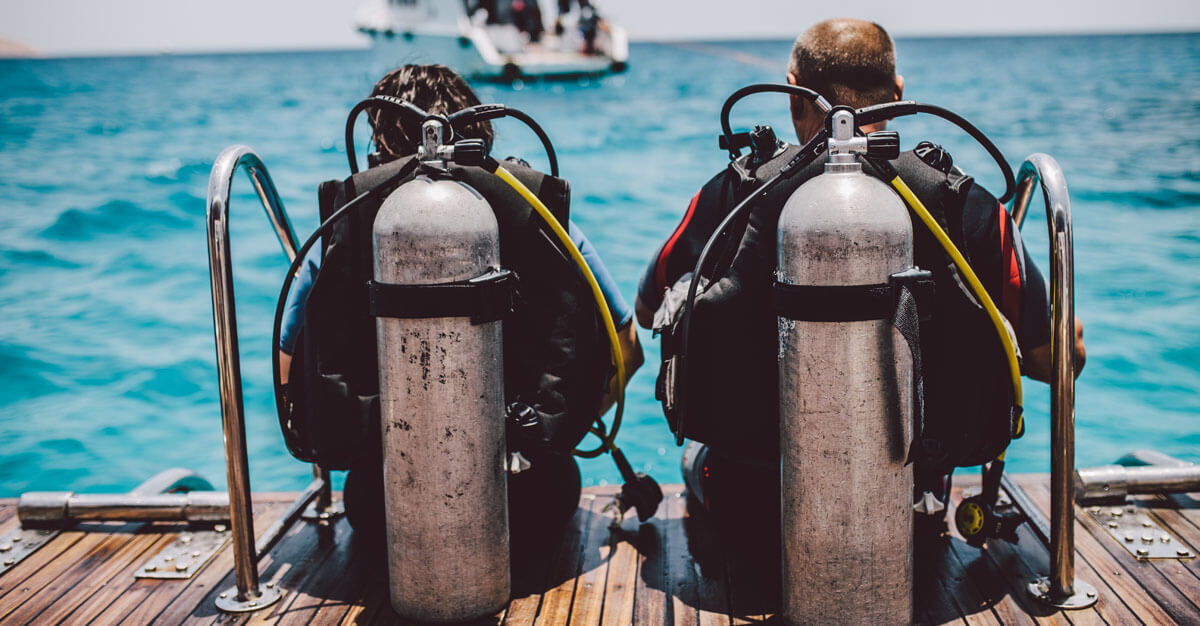 Scuba diving can be quite an enjoyable and fun activity when you are on vacation. It can be very exciting to see the different kinds of marine wildlife that are in that area. Plus, scuba diving offers so many great opportunities to learn about different species of fish, coral, and other sea life. Not to mention that it can be incredibly beautiful beneath the water, a whole incredible ecosystem of its own. But, you do want to make sure that when you are scuba diving you stay safe. Here are some tips on how to stay safe when scuba diving.
Assure That You Are Scuba-Ready
If you have never been scuba diving before, you should visit your primary care provider for a check-up. When you are there, explain to them that you are interested in scuba-diving and that you would like to make sure that your body is fit to do so. Your physician will examine you and find out just that. You should also make certain that you are up-to-date on any vaccinations you might need, including travel ones, especially if you plan to travel overseas to scuba-dive.
Get Certified
While it is certainly not illegal to dive without certification, it is a whole lot safer if you are certified. If you plan on doing any kind of diving outside of your hotel or resort, you should seek a certificate from the Professional Association of Diving Instructors (PADI). The best thing about PADI is that you don't even have to live close to the ocean to get started on your training. All you need to do is find a PADI-certified training center using their website, have a free weekend or two, and pay for the course.
Once you have completed the basic courses that have been recommended for you and your skill level, you are then ready to scuba dive. Note that if you are staying at a hotel or resort that offers scuba lessons, these lessons are likely for diving less than 30 feet beneath the water's surface, and usually not any deeper.
Always Dive With A Buddy
Diving is a sport that should be done in groups of two or three, even more, if possible. Many scuba-related injuries or deaths are related to someone going diving by themselves or moving beyond the means of their training. When you dive with other scuba-certified friends, you are giving yourself the peace of mind that there is someone else there with you, just in case anything happens.
Remember To Ascend Slowly
If you have dived into deeper waters, then it is very important that you take your time ascending back to the top of the water. If you ascend too quickly, you are putting yourself at risk for decompression sickness, also known as "the bends." Nitrogen gases form bubbles within the blood and can cause a whole host of problems, including damage to your brains, lungs, and spinal cord.
Do Not Fly For 24 Hours After
Before you fly anywhere after taking a dive, you should plan for at least one day off after a dive. While some sources say that you should not fly for 18 hours after a dive, approximately 24 hours remains the time period that most doctors recommend. This gives your body a chance to dissipate all of the excess nitrogen that is in your system from your dive. If you aren't feeling good after a dive, make sure that you visit a local hospital to make sure that everything is fine and to make sure you are not being affected by decompression sickness.
By following these tips and tricks, they can help you have a safer time when you scuba-dive.
Making sure you are Scuba-ready is just one part of preparing for a trip. Passport Health offers vaccinations, medications and more to help make sure you stay healthy while abroad. Call or book online to schedule your appointment today.
Jennifer Passmore is a stay-at-home mom, writer and beader. She loves creating art with her words and through her jewelry. She is also a passionate mental health advocate. You can find more writing at her website Positivity In Pain.