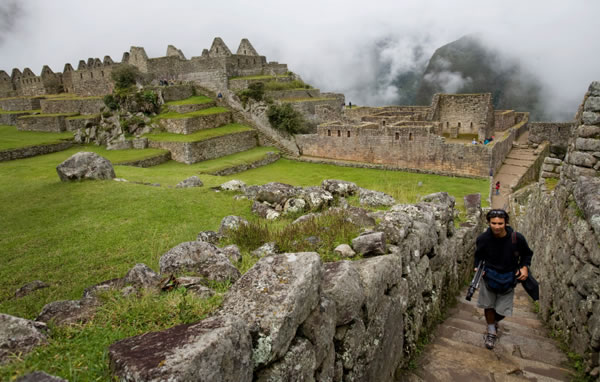 The incredible vistas of Peru are a must-see for a traveler, but a lack of oxygen can keep you from enjoying your trip. Macchu Pichu, a popular destination for tourists, is roughly 8,000 feet above sea level. Hypoxia (a lower-than-normal oxygen concentration in arterial blood) can occur at around 7,874 feet above sea level. But, for many traveling to Macchu Pichu, it's the colonial-capital city of Cusco that will be the real challenge. Clocking in at over 11,000 feet above sea level, visiting Cusco can be breathtaking – and not necessarily in the way you'd like Keep yourself from losing precious moments to altitude sickness with some easy mitigation techniques.
What to look for
Altitude sickness doesn't affect everyone in the same way, and many travelers may not even experience it. But, if you start experiencing dizziness, headaches, stomachaches, shortness of breath, or vomiting, it could be a good indicator that you're experiencing altitude sickness.
Avoiding altitude sickness
There are some simple ways to prevent or prepare for the effects of altitude sickness.
Stay hydrated. Drinking lots of water and avoiding heavier meals will keep your body well-tuned in the new environment.
Rest. Even if you aren't experiencing symptoms yet, it's best to rest for the first few hours when you hit a high point like Cusco to let your body acclimate.
Ascend slowly. If you're able to, spend time at lower altitudes first so your body can adjust.
Avoid drinking alcohol or using tobacco. These can exacerbate the effects of altitude sickness, and high altitudes often worsen any symptoms of a hangover you might have as well.
Ginkgo Biloba. A 2008 study on the effects of Ginkgo Biloba yielded some exciting results: participants who took 80 mg of the extract every twelve hours at least a day before ascending to higher altitudes had a noticeable reduction in their sickness compared to those who took acetazolamide or placebo. These results mean taking ginkgo Biloba could work for some to prevent altitude sickness.
Coping with altitude sickness
If you're already dealing with altitude sickness, there are some ways you can treat the symptoms to get yourself feeling better.
Coca: The Inca people use the leaves of the coca plant to counteract altitude sickness. The leaves can be brewed in a tea you can find in hotels in high-altitude towns such as Cusco.
Diamox (acetazolamide): This is a prescription drug used to treat glaucoma but has been effective in treating altitude sickness.
Rest – again! Peru will be there when you're feeling better! You can't enjoy your trip if you aren't feeling well, so take the time you need and don't push yourself.
If you're experiencing prolonged or worsening symptoms, seek medical attention and move to a lower elevation whenever possible.
Whether you are planning a trip to the highlands of Peru or anywhere else, Passport Health is here to help. From altitude sickness medical to yellow fever vaccines, we'll help you travel safely. Schedule online now or call to learn more.
Written for Passport Health by CJ Darnieder. CJ is a freelance writer and editor in Chicago. He is an avid lover of classical music and stand-up comedy and loves to write both in his spare time.