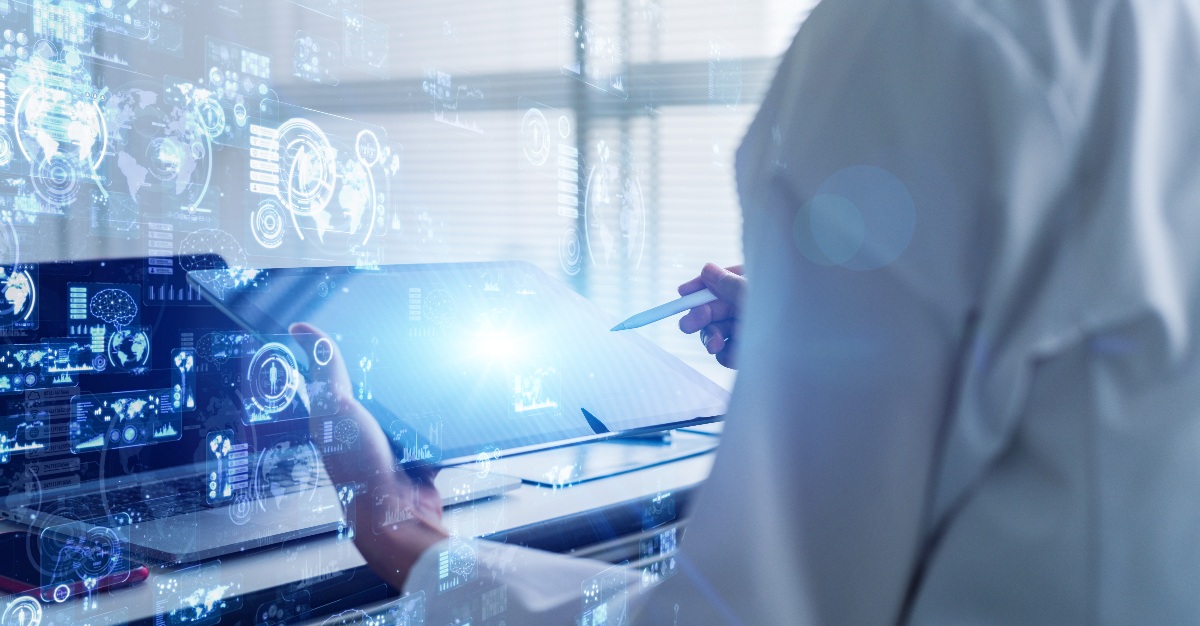 With a constant news stream of virus outbreaks and mutating diseases, the future of healthcare seems dreary and uneasy. Although, artificial intelligence may be a viable solution to help us fight diseases.
Most people may have an idea of artificial intelligence through sci-fi movies, but it is a real part of technology today.
Artificial Intelligence Used in Healthcare
By mimicking human brainpower, a computer program or machine can think and learn how to respond to different actions. Artificial intelligence is able to learn and analyze large amounts of information. It allows machines to consider more factors and evaluate more cases than their human counterparts.
Like many other breakthroughs in technology, AI can also help us in healthcare.
The use of AI and machine learning algorithms opens us up to various improvements in the fight against disease. We would be able to provide faster diagnoses and create new treatments. AI could ultimately help provide the population with longer and healthier lives.
A study was recently published in "The Lancet Digital Health" journal focusing on artificial intelligence. A team of researchers looked at all studies comparing AI algorithms to healthcare professionals. They compared the two groups on "when they had made a diagnosis based on medical imaging."
This study ultimately paired artificial intelligence verses their human counterparts. The researchers could then find how quickly they were able to correctly diagnose patients.
The team was led by Professor Alastair Denniston from the University Hospitals Birmingham NHS Foundation Trust in the United Kingdom. They searched through medical databases and identified 31,587 studies. All the studies were published between January 2012 and June 6th, 2019.
Within these studies, 14 compared AI models and healthcare professionals within the same cases. The results showed the two groups performed equally in diagnoses.
Looking at these findings, we're able to see how artificial intelligence can perform as well as doctors. There's even potential for healthcare professionals to reevaluate how doctors use their time.
Other Uses for Artificial Intelligence
Some may consider AI a thing of the future, but it's already being used in healthcare beyond diagnosing patients. Professionals are using the technology for genome research and various drug developments. They've also improved medical imaging with the help of AI.
In fact, it's not just the world's biggest healthcare companies using artificial intelligence. While companies like Bayer have put AI to use, there are at least 148 startups using artificial intelligence in drug discovery.
Artificial intelligence is able to analyze information and make decisions faster than humans. Ultimately, AI could lead to swifter, more accurate outcomes in healthcare settings.
One existing company using artificial intelligence is Lunit.
The company is in the process of developing a deep learning and 3D visualization software that will be able to detect more difficult-to-diagnose diseases.
At the moment about 20% of lung cancer and breast cancer cases go unnoticed. Lunit plans on turning that statistic on its head. They plan to increase the probability of detection being between 83 – 86% through the new software. With a lot of cancer diagnoses, time is a huge factor. If we're able to detect cancer earlier, it could provide patients with more time to treat and the chance of a cure.
Another example of increased efficiency with artificial intelligence is in search times. While humans can take 30 minutes to complete the search, AI systems can cut that down to mere seconds.
On the surface, those saved minutes may not seem like such a huge deal. But, we've already seen the global shortage in certain healthcare professionals and tools. These programs could level the playing field for medical facilities that lack human employees.
The Future of AI in Healthcare
Professor Denniston, explained that, "within that handful of high quality studies, we found that deep learning could indeed detect diseases ranging from cancers to eye diseases as accurately as health professionals. But it's important to note that AI did not substantially outperform human diagnosis."
Even if they may not outperform now, there is always room for improvement.
There are many companies working on different projects and ways to improve artificial intelligence. With those improvements come many opportunities within healthcare. According to Time Magazine, we could eventually see intelligent bots being "integrated into the home through digital assistants or smartphones in order to triage symptoms, educate and counsel patients, and ensure they're adhering to medication regimens."
With time and research, artificial intelligence can only get better and more efficient. We can then look to the future and the endless possibilities of what healthcare practices can be.
Do you think artificial intelligence is the future of healthcare? Did you know AI could help us diagnose diseases more efficiently? Let us know in the comments, or via Facebook and Twitter.
Written for Passport Health by Brianna Malotke. Brianna is a freelance writer and costume designer located in Illinois. She's an avid coffee drinker and enjoys researching new topics for writing.