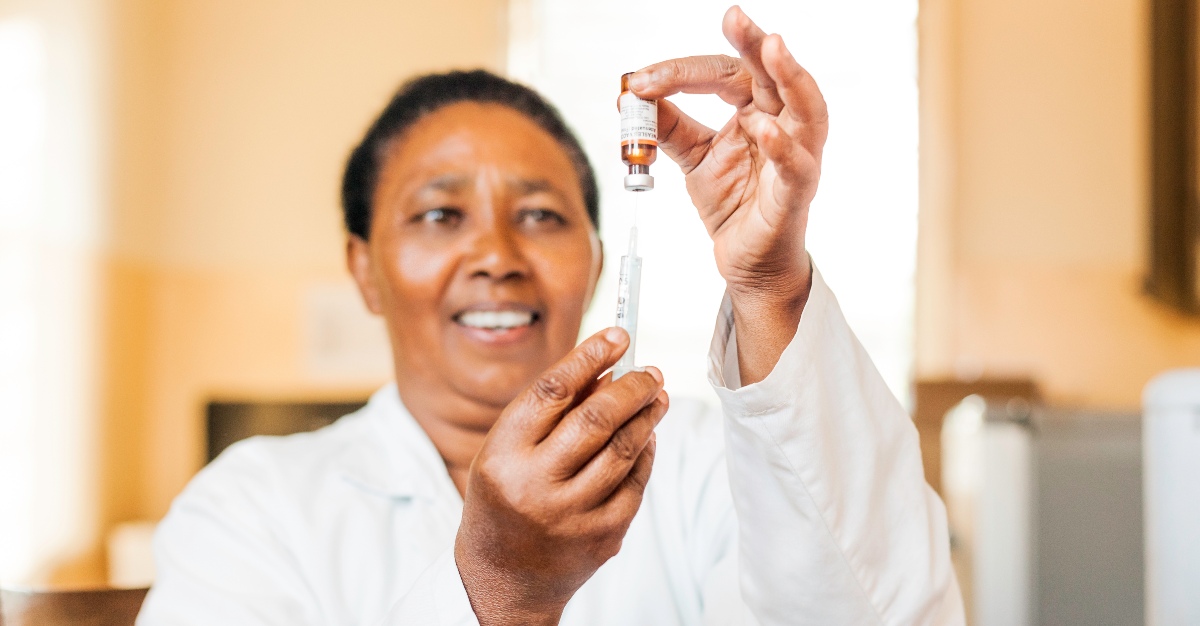 In early September 2019, Kenya became the third country to administer the only licensed malaria vaccine. The first recipients of this vaccine were at-risk children in rural areas.
Malaria is a deadly mosquito-borne disease caused by a parasite that kills around 435,000 people each year, with around 92% of those deaths occurring in sub-Saharan Africa. Most of malaria's victims are children under five. It kills one child every two minutes.
Even with improved treatments around the world, we still seem no closer to eradicating malaria. But, a widely-used vaccine could be the first step in saving another 435,000 lives from the disease.
What Is The New Malaria Vaccine?
After 30 years of development, GlaxoSmithKline and partners starting rolling out the first dosages of the malaria vaccine as part of a global vaccination initiative.
On their Twitter, GSK stated:
Proud that our #malaria vaccine, RTS,S, has been made available by @MoH_Kenya and @WHO in Kenya, following Malawi and Ghana #EndMalaria https://t.co/NMGqqiybt9

— GSK (@GSK) September 13, 2019
The vaccine is called Mosquirix and is administered through four different doses. Side effects of the vaccine can include pain, fever and convulsions.
Right now, it is estimated that the vaccine only protects about one-third of the children that receive it. A 33% success rate may not seem promising, but there's no time to wait for a vaccine that does better. One-third is still a huge number in an area where there used to be no hope.
We already know that less-effective vaccines can still make a crucial difference. The 33% protected with a malaria vaccine could save thousands of children's lives.
Current Malaria Outbreak
In 2017, 219 million cases of malaria were reported. Those cases ultimately caused 435,000 deaths throughout the world.
Malaria is currently active in over 100 countries with those living in sub-Saharan Africa and South Asia at the highest risk of contracting the disease.
Reports of malaria have been increasing in recent years due to our warming global climate. Rising temperatures worldwide allow mosquitoes to thrive.
Worse, mosquitoes have also started to become immune to insecticides. This year, Uganda has experienced a large increase in malaria cases. These cases have even affected kids over the age of 10.
How Routine Vaccinations Can Help
Although there is an outbreak of this deadly disease, we lack a method to not only prevent malaria, but to completely eradicate it.
Kenya is taking steps toward this with the new malaria vaccine. Not only are they giving it to citizens, but also making the vaccine part of the routine immunization schedule for babies and toddlers.
Ghana and Malawi were also countries that were given the malaria vaccine. By continuing to provide more countries with the vaccine, the regions can build a herd immunity. While that will takes years to create, it's a needed step to eventually eradicate malaria.
The World Health Organization actually hopes to reduce malaria cases by 90% by the year 2030. Although, the rate that this malaria vaccine spreads could affect that goal.
The malaria vaccine is a key step, but there are others in the fight against this disease. Improved healthcare access, better surveillance and increased funding will all help reduce the threat of malaria.
The largest thing that needs to happen is for healthcare to be accessible to everyone, all around the world. This is proves even more necessary in rural areas around the world. Access to any healthcare in these areas might be scarce at best. Proper treatment and medical advice is only available to select people in these regions. Easier access to vaccines and treatment would greatly affect those cases.
If you are traveling to a region with risk of malaria, Passport Health can help. Give us a call at or book an appointment online for more information about malaria prevention.
Travelers can also take other steps to stay free of mosquitoes and the diseases they spread. Make use of insect repellant when outside, cover your skin to give the insects less area to bite and use mosquito netting.
Did you know a malaria vaccine exists? Do you think this vaccine could be the answer to finally let us eradicate malaria? Let us know in the comments, or via Facebook and Twitter.
Written for Passport Health by Kaitlyn Luckow. Kaitlyn is a freelance writer, photographer and English teacher in Milwaukee. She has a passion for capturing and writing other people's stories. You can find her at sayhellostory.com.