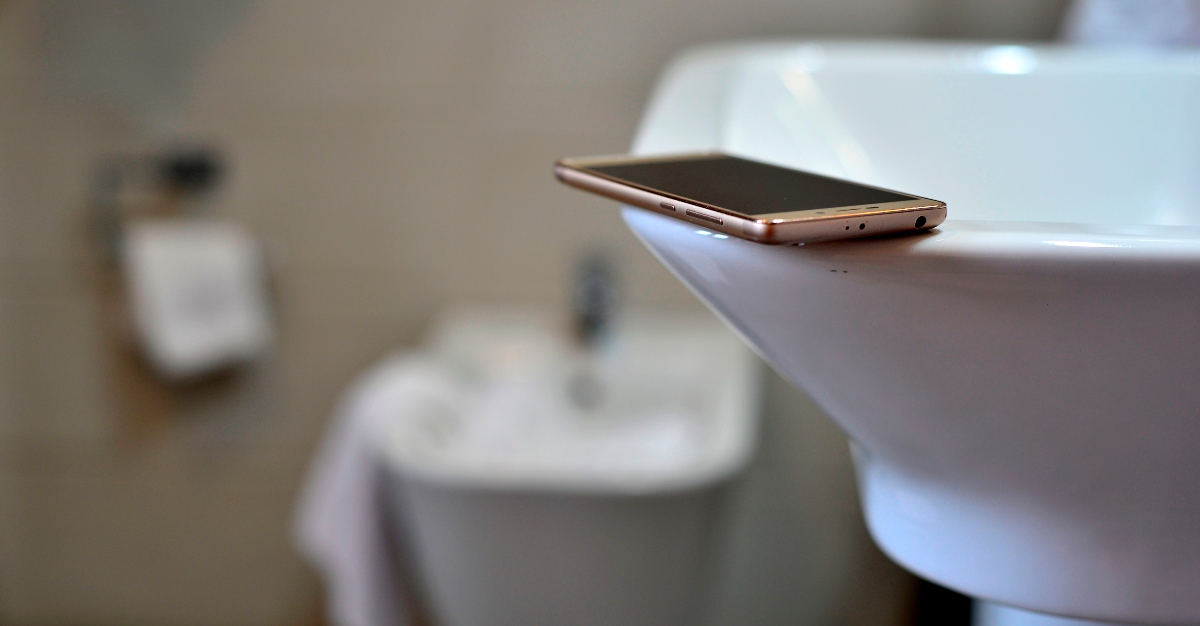 Most people consider a toilet seat to be dirty, but did you know that the average cell phone is thought to be 10 times worse?
Scientists estimate that mobile phones contain over 25,000 bacteria per square inch. A study published in the U.S. National Library of Medicine noted found that the phones of secondary students in Estonia had approximately 17,032 bacterial gene copies per phone. These are statistics that certainly grab attention.
While this information should encourage you to clean your hands (and your phone) more often, don't panic.
Most of these germs are natural and will not make you sick.
But, how can so much bacteria get on cell phones in the first place? Also, how could more serious pathogens use phones as a vehicle for transmission?
First, it's important to remember that we all have microbes on our skin which account for much of the detected bacteria.
As TIME describes, natural bacteria come off onto your phone through the oils in your hands. These bacteria typically do not have any harmful impact on our bodies, meaning that most of the thousands of germs on phones are alright.
The problematic aspect of germs comes in due to interaction with the outside world.
Cell phones are not frequently used by multiple people like you'll see with TV remotes or doorknobs. Because of this, the bacteria on phones is usually limited to personal output.
When we do things such as pass around our phones, bring them with us into the doctor's office or touch a contaminated surface before using a device, differing germs are spread.
Many people don't realize how bad it can be to use your phone in the bathroom, for example. Taking your phone to the restroom could pass on fecal particles and spread E. coli.
Emily Martin, assistant professor of epidemiology at the University of Michigan School of Public Health, revealed that we should be more concerned about our habits. She said, "Taking a cell phone into the bathroom and then leaving with it is kind of like going in, not washing your hands and then coming back out. It's the same level of concern."
The potential for phones to spread viruses is particularly worrying when it comes to very contagious and potentially life-threatening diseases like the flu. Influenza kills thousands of people and costs billions of dollars around the world each year.
Even beyond the flu, a cough, sneeze, touch or other simple transmission can spread viruses. Dangerous pathogens like strep and MRSA can spread this way.
Even ebola can be transmitted through cell phones, as demonstrated in the case of a patient in Uganda in 2012. A 40-year-old man stole a cell phone from a quarantined ward at Kagadi Hospital. Shortly after the theft, he experienced symptoms of infection.
When our phones get warm from use and from our physical contact with them, a prime environment is created for bacteria of many kinds.
You may be wondering what you can do to stop your phone from spreading germs and viruses. To protect yourself and others:
Wash your hands carefully and often
Clean your phone regularly (several times a month) with a disinfectant wipe or cloth
Take greater precautions when you are sick or traveling in germ hotspots like airport security
Remember that using your phone in certain locations makes the spread of germs more likely (e.g. the bathroom)
But, your phone isn't the only item with a surprising amount of bacteria. USA Today reports that other dirty items/areas to be aware of include your kitchen sink, reusable shopping bags and your shoes.
Did you know how much bacteria are on a typical cell phone? Do you always make an effort to wash your hands and clean your phone? Let us know in the comments below, or via Facebook and Twitter.
Written for Passport Health by Katherine Meikle. Katherine is a freelance writer and proud first-generation British-American living in Florida, where she was born and raised. She has a passion for travel and a love of writing, which go hand-in-hand.