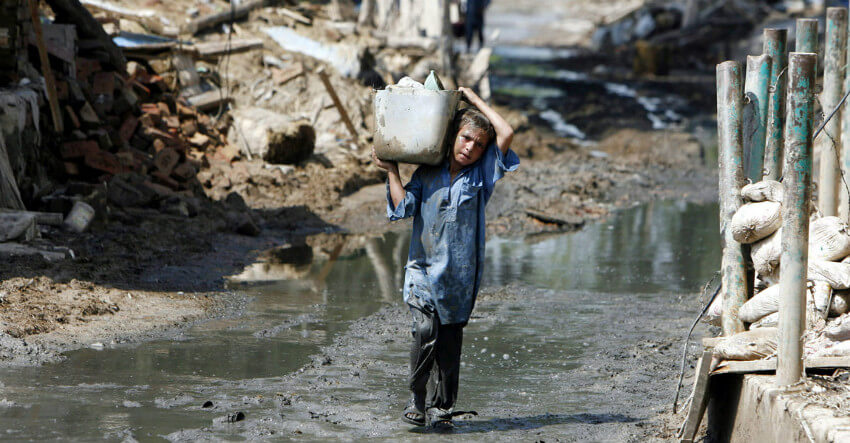 News spread in spring 2018 about Pakistan's immense typhoid outbreak.
Now, that epidemic is only getting worse.
The outbreak grew thanks to a resistance to antibiotics shown by the strain of typhoid. More infrastructure problems only worsened the problem, with at least 2,000 people infected.
What is Typhoid?
Typhoid fever is a highly contagious disease spread through contaminated food or water. Many people in industrialized countries may not be familiar with the illness, as it's only common in developing nations.
Symptoms typically include weakness, stomach pains, headache, loss of appetite and a high fever. An infected person may also experience a rash or constipation. Internal bleeding and death are possible, but rare.
A vaccination against the disease is available orally or through an injection.
Diagnosis of typhoid can be difficult.
After a consultation with a physician, samples of blood, stools or urine will be examined to see if you have the Salmonella typhi bacteria. Several of these tests may be necessary. If they are inconclusive, you may need to have a bone marrow test for a more definitive result.
Antibiotics are used for the treatment of typhoid. Although, a problem has grown in recent years, with some strains developing a resistance to the bacteria. In turn, treatment has become much more difficult.
How is Pakistan Affected by the Outbreak? Why Did it Happen?
The epidemic, which started in Hyderabad, Pakistan in November 2016, has led to at least four deaths and caused 2,000 confirmed cases.
According to Scientific American, Pakistan has been distrustful of vaccinators and public inoculation campaigns for many years.
The WHO states that in high-risk regions, the typhoid vaccine is 72 percent effective 18 months after it's given. That number can drop to 50 percent after three years. But, even that could provide potentially life-saving protection. During a typhoid epidemic, that protection could prove invaluable.
Hyderabad and Karachi are the two main cities affected by the outbreak. This is likely due to poor sanitation and contaminated water supplies.
What Makes This Epidemic Different?
The strain of Salmonella typhi bacterium that's behind this outbreak has been called a "superbug." Increasingly drug resistant, the strain (XDR) is now devastatingly strong against many antibiotics. Failed treatments and concerns over remaining treatment options are a result of this superbug.
Science magazine shares that the strain can still be fought with one oral antibiotic (azithromycin). Even with that treatment, "the only other options are expensive intravenous drugs that most people in Pakistan and other resource-strapped countries cannot afford." If this strain becomes resistant to the only working antibiotic, this outbreak will get much more dangerous.
The magazine lists "bowel perforation" as one major complication that can result from further drug resistance. Along with other issues, 15 percent of people without treatment could die from this disease.
The WHO is hoping to use a new vaccination that works with young children to help stop the epidemic.
Does the "Superbug" Pose a Threat to Travelers?
The superbug does pose a potential threat to travelers to Pakistan, along with those visiting south Asia.
The CDC issued a Level Two Alert, meaning that people should "practice enhanced precautions" due to the outbreak of XDR typhoid fever in Pakistan.
In 2018, there have been reports of travelers returning from the country with cases of typhoid.
Before going to Pakistan, you should get the typhoid vaccination.
Because the vaccine isn't foolproof, travelers should follow the CDC's guidelines for food and water safety while there. For example:
Wash your hands often
Try to avoid close contact
Don't eat food from street vendors
Don't drink tap or well water (or ice or drinks made with tap or well water)
Eat safe foods, such as those that are cooked and served hot
Drink bottled water
Are you traveling to Pakistan or a nearby are in the future? Passport Health can help provide the typhoid vaccine. Give as a call at to speak to a travel health nurse, or book an appointment online now.
Did you know about the typhoid epidemic in Pakistan? Have you or someone you know ever gotten typhoid? Was our information helpful? Let us know in the comments below, or via Facebook and Twitter.
Written for Passport Health by Katherine Meikle. Katherine is a freelance writer and proud first-generation British-American living in Florida, where she was born and raised. She has a passion for travel and a love of writing, which go hand-in-hand.