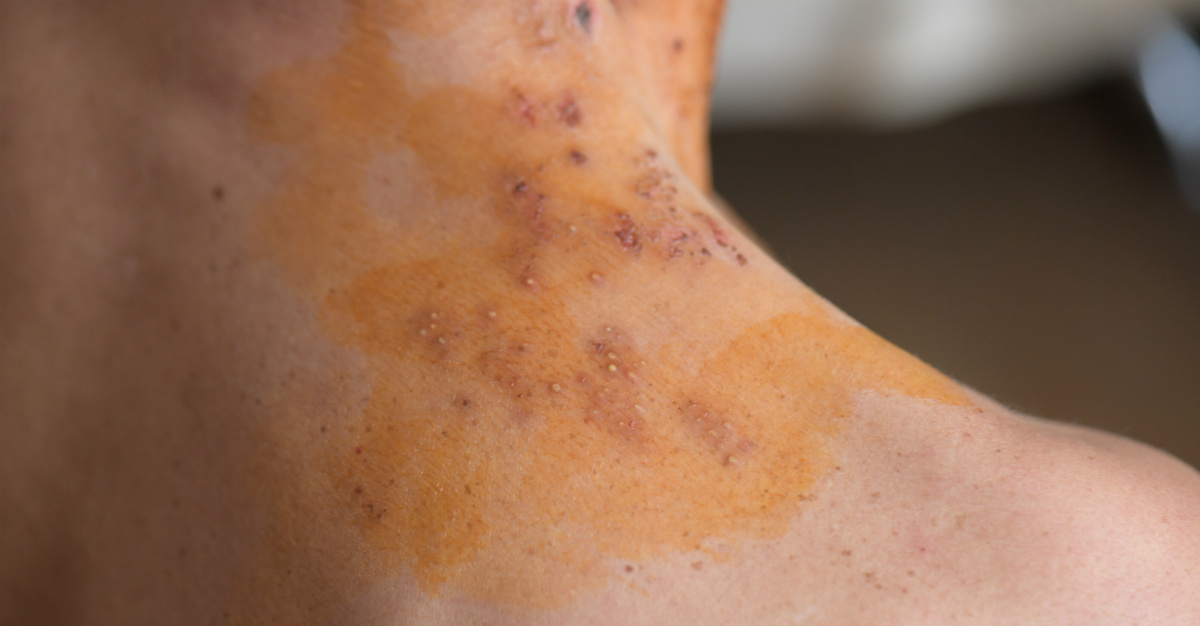 While shingles is not a new illness, it has been featured heavily in the news recently due to Lin-Manuel Miranda. The playwright, actor and singer announced on April 5 that he was quarantining himself from his newborn son due to an official diagnosis.
For Miranda, the notable symptom was a migraine. Other symptoms of shingles can often include itching, pain or tingling in an area where a rash will develop, fever, chills and an upset stomach.
How Does Shingles Spread?
Technically, shingles itself is not transmitted – the virus that causes it is spread.
Varicella zoster virus is the source of both chickenpox and shingles. That virus is what poses a risk to unvaccinated or infected individuals.
The virus can only be spread through shingles itself after two main qualifiers: the shingles must be active and in the blister-phase. When someone has active shingles a rash develops, causing fluid-filled blisters. If a person comes in direct contact with this fluid, varicella zoster can quickly infect them.
If the Varicella Zoster Virus Doesn't Cause Shingles, How Does It Develop?
As we've covered, the varicella zoster virus causes chickenpox. Once a person catches chickenpox, the virus stays dormant in the body's nerve tissue forever.
If this person's immune system becomes too weak to contain the virus, it can be activated again many years after the original illness. This reactivation is what causes shingles.
It is most common in seniors because our immune systems naturally weaken and slow as we age. It is possible to get shingles from the chickenpox vaccine as the virus is present.
How Can I Keep the Virus From Spreading if I Have Active Shingles?
If you have active shingles you should wash your hands often, cover the rash and avoid touching it. You cannot spread the virus before the blisters appear or when your rash develops crusts. It is possible to transmit the virus through contact with saliva or nasal secretions, but this is very rare.
Shingles is not as contagious as chickenpox.
According to the CDC, particular precautions should be taken when interacting with pregnant women. This includes pregnant women who have never had the virus before or the vaccine. The immune system weakens when pregnant, making these women even more susceptible to the virus.
An infected person should also avoid anyone else with a weakened immune system, including premature or infants with a low birth weight. Anyone undergoing chemotherapy or taking medicine that suppresses the immune system is also vulnerable.
Is There a Vaccine for the Virus?
Even though they come from the same virus, there are separate vaccines for shingles and chickenpox.
The chickenpox vaccine is targeted specifically for children. Chickenpox is much more common with young children who have a very different immune system compared to adults. The vaccine is built around that, proving 90 percent effective against the highly contagious virus.
The shingles vaccine is also made for a different age group: seniors.
This vaccine is made for anyone 50 years or older. By foregoing a live virus, the vaccine risks far less adverse effects for an age group with a weakened immune system. The shingles immunization also prevents the virus in about 90 percent of those who receive it.
Have you ever had shingles? Did you hear about this topic through Lin-Manuel Miranda? Let us know in the comments below, or via Facebook and Twitter.
Written for Passport Health by Katherine Meikle. Katherine is a freelance writer and proud first-generation British-American living in Florida, where she was born and raised. She has a passion for travel and a love of writing, which go hand-in-hand.