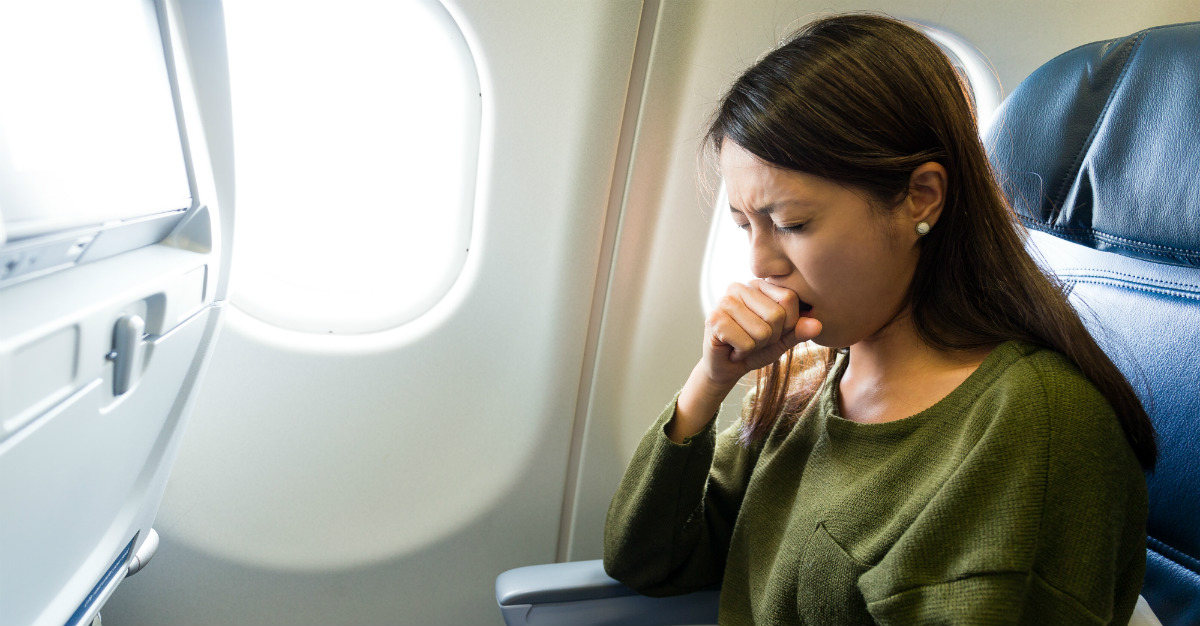 If you've ever flown in an airplane while sick, you already know that conditions can quickly get worse. The enclosed environment only exacerbates those painful symptoms.
But, sometimes that flight is unavoidable. Business, or even a much-needed vacation, take priority and maybe you can't get out of the flight.
Sometimes you have to go with the flow and board the plane.
For these difficult scenarios, we've come up with some ideas that can help both you and your fellow passengers on the plane. Here are a few ways to ease flying with the flu and avoid spread the virus to other people:
Board The Plane Last
Yes, we all know how beneficial it is to board the plane first. You get to sit down first, the best choice for overhead cabin space, and on some airlines you get to choose the perfect seat.
But, this also leaves more time for bacteria and parasites to circulate in the air.
By waiting until the end of the boarding process, you spend less time near people that aren't sick. Those packed lines in front of the gate also make it easy to spread unwanted germs.
If you're sick, the simple act of letting other people board the plane can help stop the spread of germs and viruses.
Wipe Down All the Surfaces Around You
For most of the flight, your arms will be resting on that tray table or arms rests. For this reason, most doctors and health experts advise that you be wary of these surfaces while on the plane.
When speaking with ABC News, Dr. Nicholas Testa mentioned the dangers on the surfaces. "The flu virus will live on a hard surface for about 24 hours," said Testa.
While flight attendants clean some surfaces, they can't get to all the tray tables and arm rests. They note that when it comes to preventing the spread of germs, a lot of it is on you.
Keep That Air Vent Open
If you're battling a fever, chances are you've already opened the air vent. But, while cooling you, the vent helps further circulate air in the cabin.
In most planes, the air is constantly circulated and filtered throughout the flight. If you sneeze or cough on the plane, the germs can quickly spread to passengers sitting behind or in front of you.
Turning on the overhead air vent helps increase the spread of the air in front of you.
Stay Hydrated
Hopefully, you're already doing this when sick. But, you may have noticed that flights already have low humidity, with very little extra moisture in the air. This only dries out the body faster, making it harder to fight the illness.
Doctors always recommend drinking excess fluids when sick and this applies even more in a dry environment like a plane.
You should also consider a nasal spray for the flight. Aboard a plane, the mucous membranes in your nose and mouth immediately start drying up, and you start losing a value defense that stops respiratory viruses.
Don't Drink Alcohol or Coffee on the Plane
This applies whether you're already sick or want to avoid getting sick. Doctors strongly recommend avoiding liquor or any kind of caffeine while flying.
For those that are already sick, alcohol and caffeine can counteract any remedies you're already using to treat the illness. Both liquids can dehydrate you and alcohol can react poorly with cold medication.
Even if you're healthy, it's wise to skip alcohol on a flight during the flu season. Booze may make a long flight more bearable, but it also lowers your immune system in an environment that already traps in sick germs.
Do you have any other tips for traveling while sick with the flu? Let us know in the comments, or via Facebook and Twitter.
Written for Passport Health by Jerry Olsen. He has over 15 years of combined experience as a writer and editor in Salt Lake City. Jerry's writing topics range from health care, travel, life science to medical technology and technical writing.