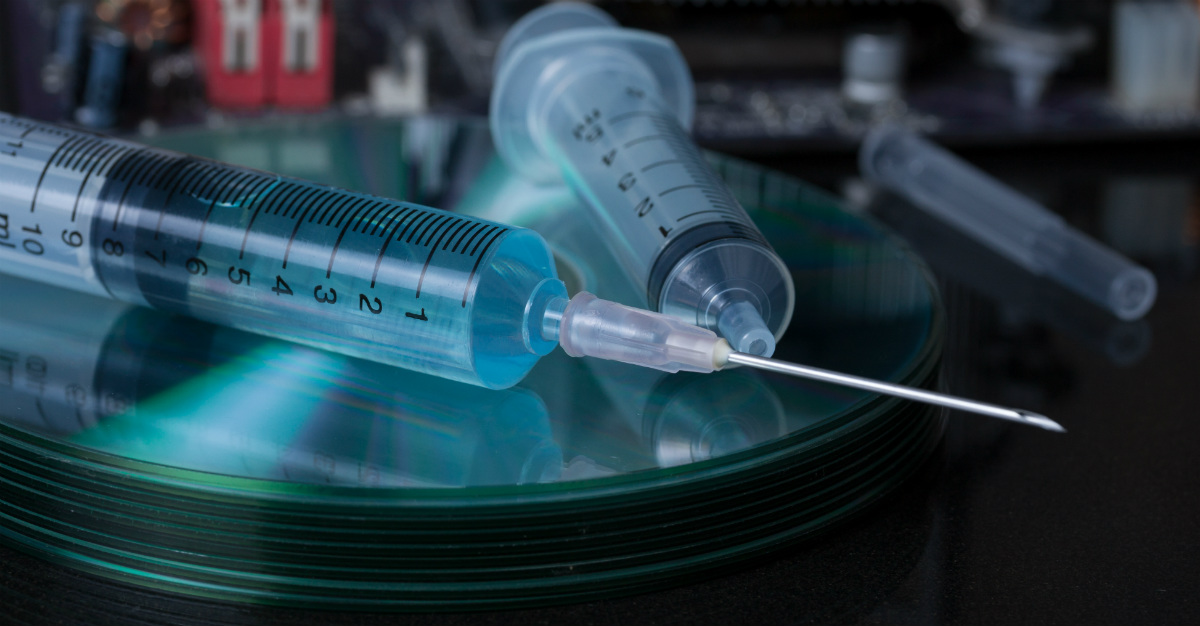 We naturally want vaccines to be as safe as possible. What's the point in getting vaccinated if you're risking a different illness?
While many people worry about side effects from vaccines, others don't know about the other risks: bacteria.
While a syringe is injected into a vial, the vaccine can develop dangerous fungus. To combat this, manufacturers started to use a preservative called thimerosal. Thimerosal would prevent the fungus in multi-dose vaccines and make the drugs far safer.
There was just one problem with thimerosal. The preservative contained mercury, a chemical that can cause serious harm to the body in large amounts. Because of this, the antiseptic has been a topic of conversation among parents and those in the medical community for decades.
About half of thimerosal's chemical make-up is ethylmercury. The chemical is even less dangerous than methylmercury, which you'll find in fish. Many of the dangers in mercury consumption come when the chemical builds up in the body. While methylmercury can stay in the system for long periods of time, ethylmercury is broken down much faster.
Even despite the lack of danger from ethylmercury, the chemical is a thing of the past for children's vaccines. When the Food and Drug Administration (FDA) called for a full rundown of mercury levels in everything from food to pharmaceuticals, the U.S. Public Health Service decided to do away with as much mercury as possible. This included the thimerosal, almost half of which is made of mercury. In 2001, the preservative was removed from childhood vaccines.
But, thimerosal is still used in adult vaccines. Immunizations like the annual flu shot use the preservative to keep their vaccines safe.
If it's taken out of children's vaccines, why use thimerosal in others?
The consistent worry with mercury in vaccines is the long-term side effects. The most popular of these rumored side effects is autism. When they removed the preservative from children's vaccines, the FDA acknowledged the low risks in thimerosal. Since the removal, many studies have shown that there is no link between autism and thimerosal. Since removing thimerosal in 2001, the number of children diagnosed with autism in the United States has not gone down.
Multi-use vaccines started officially incorporating preservatives in 1968 to help keep contaminations at bay. Our bodies eliminate preservatives quickly, with the chemical staying for just long enough to keep us safe. What's more, unlike other more widely-known mercury compounds, thimerosal doesn't build up in our systems.
Over the last few decades, numerous studies have shown that thimerosal is safe for humans of all ages. Low doses of the preservative show no evidence of harm. You might end up with some redness and swelling around the injection site, but thimerosal won't be the cause of some other dangerous effect.
It's actually going to prevent it.
Do you have any other questions about thimerosal? Curious what else is in vaccines, like the flu shot? Let us know in the comments, or via Twitter and Facebook.
Written for Passport Health by Nick Esquer. Nick is a freelance writer, content developer and consultant in Phoenix. He has a passion for storytelling with experience in journalism, social media, video, blogging and strategy.