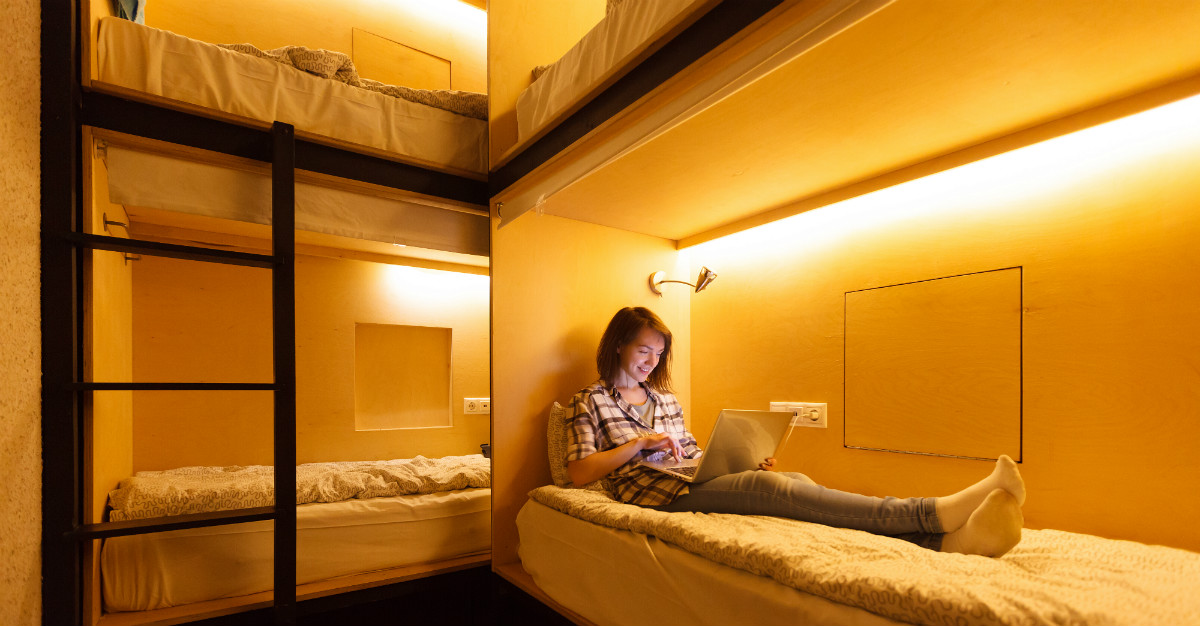 Most people eventually outgrow the idea of living with a roommate. A desire to have personal space in your living conditions only increases when traveling.
After a long day of exploring the city, you likely want to crash in a hotel room, away from strangers. But, for those that want to try spending the trip near a bunch of strangers in a shared area, a hostel can be a fun option.
In the long run, choosing a hostel for lodging can save you a great deal of money, leaving you with more cash to spend on other activities. But, sometimes the risks of a shared sleeping space can even outweigh extra money in your pocket.
Hostels are typically meant for students, backpackers and travelers on a limited budget.
For those with little experience in this kind of travel, a hostel is a low-cost, dormitory-type room where the owner (or person in charge) charges for beds instead of rooms. In most hostels, you must also share a bathroom with a plethora of other travelers. The size of the rooms can vary from two-bed dorms to twenty-bed dorms. While those smaller hostels might seem enticing, those with fewer rooms are often more expensive.
Most popular in Europe, these dorm-style hotels can be found throughout Asia and the Americas.
Even if they're the cheaper options, there's no denying that hostels aren't built for everyone. But, if you are curious about this kind of shared travel, here are some pros and cons to consider before booking a stay: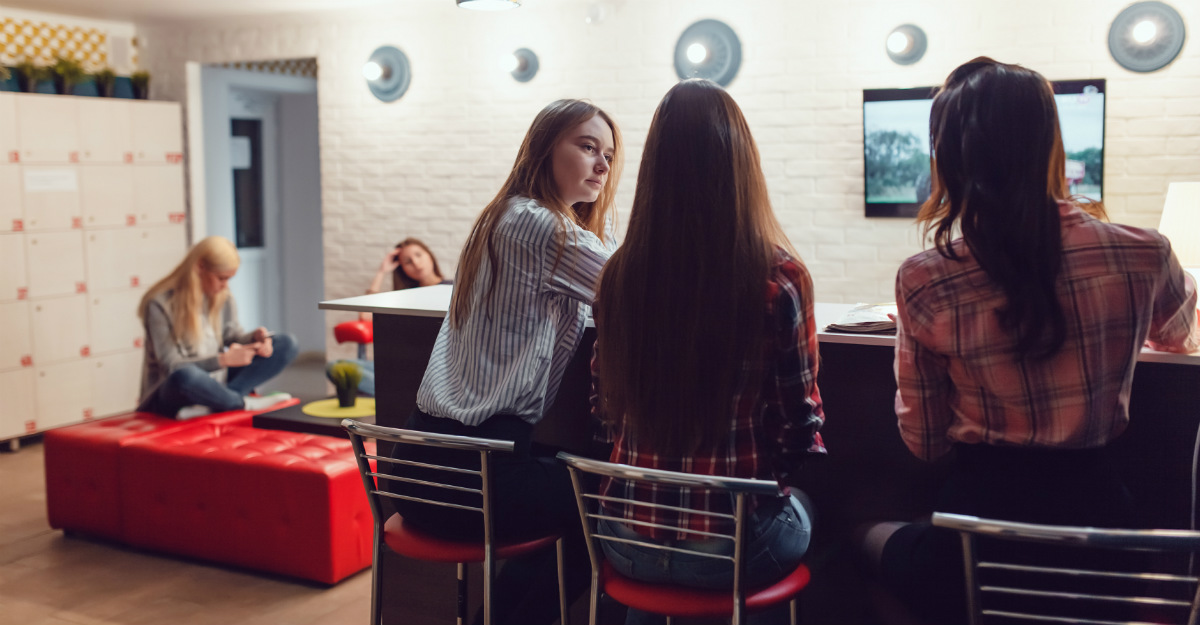 Pros
Lower Costs – If you're traveling on a budget, a hostel or dorm might be the smartest option. Prices can get as low as $15 per night, even in some of the world's most popular destinations.
For those that want a more luxurious stay, some hostels even offer fewer beds and other patrons. You might have to pay more, but privacy can often come at a premium.
Meeting New People – Are you traveling alone? Solo travelers often opt for the hostel to see some new faces or share the traveling experiences.
Hostels often offer a kitchen and living room that encourages travelers to get to know one another. This can give you a chance to mingle with people from around the world or make some new travel partners.
Private Rooms – As we stated before, not all hostels are the wide-open areas that many believe. In some, private rooms have also become available that still cost a lot less than hotels. Kitchen facilities, common rooms, and lounges are also available in many of them.
Fun Activities – Hostels often compete with others by offering fun activities and entertainment to keep you busy. They offer games, quizzes, movie nights, and free tours for more fun in your impromptu stay.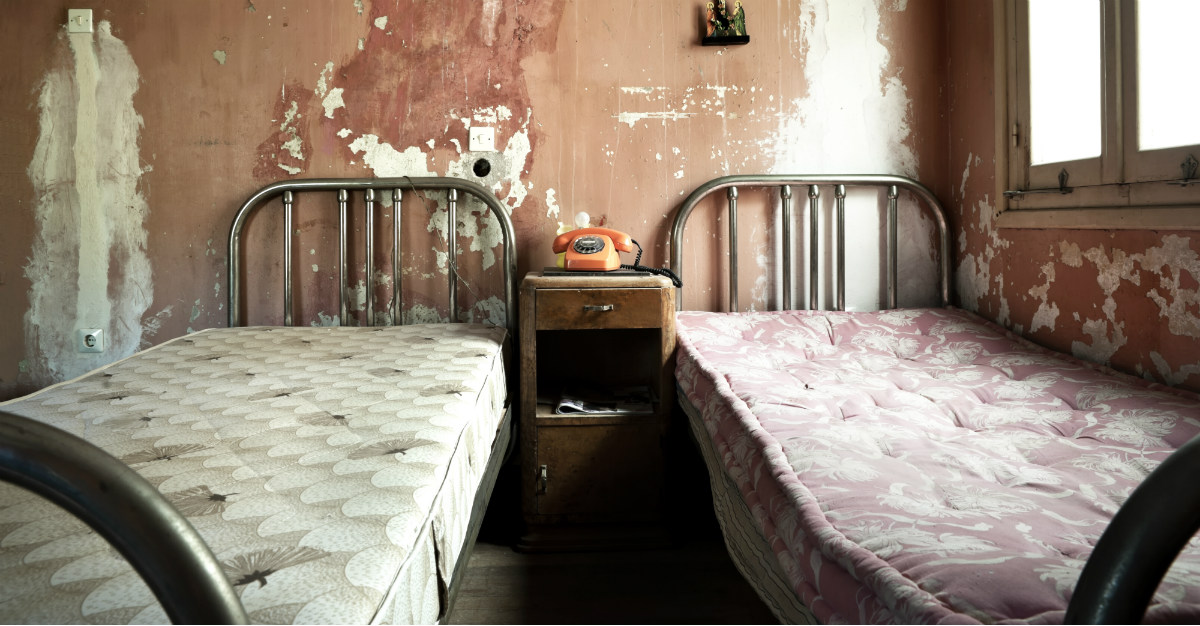 Cons
Lack of Privacy – Since you'll be sharing a room with anywhere between 2 and 20 people, a hostel may not be the best choice of accommodations if you are the type who likes privacy.
Noise – Want to sleep in or get to bed early during your stay? A hostel may not be your choice, given that you could share the same room with noisy travelers who make a ruckus throughout the night. That could be a deal-breaker when you need sleep after a long day of activities.
Dirty Kitchens – Though people should clean up after themselves, they sometimes forego those duties. Dirty dishes, pans, plates, and silverware are a few of the "casualties" you might run into during the stay. Unwashed pots and messy stoves are also a big turnoff.
If you wind up spending and inordinate amount of time washing someone else's dirty dishes, you may want to rethink those accommodations.
Security – Hostel owners do take strides in guaranteeing safety for their visitors, but there's always some risk in sleeping near a bunch of strangers. If you rent a room that doesn't come with lockers, you are running the risk of theft, and finding yourself on constant watch.
Also, some of the hostels are situated in shady neighborhoods, so it's a good idea to stay on your toes.
There are many reasons to try a hostel or steer clear of the shared digs. It's just up to every traveler to decide if those many pros outweigh the cons.
Do you have any tips about staying in a hostel? Let us know in the comments, or via Facebook and Twitter.
Written for Passport Health by Jerry Olsen. He has over 15 years of combined experience as a Writer and Editor in Salt Lake City. Jerry's writing topics range from health care, travel, life science to medical technology and technical writing.