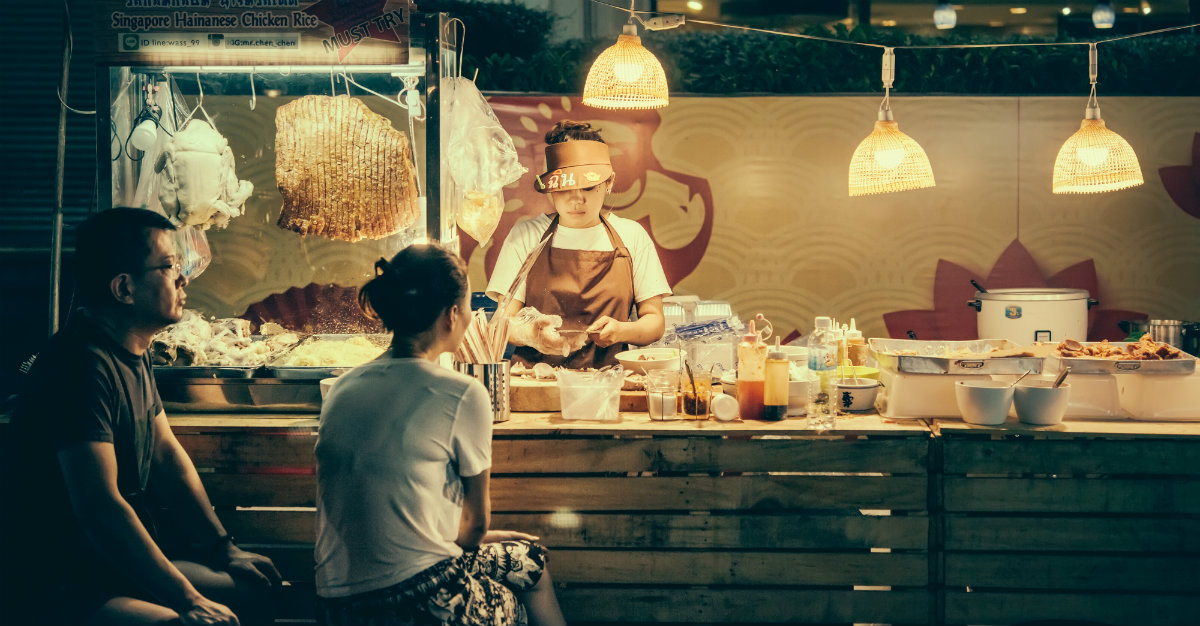 Whichever country you visit in Eastern Asia, you're likely to come across the same ingredients.
The dish will likely take advantage of local fish, pork or chicken, seasoned with ginger or cilantro. Rice or wheat noodles will likely complement the protein, cooked with soy, fish or chili sauce. Onions, mushrooms or cabbage will often mix well to finish the dish with some vegetable.
But, just because the ingredients are similar, doesn't mean your palate will get bored in the region. Each Eastern Asian country puts their own spin on these ingredients. The spice levels might change or how the protein is cooked, there's no lack of variety in food from this region.
Here are the premier dishes in some of Eastern Asia's most-visited countries: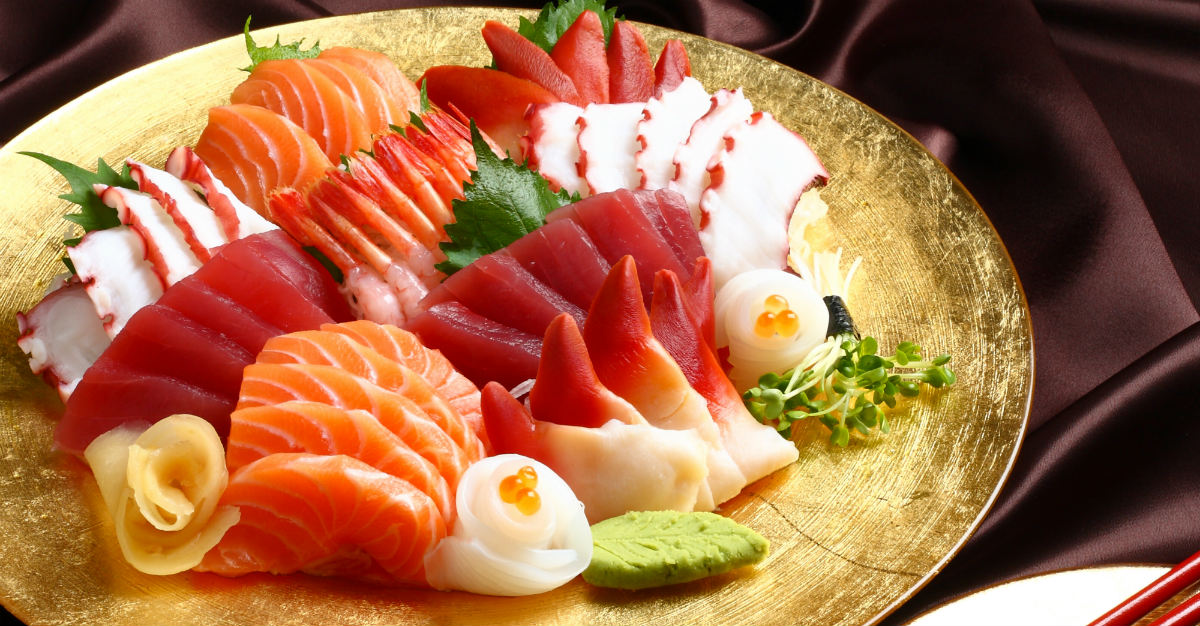 Japan: Sashimi
Avoid an Embarrassing Stop
Japan is probably most well-known in the culinary world for their use of raw fish. Whether it's sushi, sashimi or some other concoction, the country specializes on the uncooked protein.
Sashimi is raw fish (or meat) served in small, delicate slices. While sashimi can employ any piece of raw fish, the most common options are tuna, salmon, and squid.
While it's true that you can find this popular dish across the globe, it's best prepared in the Land of the Rising Sun. Sashimi was imagined thanks to the large amounts of fish that surround Japan. Modern-day restaurants still use the nearby seas to craft Japan's incredibly fresh sashimi.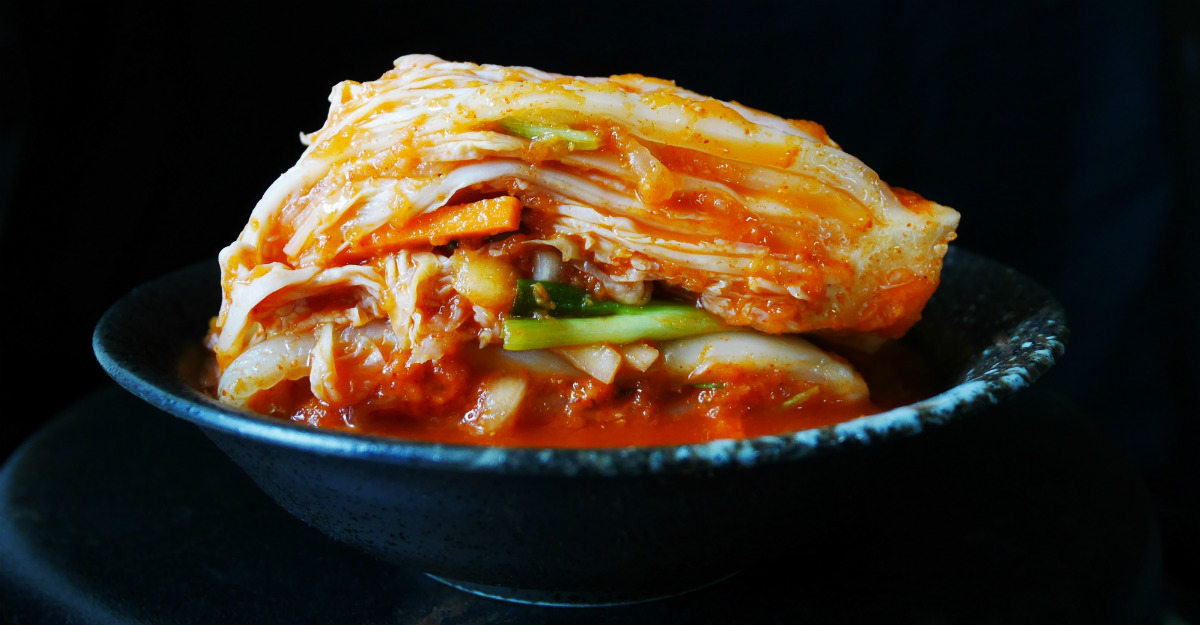 South Korea: Kimchi
Kimchi is less a dish in South Korea and more a staple that accompanies every meal. The food is so common that "kimchi!" replaces "cheese" as the word to say before taking a photo.
The fermented vegetables, usually cabbage, will become a side that mixes both spicy and sour flavors. Kimchi's history stretches back for centuries, originally stored in jars during the winter months.
During any trip to South Korea, you'll eat this food endlessly, whether it's a side or the entree paired with rice. There will be no lack of variety for the kimchi like radishes, cucumbers, green onions and seaweed.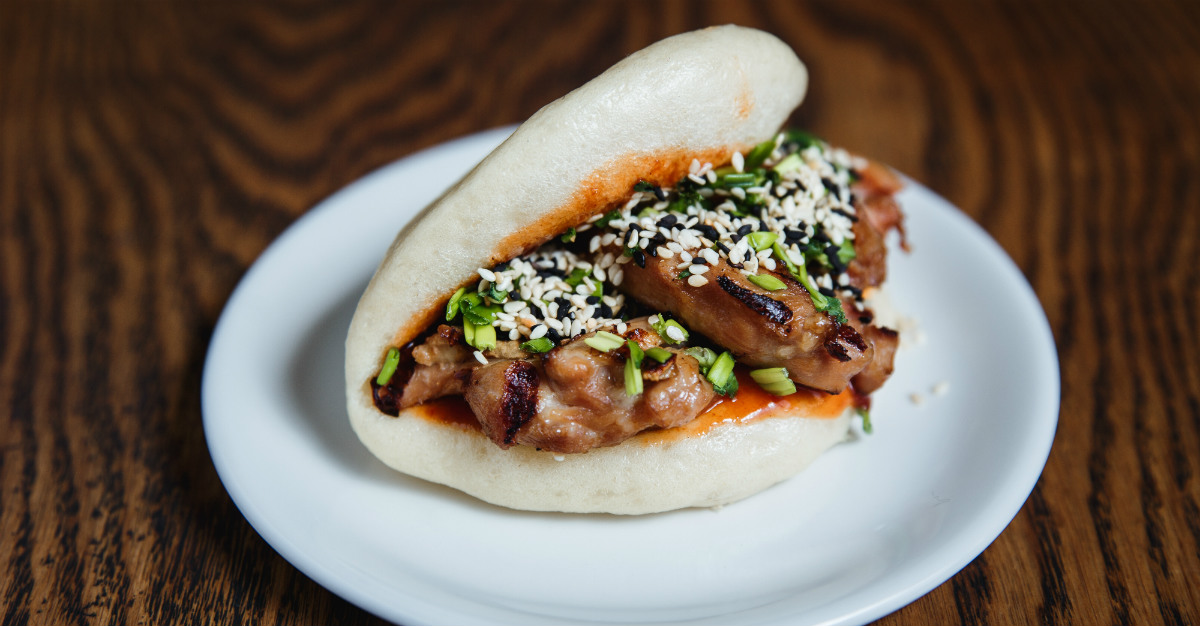 Taiwan: Gua Bao
Everything in this traditional dish Taiwanese dish is steamed.
The steamed meat, commonly pork belly, is stuffed into a steamed bun to create a sandwich-like snack. Foreign travelers might even mistake the dish for a taco, as the small pita-like bread is folded over rather than opened for the meat. Locals will then top the pork with mustard greens, peanuts and cilantro.
This snack should be easy to find in Taiwan, often the source of long and fast-moving lines at small restaurants.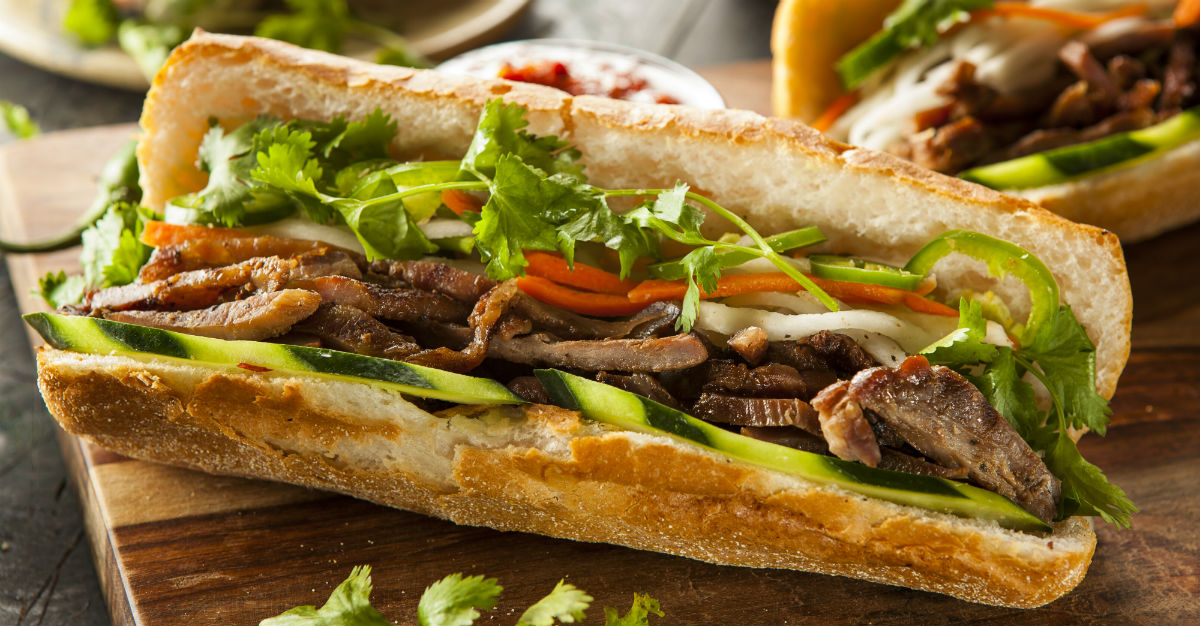 Vietnam: Banh Mi
Another treat from Eastern Asia that's headed west, the banh mi can be a completely different style in its home country.
The typical banh mi uses a baguette sliced and filled with marinated pork. The meat is then topped with pickled vegetables like carrots, radishes and peppers to form Vietnam's famous sandwich.
Depending where you travel in Vietnam, the banh mi experience may differ completely. Famous stops in Saigon might use pork patties or skimp on the vegetables, whereas northern cities throw in fried eggs and various meats.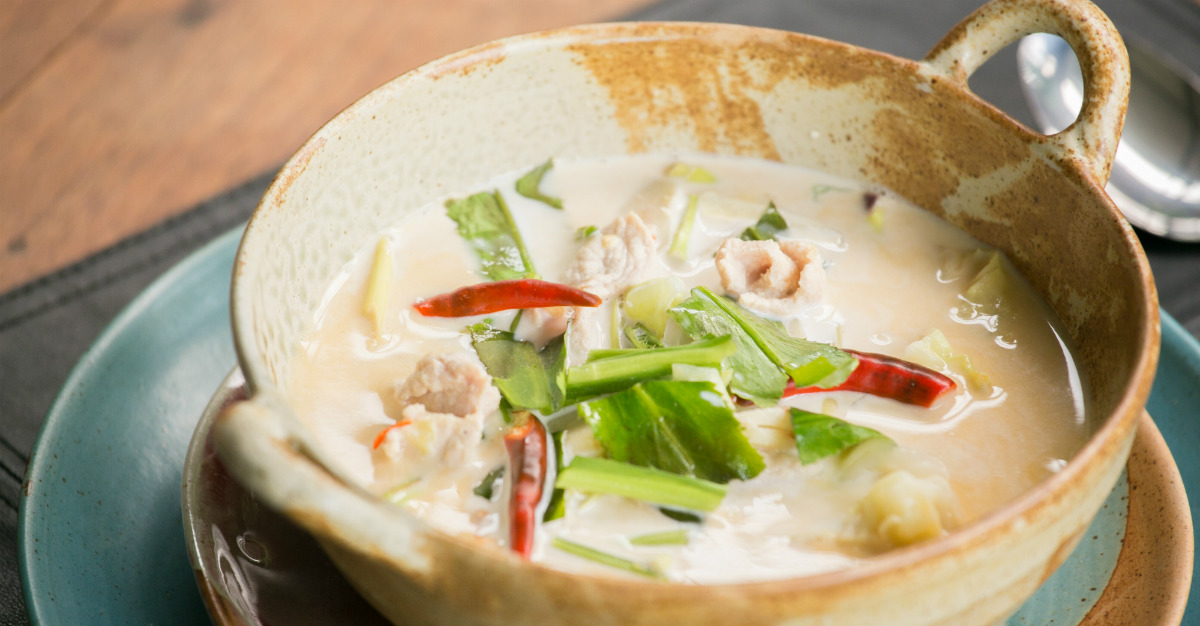 Thailand: Tom Kha Gai
Compared to tom yum, another popular Thai soup, tom kha gai is perfect for hungry travelers that want a bit let spice.
The coconut-based soup uses Thai chili peppers and chicken, but it's the less known galangal that makes the dish authentic. The root resembles ginger in look, but offers much more of an earthy and citrus flavor.
After all the cooking is done, tom kha gai may look more like curry than soup. Thai locals will serve this with rice to complement the tom kha gai's strong flavor.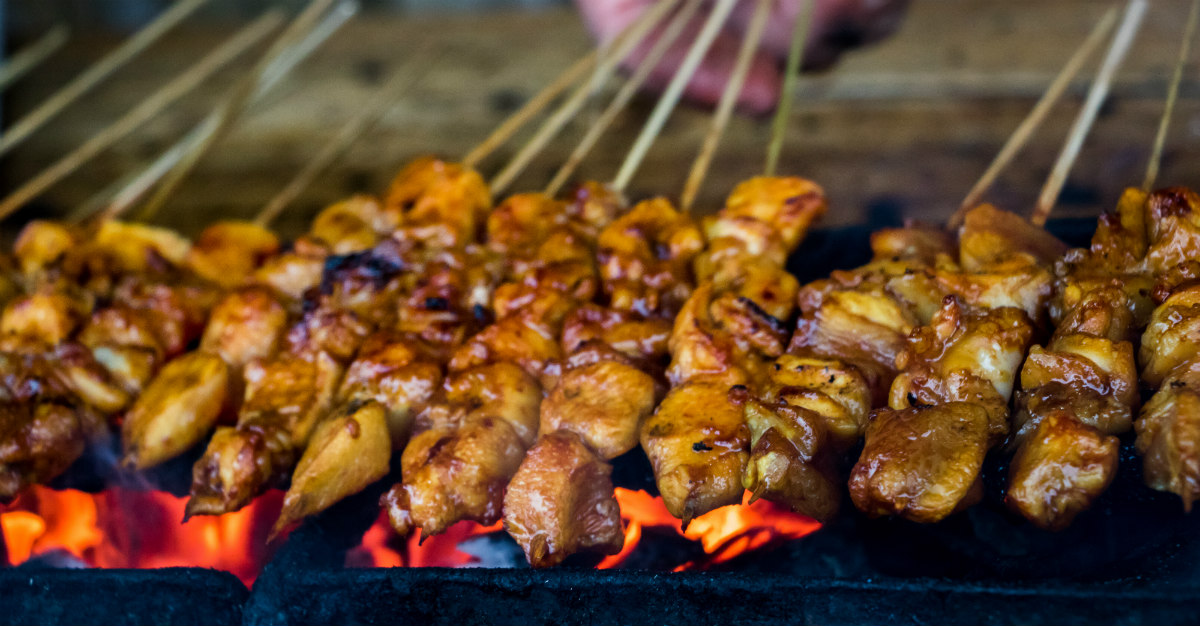 Indonesia: Satay
A national dish of Indonesia, you're likely to find satay throughout Eastern Asia. But, the Emerald of the Equator was the first nation to truly embrace and develop this dish.
Satay comes in many different varieties, but at its core, it's a dish of skewered grilled meat. It seems simple, but satay doesn't exist with its staple soy and peanut-based sauce. The marinade creates a sweet and spicy taste for the meat.
Usually, satay uses normal cuts of beef, lamb or chicken for its protein, but you can find some odd alternatives in Indonesia. The island of Java features offers satay with scallops and Sumatra is home uses ox tongue for the dish.
How to Stay Safe
Before traveling to Eastern Asia, be sure to receive all vaccines needed for that particular country. Along with all routine vaccinations, the CDC and WHO recommend the following vaccines: cholera, hepatitis A and B, Japanese encephalitis and typhoid.
Zika is a risk in Vietnam, Indonesia, and Thailand. You should not travel to Vietnam, Indonesia, or Thailand if you are pregnant or planning to become pregnant. Zika can cause severe birth defects. Use mosquito spray and nets to prevent mosquito bites, as mosquitoes are carriers of Zika. You should also practice safe sex to prevent the sexual transmission of Zika.
Diarrhea is common for travelers throughout the world. When indulging in foreign foods, chances of traveler's diarrhea get even greater. Show caution when eating street food and only drink water that's bottled or you know was purified.
Cholera in Eastern Asia
Depending on the country, there is some risk of catching cholera in Eastern Asia. Although there are no definite numbers due to many unreported cases, the disease poses a risk throughout the region. No matter the location, unsafe water conditions create a greater risk of cholera.
The most reliable way to avoid cholera is with vaccination. The vaccine can reduce chances of catching cholera by 90 percent within 10 days of immunization.
Did we miss any crucial Eastern Asian treats? Let us know in the comments, or via Facebook and Twitter.
Written for Passport Health by Kaitlyn Luckow. Kaitlyn is a freelance writer, photographer and English teacher in Milwaukee. She has a passion for capturing and writing other people's stories. You can find her at sayhellostory.com.