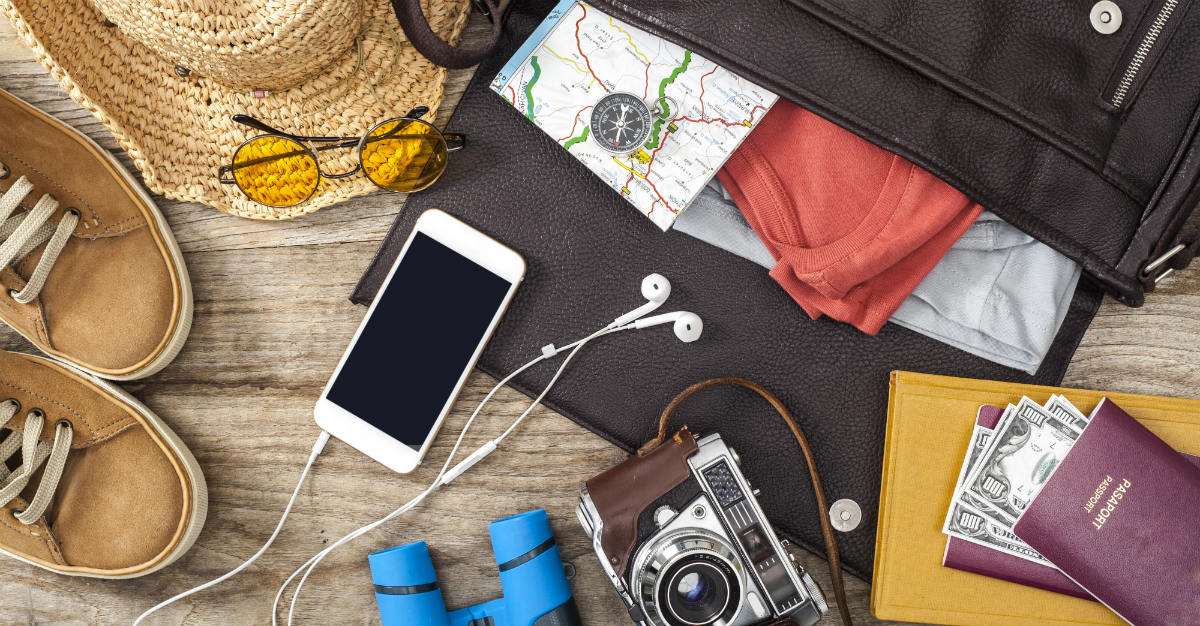 No matter where you are traveling you run the risk of valuables being lost or stolen.
Luckily, you aren't helpless to these unfortunate situations. By being a bit cautious, there's no reason you should return home with less items than when you left.
While Traveling
It seems like many items are lost before you even get to the destination. Between busy airports, luggage handling and transportation, there are many opportunities for theft while traveling.
Traveling doesn't have to mean risk of theft with these precautions:
The first thing you should do before leaving is to make sure everything you're bringing is necessary. Don't pack superfluous items such as jewelry or unnecessary electronics.
Be wary of anyone that offers to help you carry your things or luggage at airports, train stations, or bus stops.
Use a lock to secure your luggage. You can keep it attached to either to you or a nearby seat while on public transportation. It might even be necessary to lock up your checked luggage. Some airports around the world have problems with checked luggage that's stolen or ransacked.
If you're traveling to a crowded space or using public transportation, avoid relying on backpacks. It's usually much easier to keep your eyes on suitcases, satchels or purses. You want to make sure your eyes are on your belongings at all times.
Consider mailing or shipping any items home if you bought them during a trip. This removes the risk of it getting lost or stolen on the flight. Plus, it's always nice to have one less item to worry about when going through air travel.
At Your Hotel
The hotel needs to be a place where you recharge your batteries and relax. Your personal items don't need to be another thing to worry about when getting some R & R.
Try to book a room that isn't on the ground floor, as these are the rooms are most easily accessible to thieves. Safety experts say that the best rooms to stay on are usually somewhere between the third and sixth floors.
Instead of storing your items in the in-room safe, you should ask to store your valuables in a central safe in the hotel. More people have access to the in-room safes, including housekeeping and maintenance staff.
Always keep necessary items with you at all times: money, passport, etc. Don't ever put these in a safe.
At Your Destination
At some point in the trip, you're going to be out in the public. No safe, luggage or hotel room to keep your stuff safe. That still doesn't mean those valuables have to be at risk.
If you're ever sleeping in a public space (train, plane, hostel, etc.), make sure you keep your money and identification on you at all times. Money belts are a simple way to keep valuables on you at all times.
Watch out for scammers and swindlers who can come up with elaborate plans to get you to set down your belongings. Never get distracted.
Even though you may want to share your travels on social media, avoid sharing specifics of when you're gone from home. This is a source many burglars use to determine who is away from home and what tourists are in their area.
Regardless of where you're traveling, you should consider travel insurance in case some items do end up stolen. Travel insurance can help replace your valuables if anything were to happen to them.
Any questions or tips about keeping items safe while abroad? Let us know via Facebook, Twitter or in the comments.
Written for Passport Health by Kaitlyn Luckow. Kaitlyn is a freelance writer, photographer and English teacher in Milwaukee. She has a passion for capturing and writing other people's stories. You can find her at sayhellostory.com.