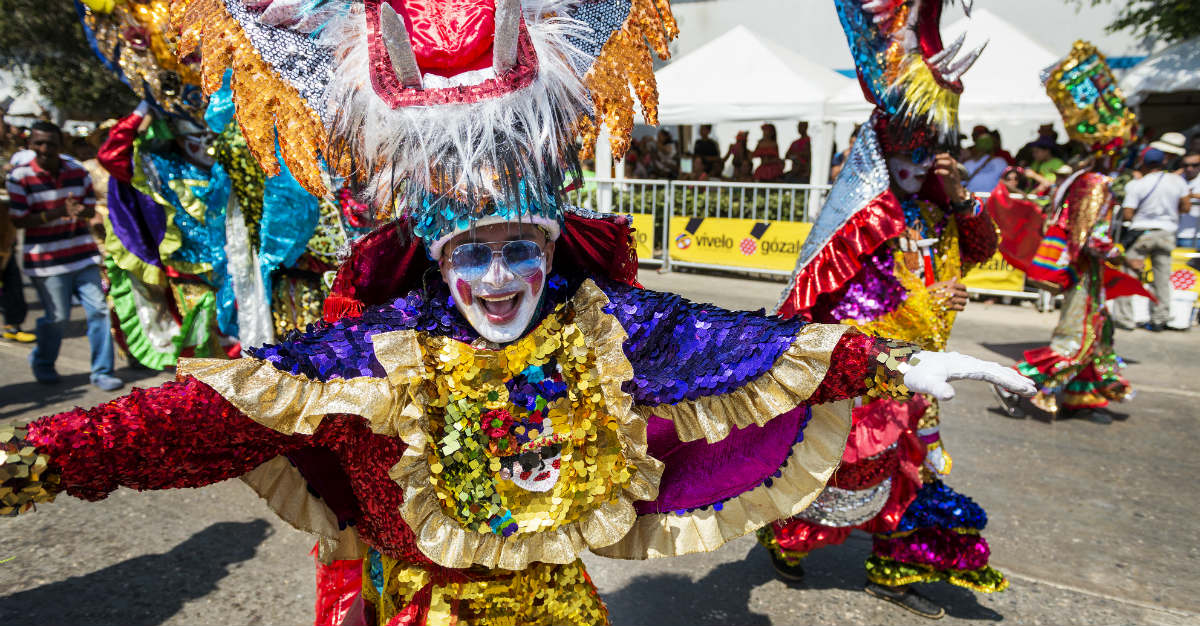 The celebration is synonymous with Mardi Gras and Fat Tuesday. From Rio de Janeiro to the Caribbean and all around the world, Carnival is an extravagant party.
The event may be over for this year, but that just means it's the perfect time to start planning for next year's Carnival trip.
Whether you're a newbie or veteran to the scene, here's a few things to keep in mind when getting ready for the next Carnival:
Celebrate Carnival Outside of Brazil
The world's largest Carnival celebration is in Rio de Janeiro.
Two million people enjoy the daily hoopla throughout the city during Carnival. While many of these partygoers are locals, a quarter of them are tourists just trying to get in on the Carnival festivities.
The idea of celebrating with millions may seem enticing, but consider the less-crowded options.
Other countries in South and Central America have their own must-see Carnival bashes.
For an extended Carnival celebration, head to Kingston, Jamaica or Montevideo, Uruguay. Both cities host parties that go on well past Ash Wednesday. The Dominican Republic hosts a costume contest in Santo Domingo that's on par with any Mardi Gras parade.
For a slice of Rio's madness with slightly less people, check out Barranquilla, Colombia. The four day-long event nearly defies all descriptions. During this time, Barranquilla can be a giant parade, beauty pageant or music festival, all without sacrificing Colombian traditions.
If You Do Visit Rio, Stay Somewhere Cheap
Parades, samba balls and pageants aren't cheap, with costs racking up during Carnival. This means that you'll need to cut costs somewhere in the trip.
Easiest way to save that money? Housing.
Hotel and hostel prices skyrocket during Carnival.
Avoid an Embarrassing Stop
More, and often better, options can be found on Airbnb and Homestay. Houses and apartments are available for rent throughout the city. Not only do these sites offer better deals, but renting a house for the week could be a much easier fit for larger groups.
For those that don't mind sharing a place to stay, CouchSurfing is another penny-pinching website. For those that don't plan on spending much time indoors, you'd essentially only be paying for the bed.
More important than how you book the housing, is the location.
Everybody wants to stay by the beach in Rio and this reflects the massive prices.
Cheaper areas like Botafogo and Catete are a metro-ride from the ocean but still in the heart of Rio. Taxis and trains going nonstop during Carnival and block parties available in every region.
As long as you find somewhere safe to stay in Rio, the Carnival festivities won't be too far away.
Get Away from the Main Activities and Find a Block Party
Speaking of those Carnival festivities, make sure that your trip doesn't just revolve around the larger celebrations.
Neighborhoods around the world celebrate with their own, personal parties. These get-togethers allow for a more intimate celebration and gives tourists a better chance to meet and spend time with the locals.
Unsurprisingly, Rio is home to more of these block parties than any other country. The city throws over 500 "blocos" over the span of Carnival, from areas along the beach to the innermost parts of Rio.
A little over 250 miles away, Sao Paulo doesn't lack its own blocos.
Sao Paulo has a long history with samba and this dance bleeds into its Carnival celebrations. The local dance schools and programs go all out during this time, throwing block parties to show off their sambas.
From the generations-old traditions at the Bixiga bloco to the wild Pinheiros, each part of Sao Paulo brings its own flavor to the parties.
Keep Your Belongings Safe
The idea of losing all your things while traveling abroad is a nightmare for every person.
Unfortunately, Carnival is a prime season for pickpockets and thieves to make off with somebody's stuff. Here's a few ways to avoid losing items at Carnival:
Don't carry all your cash to the festivities. Only bring the money you might spend that day, leaving the rest at the hotel or house.
If you're lost, get out of the packed streets. Step into a restaurant or shop to get your bearings. Lost tourists are some of the easiest targets for local pickpockets.
Don't go wild wearing all your jewelry. Without the protection of a pocket or purse, these items are easy for theft.
Stay in groups. Assuming that you aren't celebrating Carnival alone, you'll want to stay near friends whenever possible. "Safety in numbers" may seem like a cliche. But, it's very crucial to harm-free international travel.
Smaller block parties are safer. One more reason to check out the local blocos, the smaller neighborhoods often have a much more relaxed feel than the giant parties.
Paying attention to your suitcase, wallet and passport may seem obvious during travel, but the giant nature of Carnival leaves many opportunities for loss.
Now you're ready to plan that Carnival vacation for next year!
Any questions about foreign Carnival celebrations? Let us know in the comments, or via Facebook and Twitter.