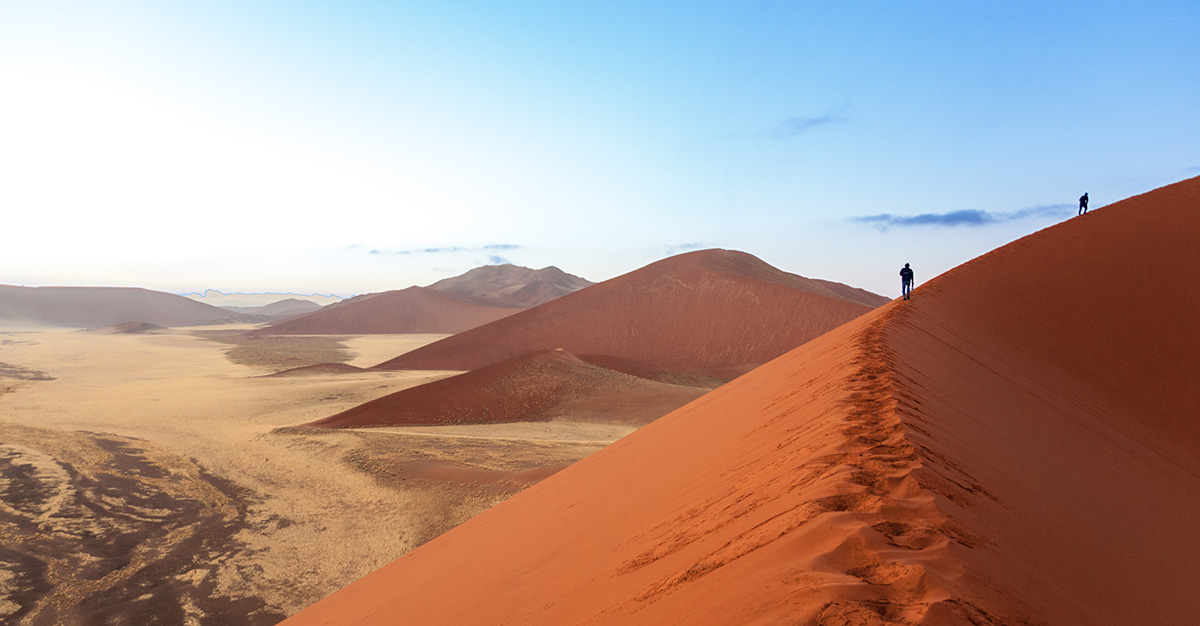 Namibia is a popular safari destination on the southwest coast of Africa. Not only is it a great place for a safari, but also the country also offers countless other adventures. If you are planning an outdoor adventure to Namibia, don't forget to plan ahead. Check out our health tips for travel to Namibia and a brief guide of what you can do.
Which Vaccines Do I Need For Namibia?
Before heading out for a Namibia, it's important to receive a few key vaccinations. The World Health Organization and Centers for Disease Control recommend the following vaccines:
To learn more about these infections and their vaccines, see their individual pages. Prepare before you go by visiting your local Passport Health clinic. Schedule today by calling or booking online now.
Mosquito-borne Diseases In Namibia
Avoid mosquitoes and other bugs
Mosquito bites can lead to malaria, a deadly disease. There is no vaccination against malaria. But, there are antimalarial medications that will protect you from infection. The CDC recommends mosquito nets, insect repellent and other related products.
Dengue is another mosquito-borne disease common in Namibia. Be sure to take proper precautions against mosquitoes.
Where Should I Visit In Namibia?
The Fish River Canyon is the second largest canyon in the world, and a popular destination. The 85 kilometer trail through the canyon is perfect for those up for a challenge. But, the trail is only open from May to the mid-September due to extreme temperatures the rest of the year. Travel plans to the canyon should be evaluated by a travel health professional. Schedule a travel health consultation with Passport Health four to six weeks before leaving.
If you prefer a less intense adventure, the Waterberg Plateau may be for you. The plateau is a pristine viewpoint to scope out many of the rare and endangered species in Africa. The park contains many self- and professionally- guided trails hikes are available.
The largest population of black rhinos in the world lives in Namibia's Etosha National Park. It also has many waterholes that attract all types of African wildlife. This destination should be a part of any nature afficionado's itinerary.
Namibia also has other great spots to stop at such as Swakopmund. It's a great location for skydiving, kitesurfing and incredible views of sand dunes. No matter the type of person, Namibia has something to offer for everyone.
What are some Namibian travel destinations that you would add to your safari roadmap? Leave an answer in the comments below or on Passport Health's Facebook and Twitter pages!