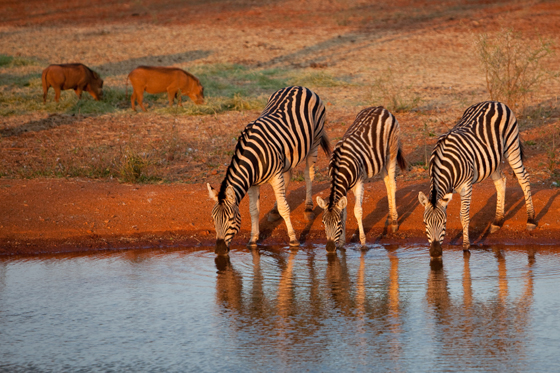 A South African safari is a wildlife enthusiast's trip of a lifetime. Proper pre-travel medical care is crucial to be able to relax and enjoy the stunning landscape. While you're out and about in the wilderness, the last thing you want to deal with is an unexpected illness. A pre-travel health consultation with vaccinations given by a travel health specialist will help to ensure your well-being during your safari and upon your return home.
Which Vaccinations for South Africa May I Need?
The exact shots for South Africa will depend on your personal health history and the location of your safari. The World Health Organization generally recommends the following vaccines:
Is Malaria In South Africa?
Avoid mosquitoes and other bugs
Malaria is present in South Africa and carries a fairly high risk in the northern parts of the country. Speak with a travel health specialist to learn more about whether you need antimalarials and what type is right for you.
According to the CDC, South Africa also has the following mosquito-borne diseases:
Other Tips For Your South Africa Trip
Whether it is your first safari or you're an experienced safari enthusiast, taking a little time to adequately prepare before your trip can help you have the best possible experience. These five tips will get you started on the South African safari you've been dreaming of enjoying.
Visit during the off-season- In South Africa, the off-season takes place in May through July. During this time of the year, the weather is cooler, prices are more affordable and the animal sightings are better. The more affordable prices during the South African winter months may allow you to stay in a more luxurious lodge or even spend a few extra days on your tour.
Choose a safari off the beaten path- Instead of going for the most popular areas, select a place that's a little off the beaten path. With fewer people, you may have a better chance of up-close observation of the wildlife.
Slow down- In Canada and the United States, life is typically conducted at as fast a pace as possible. This is not the case in South Africa, and you shouldn't be alarmed if your guide suddenly decides it's time to take a three-hour nap or break for the day. Instead, take this opportunity to enjoy the scenery, and relax in the natural wonders that surround you.
Immerse yourself, but avoid traveler's diarrhea- Traveler's diarrhea is one of the most common ailments. Up to 80 percent of tourists will have some form of illness with this symptom. Avoid risky food choices and consider bringing a diarrhea remedy like DiaResQ.
Get a pre-travel health consultation and vaccines-– A visit with a Passport Health travel health specialist will help to ensure that you're healthy and ready to go on safari. Schedule your travel health checkup six weeks before your departure date. This will allow your body to make antibodies after receiving recommended vaccinations. Our travel health specialist will also make recommendations for what you should pack for a healthy and safe trip. Your prescription and over-the-counter medications, sunscreen, mosquito repellent, mosquito netting, a first aid kit, a water purification kit, anti-diarrheal medication and pain relievers will all help you to stay well during your travels.
A pre-travel health consultation with a Passport Health travel health specialist will help you make sure you're as healthy as possible as you depart for safari, during your adventure, and upon your return home. Getting your immunizations for South Africa will help protect against infections that could cause you to fall ill during your trip or upon your return home.
Have you traveled to South Africa? Have any awesome tips? Share them with us! In the comments below, on Twitter or through Facebook.