Ebola and other tropical diseases pose a major threat to populations worldwide, especially when it comes to diagnosing the infection.  Current diagnostic tools can take days to identify whether someone has an infection, but a new test created by a group of Massachusetts Institute of Technology researchers could change that.
The device consists largely of a paper strip, and it can identify Ebola fevers within minutes.  Unlike other tests, like those that can identify only a single condition like pregnancy or strep, this one is capable of diagnosing more than just the virulent West African disease.  Research published in an MIT study shows that it is capable of also identifying yellow fever, dengue fever and other viral hemorrhagic diseases.
"As we saw with the recent Ebola outbreak, sometimes people present with symptoms and it's not clear what they have," said Kimberly Hamad-Schifferli, who worked on the MIT project, in a release.  "We wanted to come up with a rapid diagnostic that could differentiate between different diseases."
The researchers created green, orange and red strips that link each color with a particular disease.  When a patient's blood is applied to the strip as part of a solution, any viral particles that match a specific disease will stick to the strip and will make its assigned color visible to the naked eye.
"It's a step up from what everyone else is doing," said Warren Chang, a professor at the University of Toronto in the same press release.  "They're targeting diseases that are really relevant to what's going on in the world at this point, and have shown that they can detect them simultaneously."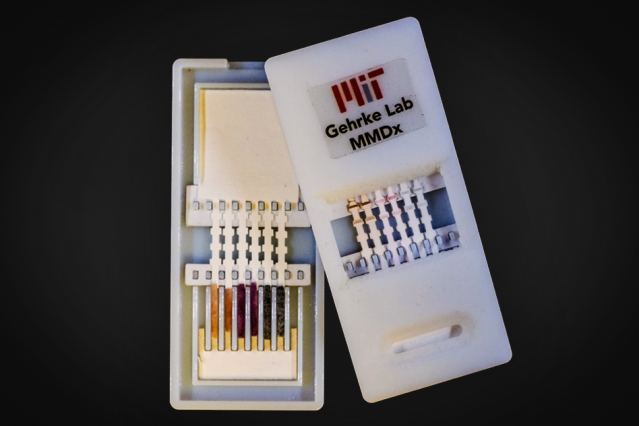 Courtesy of MIT
This new test can detect Ebola, Yellow Fever, Dengue Fever and other hemorrhagic diseases.
Up to now, the device has only been tested in laboratory settings, but researchers hope to receive Food and Drug Administration approval soon, allowing them to begin testing the device in the field.
A key part of what makes this device so innovative is how adaptable it can be.  Theoretically, any infectious disease could be diagnosed using a similar device, possibly changing how any disease, from polio to malaria to influenza, is diagnosed.
The most recent Ebola outbreak has infected more than 14,000 people and killed nearly 10,000.  Luckily, it has been nearly eliminated in the West African region, but another outbreak is possible.
For more information on other infectious diseases and preventative measures, visit the Passport Health travel medicine portal.
Would you use an at home flu test?  Tell us!  Comment below, on the Passport Health Facebook page, or on Twitter!