Every 20 seconds a child dies of a vaccine-preventable disease, but one organization hopes to stop the clock.
Started in 2012, Shot@Life hopes to bring vaccines to the parts of the world where they are needed most — from the plains of Ethiopia, to the jungles of Peru, and even to the mountains of central Asia. In order to accomplish this goal, the group hopes to educate, connect, and empower people to champion vaccines as one of the most effective ways to save the lives of children throughout the developing world.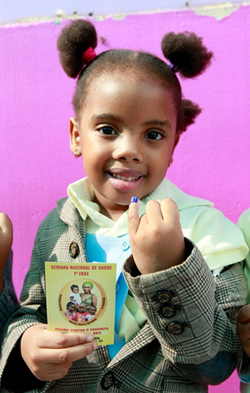 One such advocacy initiative carried out by the organization brought 110 mothers to Washington, D.C., earlier this year as part of a campaign asking the United States Congress for funding to help vaccinate children around the world.
Unlike some other groups that attempt to raise awareness, Shot@Life is taking action as well. The funds the group receives go mainly toward purchasing vaccines that can help not only change of child's life, but save it too.
Shot@Life points out that a donation of as little as $20 could give a child a lifetime immunity to protect him or her from pneumonia, polio, and measles, all of which are potentially deadly for children, especially in the developing world.
"Vaccines give children a shot at making it to their first birthday, to kindergarten, to graduation, and living through adulthood," said Devi Thomas, campaign director for Shot@Life, in a recent interview. "It's an early intervention that really allows a child to have a shot at a healthy life."
The most difficult factor, however, can be funding. The World Health Organization estimates that nearly 70 percent of all unvaccinated children live in 10 developing countries across the globe, and supplying them the necessary vaccines can be costly and difficult. Individuals as well as groups like the Bill & Melinda Gates Foundation, have donated money to try to help in this effort, and, although many of these diseases are at their lowest rates in decades, there is still much work to be done.
Shot@Life believes that by expanding access to these life-saving vaccinations, as many as 1.5 million deaths can be prevented each year.
For many, that access is exactly what can make the difference. In some corners of the world, mothers may have to walk up to 50 miles to ensure their children can receive a vaccine, if it is available at all, but Shot@Life and its partners in the United Nations Foundation hope to see that change in the coming years.
To learn more about Shot@Life and how to participate in its efforts to increase vaccination rates throughout the world visit, the group's website, and, if you would like to learn more about some of the life-saving vaccines that the organization provides, see Passport Health's page on immunizations and how they can help everyone prevent potentially deadly diseases.