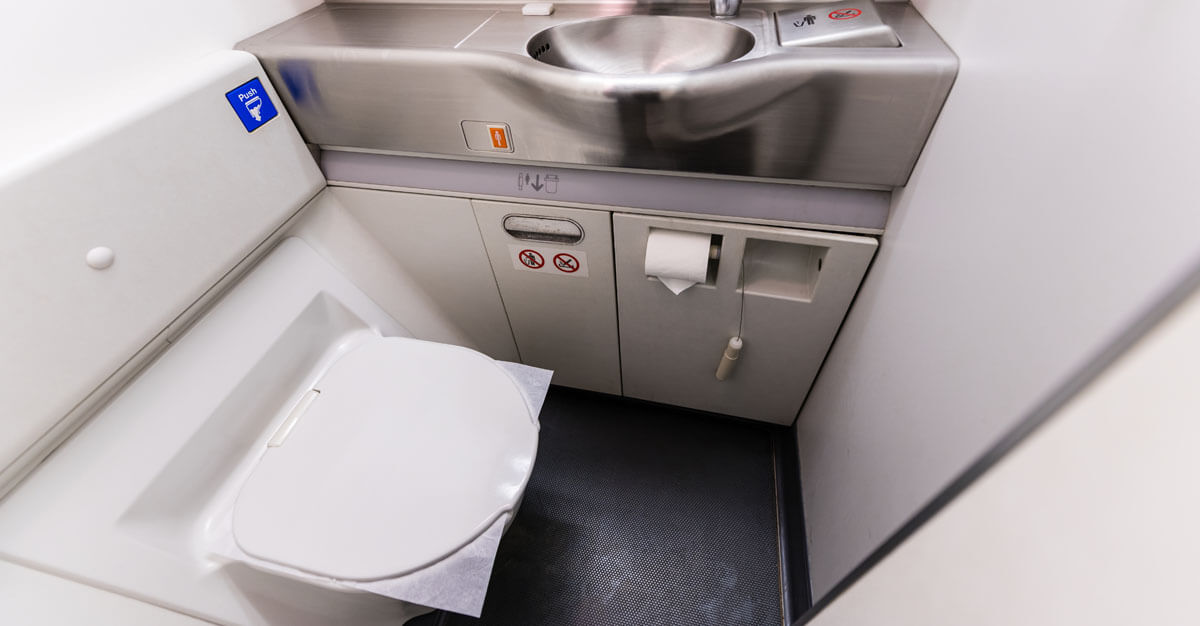 Airplanes can be crowded as it is. The prospect of getting up and using the bathroom is pretty drab. Honestly, no one really wants to squish inside of a bathroom that is the size of a small coat closet, but we have to do what we have to do. When traveling on an airplane, many people wonder about where the waste on an airplane goes after you flush the toilet. Here's how it all goes down.
For many years, a lot of people believed that there was a "secret trap door" that opened when the toilet is flushed, leaving it to fall below onto unsuspecting people. But, that could not be further from the case.
The modern airplane toilet was actually designed in 1975, by James Kemper. It uses a pneumatic vacuum when one flushes an airplane toilet. It made its way onto its first airplane, a Boeing, in 1982, and that is when all planes began to put this new waste management system into place.
It was created with a nonstick bowl with a Teflon-like coating, to help assist in waste being vacuumed out. Finally, it has a small amount of Skychem, which is a disinfecting liquid. The Skychem is used in place of water in the bowl. When one flushes the toilet, the waste is sucked out by the vacuum, and placed into a large holding tank. While the vacuum system in use is loud, it is nothing to be afraid of. Waste is sucked out with the power of what experts said, is a velocity faster than that of a Formula 1 race car.
During the flight, the waste remains inside of the sealed tank, which also has an exterior latch to make certain that no sewage leaks out. When the plane lands, the ground crew will end up coming over to the plane in a special truck that is used to siphon out the waste and into the underground sewage system of the airport.
While not a pleasant experience, using the bathroom on an airplane doesn't have to be scary or strange. You can rest assured that on your next flight when you use the restroom, the plane will not be dumping the waste into the sky! That is one more myth about flying dispelled. If you plan on heading out to the vacation of your dreams, let Passport Health help you with your travel health concerns.
Have an upcoming trip? Make sure your protected against common infections like typhoid and yellow fever. Call or book online to schedule your appointment today.
Jennifer Passmore is a stay-at-home mom, writer and beader. She loves creating art with her words and through her jewelry. She is also a passionate mental health advocate. You can find more writing at her website Positivity In Pain.