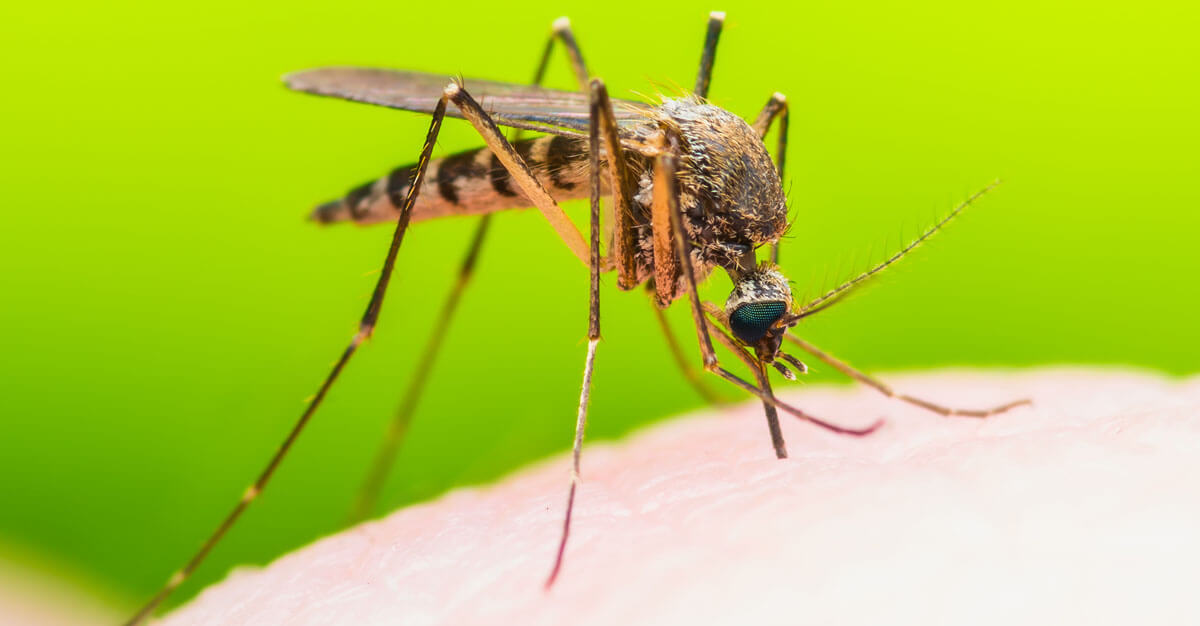 In the warm seasons, mosquitoes are abundant. This means more itchy, red blotches may appear on your skin due to mosquito bites. But, do mosquitoes bite or sting people? The answer is neither. Mosquitoes stick a needle in your body and suck your blood out. This process is similar to how your blood sample is taken from your arm at a hospital. People refer to this action as a 'bite' because of how it feels.
Mosquitoes have to detect you first. They can sense sweat and carbon dioxide you breathe out from as far as 55 yards away (more than half the length of a football field). After they have detected you, they approach you and land on your body.
Mosquitoes are very light, which is why most people do not notice them at all or realize that they are on them when they feel a pinch. This results from the mosquito sticking its needle through your skin. Mosquitoes have a long proboscis that they use when biting people. Once a vein or capillary is found, they will suck your blood up through the needle.
Females are the only ones that bother people. They 'bite' you because they need blood to create their eggs, so they extract protein from the blood and use that for their eggs. But, both male and female mosquitoes feed on plant nectar.
Why Mosquito Bites Feel Like a Sting
Stings are also needles, but they inject something into you instead of draw blood from you. Stings often contain peptides, enzymes, histamine, and other proteins. They activate nerve cells which give the stinging or pinching sensation.
Mosquitoes will move their proboscis around until they can find a blood vessel somewhere on your body. The proboscis has two tubes it uses for this process. The first one injects saliva that contains a mix of chemicals to reduce pain, thin your blood, and prevent it from clotting. The second one sucks up your blood.
Facts & Symptoms
Mosquito bites itch after a female mosquito draws your blood. This is because when mosquitoes secrete saliva into your bloodstream, your body registers the saliva as an allergen. Then, your immune system will send the chemical histamine to the area where the mosquito bit you. Histamine will remove the allergen from your body and causes the affected area to itch and swell.
Mosquito bite signs include:
A puffy and reddish bump
A hard, itchy brown bump or multiple bites appearing a day or so after the bite
Small blisters instead of hard bumps
Dark spots that look like bruises
Things to Keep in Mind
To treat mosquito bites, washing the area with soap and water, using an ice pack, or over-the-counter itch medicine can help. If you think a bite on your body is infected, do not scratch it. See a healthcare provider for assistance. Infected bites may appear red, feel warm, or a red streak will spread outward from the affected area.
Passport Health offers vaccines for mosquito-borne diseases, repellents and more. Call or book online to schedule your appointment today.
Written for Passport Health by Shelbi Jackson. Shelbi is a freelance writer from Illinois. She enjoys writing about various topics from health care to music and book reviews. In her free time, you can find her at a live event, taking a stroll outside, or playing with the family dogs.