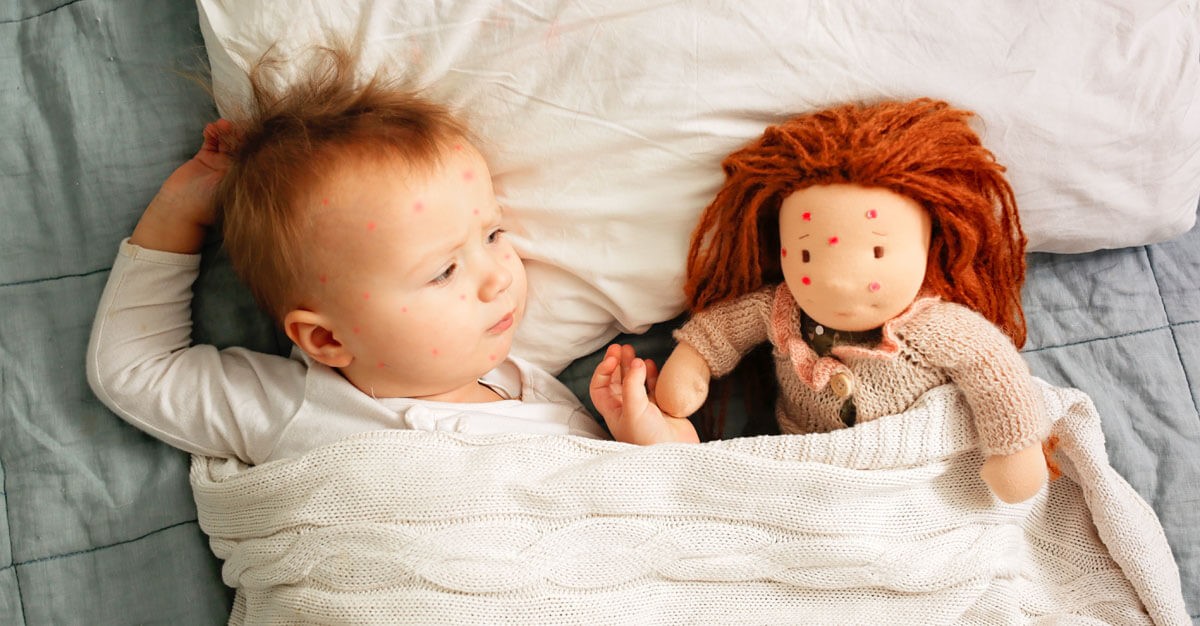 Chickenpox and herpes are not the same thing. Chickenpox is a contagious disease caused by the varicella-zoster virus. Herpes, on the other hand, are types of viruses in themselves. The two common types of herpes viruses are the herpes-zoster virus which causes shingles and the herpes simplex virus.
How is Chickenpox Spread?
Chickenpox is spread through direct contact with an infected individual as well as airborne droplets. Varicella-zoster is the virus that causes chickenpox. It takes about 14 to 16 days before someone starts showing symptoms of chickenpox after coming into contact with varicella-zoster.
Unvaccinated individuals living in crowded areas are especially at risk for spreading and contracting chickenpox. Individuals with a weakened immune system and those who live in poorly sanitized areas without access to clean and nutritious food are also at risk of contracting chickenpox as well as other communicable diseases.
What are Symptoms of Chickenpox?
Those who have chickenpox will begin to show symptoms about 14 to 16 days after initial exposure to the varicella-zoster virus. Once the virus begins to take effect, an individual will have a pink or red color in the sclera of eyes. They will also have swelling around their eyes. This irritation causes watery or teary eyes in someone who has chickenpox.
A fever and loss of appetite are also common in infected individuals. Fatigue and headache will also manifest 1 to 2 days before the infamous rash begins to appear. Flat, red, itchy spots spread from the neck to the face and extremities as the illness progresses. These flat spots eventually become raised spots, fill with pus and then eventually crust over. After about a week, scabs begin to appear.
Difference Between Chickenpox and Herpes
As mentioned earlier in the article, chickenpox is a contagious sickness caused by the varicella-zoster virus. Herpes can refer to multiple things. It's the common name used for a sexually transmitted disease and for an infection of the lips spread through localized contact. Herpes can also refer to herpes-zoster, a virus that causes shingles.
The sexually transmitted herpes is known as genital herpes and is caused by the herpes simplex virus. It's characterized by uncomfortable, raised spots on the genitalia. If left untreated, genital herpes can cause even worse health complications. Herpes simplex also causes an infection on the mouth which is identified by a single, raised mouth sore. Herpes-zoster is a virus that causes shingles, which are characterized by painful rashes on one side of the body.
Protect Yourself from Chickenpox and Herpes
Both chickenpox and certain herpes can be prevented by vaccination. The varicella-zoster vaccine provides protection against chickenpox. The shingles vaccine provides protection against the herpes-zoster virus.
Ensure you are protected against chickenpox with Passport Health. Call or book online to schedule your appointment today.
Ese Agboh is a student nurse who wants to specialize in pediatric nursing and wound care. In her free time, she enjoys reading and writing articles related to medicine and the pathophysiology of communicable diseases. Ese currently lives and studies on the east coast of the United States.