Passports and Visas service is temporarily suspended
Due to COVID-19 and the health of our employees, we will not be accepting new applicants at this time.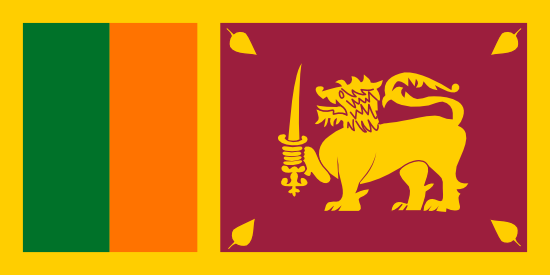 Sri Lanka Visa – Requirements and Application
Do I Need a Visa for Sri Lanka?
A visa or an Electronic Travel Authorization (ETA) is needed for U.S. citizens to travel to Sri Lanka. Tourists can apply for an ETA while people traveling for business need to get their visa from the Sri Lanka Consulate before they arrive in the country.
A passport is also required to travel to this country with 6 months validity and a black page for an entry stamp.
Sources: Sri Lanka Embassy and U.S. State Department
What Do I Need for a Sri Lanka Visa Application?
You will need your passport, proof of travel, and proof of funds to obtain your ETA. If you're applying for a business visa, you will need your passport, passport photo, your visa application, proof of travel, proof of funds, letter of invitation, and a business letter.
The tabs below will give you more information about the different types of visas you will need.
In addition to a completed application form, the following items are required:
Passport:
With 6 months validity
One black page for entry stamp
Proof of Travel:
Includes airline ticket showing entry and exit into Sri Lanka
Hang onto all the documents you need for next destination
Proof of Sufficient Funds:
Required your most recent bank statement
Needs to have your first name
Business travelers must submit the following with their Sri Lanka visa application.
Passport:
With 6 months validity
One black page for entry stamp
Must not be damaged or altered in any way
Photographs:
Need two colored passports
Must be taken within 3 months on quality paper against a plain background
Has to be 2×2 inches with your face centered and a neutral facial expression
Can't show anyone wearing eyeglasses or headwear except for religious reasons
Proof of Travel:
Need a copy of travel itinerary or airline ticket
Ticket must show entry and exit dates from Sri Lanka
Full name must be on passport
Proof of Sufficient Funds:
Required your most recent bank statement
Needs to have your first name
Letter of Invitation:
Includes your full address, phone number, and organization/person that is to be visited
Includes number of entries you need for your visa
Business Letter:
Must be from your U.S. based company
Has to meet the consulate's requirements
People in Sri Lanka for Diplomatic or Official purposes will be required to apply for an ETA. Applications must be given to the Department of Immigration and Emigration. Other visas travelers can apply for are Transit, Journalist, and Residence visas.
How Can Passport Health Help Me with the Visa Process?
Passport Health's travel documents team will walk you through the visa process step-by-step and handle the sometimes difficult communication with embassies and consulates. Contact us today to start your worry-free visa processing.
Customer Reviews
Passport Health –

Visa for Sri Lanka
Overall rating: 5 stars – 5 reviews
"

Quick and Friendly

"

"Great experience with Passport Health getting our Sri Lanka visa. Friendly and Fast service. Would recommend to others!"
"

Great Service Provided

"

"The Sri Lanka visa process was surprisingly quick, painless, and easy. They didn't try to upsell on anything extra. They were very nice and professional."
"

Thank you!

"

"The staff was very knowledgeable and helpful with our Sri Lanka visas!"
"

informative and thorough

"

"Our specialist was awesome and super helpful in getting our Sri Lanka visa. Explained all of the visa types and concerns for where we are traveling. All in all a great experience."
"

Wonderful Experience

"

"Wonderful staff that was extremely knowledgeable for Sri Lanka visas. They didn't rush and answered all of my questions thoroughly. I will be recommending Passport Health to my family and friends!"
How Much Do Sri Lanka Visas Cost?
Sri Lanka visa costs start at around $30. But, pricing can vary based on type of visa, length of stay and number of entries.
Visa costs generally do not include the cost of processing, service fees or postage.
Are Any Vaccines Required for Sri Lanka?
Proof of yellow fever and polio vaccination may be required if arriving from a country where the infections is present. No other immunizations are required.
But, some vaccines are recommended including: Japanese encephalitis, typhoid and hepatitis A.
For more information, see our Sri Lanka destination advice page.
U.S. Embassy in Sri Lanka
Before traveling to Sri Lanka, all U.S. citizens are advised to enroll in the Smart Traveler Enrollment Program to share your travel plans with the relevant embassy and to receive updates about any emergencies that may interfere with your travel plans.
The U.S. Embassy in Sri Lanka is located in Colombo, the country's capital. Its address and contact information are as follows:
U.S. Embassy Colombo
210 Galle Road,
Colombo 03,
Sri Lanka
Telephone: +(94) (11) 249-8500
Emergency After-Hours Telephone: +(94) (11) 249-8888
Fax: +(94) (11) 249-8590
For More Information About Sri Lanka…
See Passport Health's Sri Lanka destination advice page with information on safety, climate and more. Or, start you visa process by contacting us today!