Passports and Visas service is temporarily suspended
Due to COVID-19 and the health of our employees, we will not be accepting new applicants at this time.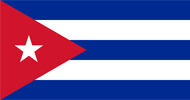 Cuba Visa – Requirements and Application
Do I Need a Visa for Cuba?
You will need a visa if you plan to travel to Cuba.
A tourist visa is required as well as a license from the Department of Treasury. This visa allows travelers to stay up to 30 days. All travelers will also need a passport for their trip to Cuba. You may need to contact the Office of Foreign Assets Control if you require more than a general license to travel to Cuba.
Sources: Cuba Embassy and U.S. State Department
What Do I Need for a Cuba Visa Application?
Travelers will need a copy of their passport and a completed visa application form for their trip. They will also need to provide flight information and travel insurance before leaving for Cuba. A visa processing fee will also be applied for travelers. Depending on reason for travel, a business and invitation letter are also required to fill out your application.
The tabs below will give you more information about the different types of visas you will need.
Travelers to Cuba must submit a completed application along with the following to obtain a visa:
Passport:
Proof of Travel:
Requires a copy of flight itinerary to and from Cuba
Requires a copy of your travel insurance
Travelers visiting for business must have a visa. The following items must be submitted along with a completed application.
Passport:
Photographs:
Need a white background
Must be taken within 6 months
Business Letter:
Must introduce applicant, the nature of business, and travel situation
Printed on letterhead stationary
Must be addressed to "The Embassy of Cuba, Visa section
Signed by senior Manager
Invitation Letter:
From sponsoring company in Cuba
Printed on letterhead stationary
Adheres to some of the same guidelines as the business letter
A reporter or journalist needs to apply for a Press visa. You will need an application form, a passport with a photo, a business letter, and an official invitation.
How Can Passport Health Help Me With the Visa Process?
Passport Health's travel documents team will walk you through all the steps for your trip to Cuba. We can also handle the sometimes difficult communication with embassies and consulates. Contact us today to start your worry-free visa processing.
Customer Reviews
Passport Health –

Visa for Cuba
Overall rating: 5 stars – 5 reviews
"

Excellent Nurse

"

"The staff was kind, thoughtful, and knowledgeable on everything I needed for a Cuba visa."
"

Relieved

"

"The staff was awesome, knowledgeable, resourceful and eased my Cuban travel document worries. He answered all my questions, took his time and recommended I call back if I had any further questions."
"

Very Good Service

"

"Very good presentation by the staff about what I need for a visa to go to Cuba."
"

Great

"

"The staff was very knowledgeable, and helped me to figure out what I needed for a Cuba visa. They relieved some stress I had regarding the logistics of my travels."
"

Great service

"

"Your staff was very pleasant, thorough, knowledgeable, and helpful. We received great service for our Cuba visa."
How Much Do Cuba Visas Cost?
The Cuban government sets all application fees for visas to enter the country. Fees generally start around $150, but can change at any time.
The visa fee does not include service fees, processing fees or postage. Be sure to include these in you calculations of the overall price of your visa.
Are Any Vaccines Required for Cuba?
Currently, the only required vaccination is yellow fever. This only applies if you are arriving from a region with yellow fever like Brazil or Colombia.
Vaccinations are recommended for travelers to Cuba. These include: hepatitis A, typhoid and cholera. The exact vaccines that will be recommended vary based on your itinerary.
To learn more about what you may need for your trip, see our Cuba destination advice page.
U.S. Embassy in Cuba
All Americans visiting Cuba should register online with the U.S. Department of State before departure. This will inform the office of your travel plans within the country and will allow them to reach out in the case of an emergency or evacuation.
Once in Cuba, the information for the U.S. Embassy is:
U.S. Embassy Havana
Calzada between L & M, Vedado
P. O. Box 606 Village Market
Havana, Cuba
Phone: (+53) 7839-4100
Visit the Embassy to Cuba website before departure to confirm correct contact details for the office.
For More Information About Cuba…
Check out Passport Health's Cuba destination advice page. It can provide information on safety, climate and more. Or, start you visa process by contacting us today!