Passports and Visas service is temporarily suspended
Due to COVID-19 and the health of our employees, we will not be accepting new applicants at this time.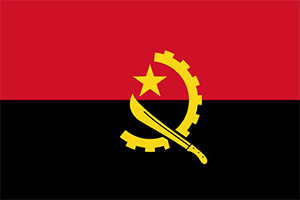 Angola Visa – Requirements and Application
Do I Need a Visa for Angola?
All United States citizens need a visa when traveling to Angola.
You can't obtain a visa unless approved by the Angolan embassy or consulate before traveling to Angola. Passports must have at least 6 months of validity and 2 blank pages for the entry stamp. Travelers may have to wait 30 days so the visa may be processed and then approved. Traveling with minor children may require additional documentation.
Sources: Angola Embassy and U.S. State Department
What Do I Need for an Angola Visa Application?
When applying for a visa, there are many things you will need for the trip. A valid passport, passport photos, a visa request letter, a copy of your plane ticket, and a copy of your hotel reservation. You will need proof of sufficient funds, an International Certificate of Vaccination for yellow fever, a completed visa application form, and a money order.
A business introduction letter, an invitation letter, and an authorization letter may be required for specific plans in Angola.
In addition to a completed application form, the following items are required:
Passport:
Valid for six months past your stay
Must have blank pages for entry stamp
Photograph:
2 colored copies of two by two inches photographs
Requires a white background and person facing front
Will have applicants name on the back of photos
Wearing requirements show a suit and tie on men while women will be dressed modestly
Visa Application Form:
Two copies of a completed Angola visa application form
Proof of Travel:
Requires a copy of your plane ticket with proof of enter and exit dates from Angola
Airline may have a copy of your travel itinerary
Letter of Invitation:
Must be from an Angola sponsor
Has to be addressed to the place where application is being submitted
Has to elaborate on why you're traveling as well as the relationship of applicant to sponsor
Includes how long you're staying, where you'll be staying, and contact info
Should have guarantee of financial responsibility
Portuguese written and Angolan notarized
Business travelers must submit the following with their Angola visa application.
Passport:
Validity of six months
One blank visa page
Must not be damaged or changed in any way
Photograph:
Less than three months old
Exactly 2×2 inches
Face must be positioned in the center looking straight ahead with neutral expression
Eyeglasses and headwear are prohibited except for religious purposes
Proof of Travel:
Requires a copy of your plane ticket that includes entry and exit dates
Shows full name like on your passport
Letter of Invitation:
Shows financial support while staying in Angola
Stamp has to be valid and not expired before the application is received
Has address and phone number of where you are visiting
Number of entries for your visa are required
Authorization Letter
Allows third party to hold on to your visa on your behalf
Business Cover Letter:
Must be from your U.S. based company
Printed on letterhead with U.S. mailing address
While other visa types are available, their requirements can vary greatly. Contact our expert travel document specialist to find out what you may need for your specific trip.
How Can Passport Health Help Me With the Visa Process?
Our travel documents team will help you with each step of the visa process. The Passport Health team can aid with any communication between foreign embassies and consulates. Contact us today to start your worry-free visa processing.
Customer Reviews
Passport Health –

Visa for Angola
Overall rating: 5 stars – 4 reviews
"

Excellent and Informative

"

"Incredibly helpful preparation before leaving the country. All your questions answered. Highly recommend – especially for an Angola visa!"
"

Great Service

"

"The lady who helped me was very thorough and explained everything really well. I felt like I was getting the best service possible. Very happy about the Angola visa experience."
"

Quick Documents

"

"The staff was very thorough, friendly and helpful. Top notch service with expert advice. A huge help for our Angola visa. Thanks"
"

Great Experience

"

"Excellent Clinic. The staff provided me all the information and answered all my questions on an Angola visa. I highly recommend this service. The staff was very professional"
How Much Do Angola Visas Cost?
An Angola visa generally costs more than $200. These fees are per visa and can vary based on type of travel.
This cost does not include service fees, postage and other related items.
Are Any Vaccines Required for Angola?
Most travelers should be vaccinated for hepatitis A, malaria, and typhoid. Some travelers will also require the cholera, hepatitis B, and rabies vaccines depending on where they travel, how long they plan to stay, and what they plan to do in Angola.
Proof of yellow fever vaccination is required for entry. If you do not have proof of immunization, you may be returned home at your own cost.
See our Angola destination advice page to learn more about vaccination requirements for your trip.
U.S. Embassy in Angola
All foreign travelers should know the location of the United States Embassy. The Embassy can help with any legal issues that may come about during your trip.
U.S. Embassy Luanda
Rua Houari Boumedienne #32
Luanda, Angola
C.P. 6468
For More Information About Angola…
See Passport Health's Angola destination advice page with information on safety, climate and more. Or, start you visa process by contacting us today!