The COVID-19 pandemic has affected travel to many countries. Uganda may require you to have a negative COVID-19 test for entry.
Please see our COVID-19 Restrictions page to learn more.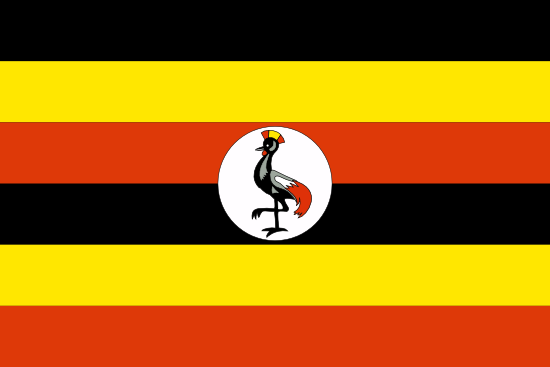 Travel Vaccines and Advice for Uganda
The east African country of Uganda was called the "Pearl of Africa" by Winston Churchill. That title is unsurprising if one looks at the sheer beauty of the country.
In Uganda is the world's longest river, the Nile, snowy mountains, and wildlife reserves. The country has a diverse culture, comprised of more than 50 local tribes, each with their own traditions and history. There's also a lively night life, particularly in Kampala, with tons of parties, bars, and dance floors around.
Do I Need Vaccines for Uganda?
Yes, some vaccines are recommended or required for Uganda. The CDC and WHO recommend the following vaccinations for Uganda: hepatitis A, hepatitis B, typhoid, cholera, yellow fever, rabies, meningitis, polio, measles, mumps and rubella (MMR), Tdap (tetanus, diphtheria and pertussis), chickenpox, shingles, pneumonia and influenza.
COVID-19 vaccination is recommended for travel to all regions, both foreign and domestic. Check with your local Passport Health clinic if immunization is offered in your area.
See the bullets below to learn more about some of these key immunizations:
See the tables below for more information:
Recommended Travel Vaccinations for Uganda

VACCINE
HOW DISEASE SPREADS
DETAILS

COVID-19
Airborne & Direct Contact
Recommended for all unvaccinated individuals who qualify for vaccination
Hepatitis A
Food & Water
Recommended for most travelers
Hepatitis B
Blood & Body Fluids
Recommended for travelers
to most regions.
Typhoid
Food & Water
Recommended for travelers
to most regions.
Cholera
Food & Water
Areas of active cholera transmission include the districts of Amudat, Hoima, Kagadi, Kasese, Kisoro and Kyegegwa.
Yellow Fever
Mosquito
Required if traveling from a region with yellow fever. Recommended for all travelers over 9 months of age.
Rabies
Saliva of Infected Animals
High risk country. Vaccine recommended for long-term travelers and those who may come in contact with animals.
Meningitis
Airborne & Direct Contact
Located in the meningitis belt, vaccination is recommended during the dry season (Dec. – June)
Routine Vaccinations for Uganda

VACCINE
HOW DISEASE SPREADS
DETAILS

Measles Mumps Rubella (MMR)
Various Vectors
Given to anyone unvaccinated and/or born after 1957. One time adult booster recommended.
TDAP (Tetanus, Diphtheria & Pertussis)
Wounds & Airborne
Only one adult booster of pertussis required.
Chickenpox
Direct Contact & Airborne
Given to those unvaccinated that did not have chickenpox.
Shingles
Direct Contact
Vaccine can still be given if you have had shingles.
Pneumonia
Airborne
Two vaccines given seperately. All 65+ or immunocompromised should receive both.
Influenza
Airborne
Vaccine components change annually.
Polio
Food & Water
Considered a routine vaccination for most travel itineraries. Single adult booster recommended.
Malaria spreads through infected mosquitoes. Travelers should also take steps to avoid mosquito bites and take antimalarials.
Chikungunya and dengue, two other mosquito-borne diseases are also present in the region.
There is a risk of yellow fever in Uganda. All travelers over the age of nine months must be vaccinated for entry.
The CDC recommends travelers planning on visiting certain parts of Uganda during the dry season (December – June) receive a meningitis vaccine.
Visit our vaccinations page to learn more. Travel safely with Passport Health and schedule your appointment today by calling or book online now.
Is Cholera in Uganda?
There is a risk of cholera in parts of the country. Cholera can be prevented by drinking only clean water, washing hands often, and by oral vaccination.
The best protection against cholera is through vaccination. Passport Health clinics offer the cholera vaccine. Book your cholera vaccination appointment today!
Customer Reviews
Passport Health – Travel Vaccines for the Uganda

Overall rating: 5 stars – 13 reviews

"

Hep A… Gets A+

"

"Great experience… again! Informative, helpful and extremely pleasant nurse (so sorry I don't recall his name) gave great feedback to upcoming return trip to Uganda! But, was most informative about Hep A shot so was truly an A+ (not positive for Hep A) experience! (A little medical humor)… Have a great one and thanks for the fantastic service! Oh! And the shot was not even a pinch! Thanks for that, too!"

"

Passport health clinic

"

"We had an extremely positive experience. The person was knowledgeable, helpful, and patient with our questions. We also appreciated that we were given a booklet made specifically for us and our trip to Uganda."

"

Very helpful

"

"The nurse was very informed and helpful in explaining my needs, medical and otherwise, for my upcoming trip to Uganda."

"

Expertise is worth the price

"

"I feel very confident that I am well prepared for my journey to Uganda. Information offered was extensive and useful. Never felt pressured to buy anything extra."

"

Great experience from start to finish

"

"We are going to Uganda on a veterinary mission to help the dogs on the Jane Goodall Islands and will also be doing some Gorilla trekking, therefore we needed 20 vaccines (as per the Gorilla sanctuary and the country of Uganda). Passport health explained to us each vaccine, why it might be necessary, which are optional and which were up to us based on personal risk factor of what we would be doing. They were not pushy and their pricing was competitive. They also showed us an informative video, as well as sold some necessary items that we would need for our trip. We were given a bound booklet specific to us and our travel and what information we needed, which was great to have and the receptionist and the nurse could not have been nicer. The vaccines did not hurt at all and we had no side effects. Overall we were very impressed and found it to be a great experience."

"

Trip to Uganda

"

"Our nurse/advisor on the recommended shots for traveling to Uganda. She was very personable and helpful and made it a very nice experience . Would use them again for sure"

"

Very helpful

"

"I had a 6 week notice on a trip to Uganda, so I was nervous that I didn't have enough time to prepare with vaccinations, etc. The staff was very helpful, she looked at my timeline and budget helped me come up with a plan t get everything ready."

"

Great Experience

"

"Today my husband and I met with the nurse at Passport Health in Pleasant Hill, Ca. She was very helpful, knowledgeable, through, and patient. She clearly answered all our questions and gave us lots of information that we need to know for our upcoming trip to rural Uganda. We also appreciated the detailed guide about travel to Uganda that was prepared in advance for us."

"

Great experience

"

"Great experience with my travel vaccines for mission trip to Uganda. Great staff"

"

Great Experience!

"

"From the second I walked in the door the nurse was very friendly and knowledgeable. She was able to answer all of my questions and provided valuable information that I had not even considered for things that I need to bring on my trip. The entire experience was pleasant and I left feeling prepared for my trip to Uganda. I will definitely use Passport Health in the future when traveling internationally!"

"

Very Friendly & Knowledgable Clinic

"

"The nurse was very friendly, knowledgable and loved that she was ready with information regarding my trip to Uganda. I felt very comfortable with her."

"

Machu Picchu

"

"The young lady working there was more than helpful in helping prepare for my upcoming travels to Uganda. I will most definitely return when preparing for dream trip!"

"

Great experience

"

"answered questions I had and made me feel confident about our upcoming trip to uganda.i will definitely recommend friends to passport health."

Do I Need a Visa or Passport for Uganda?

American travelers to Uganda must have a valid passport and visa for entry. Proof of yellow fever vaccination is also required.

Sources: Embassy of Uganda and U.S. State Department

For more information, see our Uganda visa page. Or contact a Passport Health Passport and Visa specialist by calling 1-844-366-8472 or by filling out our online form.

What is the Climate Like in Uganda?

The equator runs through Uganda making the climate is very warm. The average annual temperature is in the high 70's. Nights can get chilly with temperatures reaching the mid-50's.

There is a rainy season from March to May and from October to November. In November and December there is light rain.

Is It Safe to Travel to Uganda?

The United States government rates Uganda as a medium threat for terrorism. Travelers are advised to stay away from large public gatherings.

Uganda has a large amount of crime. Petty crime, such as pick-pocketing and theft are common. Traveling alone after dark is not recommended. Food and drink should also not be left unattended as there have been cases of drinks being drugged. Travelers should maintain awareness and caution when traveling.

Nile Rafting

Avoid an Embarrassing Stop

Both experienced and novice white water rafters can come and explore the Nile River on a floating raft. There a large number of experienced companies and individuals who serve as guides on these trips. There are waterfalls and gorgeous white rapids to experience. There's also tandem kayaking or riverboarding available.

What Should I Take To Uganda?

Here are some essential items to consider for your trip to Uganda:

Money Belt – Due to pick-pocketing, a money belt will help keep your money and passport safe.
Bug Spray – The climate in Uganda is hot and humid. There are plenty of bugs, including mosquitoes, which can carry malaria.
Sweater – While it's generally very warm in Uganda, it can get chilly at night.
Sunscreen – Uganda is on the equator and has losts of direct sunlight.

U.S. Embassy in Uganda

When traveling it is very helpful to find out exactly where the U.S. embassy or consulates are located. Keep the address written down in case you have a legal problem, you lose your passport, or you want to report a crime. Be sure to keep a copy of your passport with you in case you lose the original.

U.S. Embassy Kampala
Plot 1577 Ggaba Road
Kampala, Uganda
Telephone: +(256)(0) 414-306-001 and +(256)(0)312-306-001
Emergency After-Hours Telephone: +(256)(0) 414-306-001 and +(256)(0)312-306-001
Fax: +(84) (4) 3850-5010
Email: KampalaUScitizen@state.gov

If you have any questions about traveling to Uganda or are wondering what shots you may need for your trip, schedule an appointment by calling or book online today.

On This Page:
Do I Need Vaccines for Uganda?
Is Cholera in Uganda?
Do I Need a Visa or Passport for Uganda?
What is the Climate Like in Uganda?
Is It Safe to Travel to is Uganda?
Nile Rafting
What Should I Take To Uganda?
U.S. Embassy in Uganda