The COVID-19 pandemic has affected travel to many countries. Togo may require you to have a negative COVID-19 test for entry.
Please see our COVID-19 Restrictions page to learn more.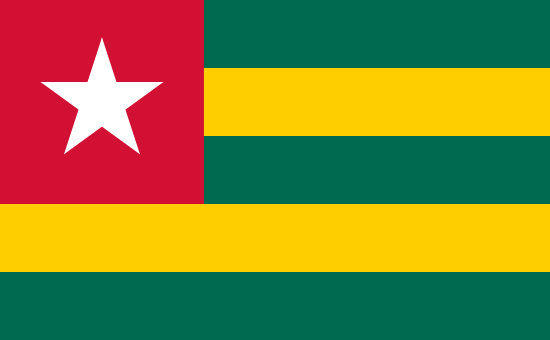 Travel Vaccines and Advice for Togo
Togo has become well known for its coffee and cocoa, and its cultural and topographical diversity.
For those who enjoy passing the time shopping, and admiring artifacts, the Grand Marche in Lome offers several city blocks full of stalls, and shops.
Travelers in search of an outdoor adventure may find their answer in places like the Fazao National Park Reserve.
Whether traveling to Togo for its culture, or its natural wonders, travelers will walk away with a well-rounded experience.
Do I Need Vaccines for Togo?
Yes, some vaccines are recommended or required for Togo. The CDC and WHO recommend the following vaccinations for Togo: hepatitis A, hepatitis B, typhoid, cholera, yellow fever, rabies, meningitis, polio, measles, mumps and rubella (MMR), Tdap (tetanus, diphtheria and pertussis), chickenpox, shingles, pneumonia and influenza.
COVID-19 vaccination is recommended for travel to all regions, both foreign and domestic. Check with your local Passport Health clinic if immunization is offered in your area.
See the bullets below to learn more about some of these key immunizations:
See the tables below for more information:
Recommended Travel Vaccinations for Togo

VACCINE
HOW DISEASE SPREADS
DETAILS

COVID-19
Airborne & Direct Contact
Recommended for all unvaccinated individuals who qualify for vaccination
Hepatitis A
Food & Water
Recommended for most travelers
Hepatitis B
Blood & Body Fluids
Accelerated schedule available
Typhoid
Food & Water
Shot lasts 2 years. Oral vaccine lasts 5 years, must be able to swallow pills. Oral doses must be kept in refrigerator.
Cholera
Food & Water
Multiple outbreaks over the last decade. Most cases in the Lome, Maritime and Plateaux regions. The country is heavily affected by outbreaks in surrounding nations. Vaccination recommended for travelers to affected regions.
Yellow Fever
Mosquito
Required for travelers from ALL countries. Recommended for all travelers over 9 months of age.
Rabies
Saliva of Infected Animals
High risk country. Vaccine recommended for long-term travelers and those who may come in contact with animals.
Meningitis
Airborne & Direct Contact
Located in the meningitis belt, vaccination is recommended during the dry season (Dec. – June)
Routine Vaccinations for Togo

VACCINE
HOW DISEASE SPREADS
DETAILS

Measles Mumps Rubella (MMR)
Various Vectors
Given to anyone unvaccinated and/or born after 1957. One time adult booster recommended.
TDAP (Tetanus, Diphtheria & Pertussis)
Wounds & Airborne
Only one adult booster of pertussis required.
Chickenpox
Direct Contact & Airborne
Given to those unvaccinated that did not have chickenpox.
Shingles
Direct Contact
Vaccine can still be given if you have had shingles.
Pneumonia
Airborne
Two vaccines given seperately. All 65+ or immunocompromised should receive both.
Influenza
Airborne
Vaccine components change annually.
Polio
Food & Water
Considered a routine vaccination for most travel itineraries. Single adult booster recommended.
Proof of yellow fever vaccination is required for entry to Togo. The disease is also present in the country and poses a risk to travelers.
Malaria, dengue and chikungunya are also present in Togo. These mosquito-borne diseases can be prevented through proper use of mosquito repellents and nettings. In the case of malaria, antimalarials should be taken before, during and after your trip.
See our vaccinations page to learn more about these infections and vaccines. Ready to protect yourself? Book your travel health appointment today by calling or schedule online now.
Is There Cholera in Togo?
Togo's most recent reported cholera outbreak was in 2013. Cholera is a very real risk for travelers to the area. Sanitation infrastructure and lack of oversight mean cholera could easily spread, especially to travelers visiting.
The best protection against cholera is through vaccination. Passport Health clinics offer the cholera vaccine. Book your cholera vaccination appointment today!
Customer Reviews
Passport Health – Travel Vaccines for Togo

Overall rating: 5 stars – 5 reviews

"

Excellent Personal and Proffesional Experience

"

"The nurse was comforting and knowledgeable about the types of vaccines that were available to me. She even put together an Itinerary that was personalized for me and my trip to Togo, Africa in a couple weeks. I would definitely use Passport Health for any and all travel necessary needs in my future."

"

Great service – very informative

"

"This was my first time using a service like this. I am going to Togo, Africa and was unaware of what vaccines are needed or recommended. The nurse was extremely helpful and explained the options very well. It was a clean and friendly environment."

"

Absolutely worth every dime

"

"I had a wonderful experience and was very impressed by how comprehensive the whole office visit was. I feel so much better prepared fro my time in Togo. Thank you so, so much!"

"

Thorough Preparation

"

"I love the spiral-bound folder I received about my trip to Togo. In addition to medical & health info, it included cultural, travel, & security information which is quite helpful. I plan to keep it as an example of the kind of research I need to do when I'm traveling to another county."

"

Good clinic

"

"My experience at this location was good. The nurse was very informative on what was needed for the trip to Togo."

Do I Need a Visa or Passport for Togo?

Travelers to Togo must have a passport and visa to be allowed entry. Proof of yellow fever vaccination is also required.

Sources: Embassy of Togo and U.S. State Department

It is best to receive your visa before arrival to avoid any issues upon entry.

For more information, see our Togo visa page. Or contact a Passport Health Passport and Visa specialist by calling or by filling out our online form.

What is the Climate Like in Togo?

Togo tends to generally have a hot and tropical climate. The year is spent between four seasons. From March to April, the climate tends to be hot and dry, while the rainy season comes May through October. The recommended time to visit Togo is during the drier winter, November through February.

Kara – Located in the north, Kara, has a tropical climate with heavy rains in summer, and dry, mild winters. From November to April, temperatures range from the low-90's to high-60's. Throughout the rest of the year, the city stays at an average of 80º Fahrenheit.

Lome – This city has both a tropical climate. Temperatures tend to be warmest during March when temperatures reach the 90's. April brings an increase in rainfall cooling the city down. Temperatures dip into the mid 80's. The rainy season lasts until July.

How Safe is Togo?

While enticing, Togo's beaches are not recommended for swimming. Water conditions tend to be dangerous due to strong waves and rip currents.

Towns along the coastline tend to be dangerous at night. Petty crime, theft and pick-pocketing at tourist frequented spots occurs.

Travelers should keep their bags and belongings close to their bodies. Avoid traveling too far from their hotel or lodging at night.

Driving throughout the country is also risky since it is common for traffic laws to not be followed. It is best to avoid any sort of travel at night.

Traveling to the Cascade de Wome

Avoid mosquitoes and other bugs

Located roughly 7 miles outside of Kpalime, the waterfalls require a whole day to journey to and from. Admission must be paid at the Association Akatamanso, which is at the entrance of the village of Wome.

The hike itself is about 2 to 3 miles with the reward of refreshing waterfalls at the end.

What Should I Pack for Togo?

Here are some essential items to consider for your trip to Togo:

Lightweight and sun protective clothing – Since malaria is at risk in Namibia, be sure to pack bug spray. Packing a repellent with at least 20%-30% DEET will keep mosquitos at bay. You should also bring neutral colored clothing, as this does not attract insects as much as dark or bright clothes.
Insect Repellent – Apply mosquito repellent liberally and often. The insects are most active at sunrise and sunset, but pose a risk at all times of day or night.
Raincoat – Tropical climate also means plenty of rain. Make sure to pack either a raincoat or umbrella to shield you from wet weather.

U.S. Embassy in Togo

All Americans visiting Togo should register online with the Smart Traveler Enrollment Program. This will inform the office of your travel plans within the country and will allow them to reach out in the case of an emergency or evacuation. If you plan to purchase a local SIM card you can also enter your phone number to receive SMS updates from the office.

U.S. Embassy Lome
Boulevard Eyadema
B.P. 852, Lomé
Telephone: (+228) 2261 5470
Fax: (+228) 2261 5501

Visit the U.S. Embassy in Togo before you leave to confirm correct contact details for the office.

Stay safe abroad with Passport Health. Call or book online now and start traveling safely today!

On This Page:
Do I Need Vaccines for Togo?
Is There Cholera in Togo?
Do I Need a Visa or Passport for Togo?
What is the Climate Like in Togo?
How Safe is Togo?
Traveling to the Cascade de Wome
What Should I Pack To Togo?
U.S. Embassy in Togo