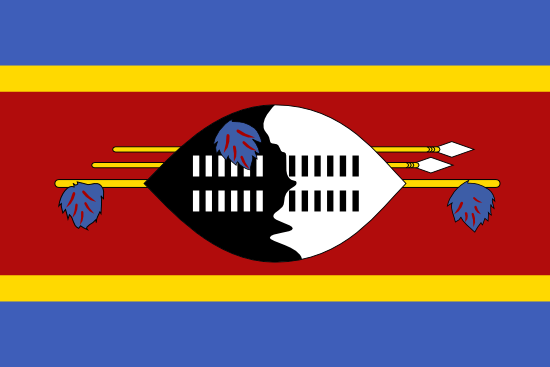 Travel Vaccines and Advice for Swaziland
Located near Mozambique and South Africa, Swaziland and is one of the smallest countries in Africa. Travelers should not be fooled by the size of Swaziland. This nation has a lot of different attractions and activities to discover.
The Swaziland people value culture and heritage in their everyday lives. Their friendliness will make travelers feel safe and more than welcome. The people aren't the only amazing thing about Swaziland. The mountains, valleys, forests, and plains are just some some of the breathtaking landscapes.
Whether you're immersing yourself in the people, wildlife or art, Swaziland awaits you.
Do I Need Vaccines for Swaziland?
Yes, some vaccines are recommended or required for Swaziland. The CDC and WHO recommend the following vaccinations for Swaziland: hepatitis A, hepatitis B, typhoid, yellow fever, rabies, meningitis, polio, measles, mumps and rubella (MMR), Tdap (tetanus, diphtheria and pertussis), chickenpox, shingles, pneumonia and influenza.
COVID-19 vaccination is recommended for travel to all regions, both foreign and domestic. Check with your local Passport Health clinic if immunization is offered in your area.
See the bullets below to learn more about some of these key immunizations:
See the tables below for more information:
Recommended Travel Vaccinations for Swaziland

VACCINE
HOW DISEASE SPREADS
DETAILS

COVID-19
Airborne & Direct Contact
Recommended for all unvaccinated individuals who qualify for vaccination
Hepatitis A
Food & Water
Recommended for most travelers
Hepatitis B
Blood & Body Fluids
Accelerated schedule available
Typhoid
Food & Water
Shot lasts 2 years. Oral vaccine lasts 5 years, must be able to swallow pills. Oral doses must be kept in refrigerator.
Yellow Fever
Mosquito
Required if traveling from a country with risk of yellow fever transmission.
Rabies
Saliva of Infected Animals
Vaccine recommended for certain travelers based on destination, activities and length of stay.
Routine Vaccinations for Swaziland

VACCINE
HOW DISEASE SPREADS
DETAILS

Measles Mumps Rubella (MMR)
Various Vectors
Given to anyone unvaccinated and/or born after 1957. One time adult booster recommended.
TDAP (Tetanus, Diphtheria & Pertussis)
Wounds & Airborne
Only one adult booster of pertussis required.
Chickenpox
Direct Contact & Airborne
Given to those unvaccinated that did not have chickenpox.
Shingles
Direct Contact
Vaccine can still be given if you have had shingles.
Pneumonia
Airborne
Two vaccines given seperately. All 65+ or immunocompromised should receive both.
Influenza
Airborne
Vaccine components change annually.
Meningitis
Airborne & Direct Contact
Given to anyone unvaccinated or at an increased risk, especially students.
Polio
Food & Water
Considered a routine vaccination for most travel itineraries. Single adult booster recommended.
Rabies-afflicted dogs are commonly found in the country of Swaziland. Rabies vaccination may be recommended based on your travel itinerary. Special consideration should be given to children visiting the region.
There is a risk for malaria in the eastern areas close to Mozambique and South Africa. This also includes the Lubombo district and the eastern half of Hhohho, Mazini, and Shiselweni districts. Antimalarials are recommended for these areas.
People traveling to Swaziland should try to avoid mosquito bites. Infections such as dengue and chikungunya are present in the region. Make sure to bring and use mosquito repellents and netting.
See our vaccinations page to learn more about these infections and vaccines. Ready to protect yourself? Book your travel health appointment today by calling or schedule online now.
Customer Reviews
Passport Health – Travel Vaccines for Swaziland

Overall rating: 5 stars – 8 reviews

"

Great experience

"

"So informative and helpful as I prepare for my trip to Swaziland. Made getting immunized quick and easy. Would totally recommend to others before traveling."

"

Great Experience

"

"I heard about Passport Health from a friend who is helping organize the missions trip to Swaziland that my son and I hare going on in a few weeks. Our experience with Passport Health was great from our first contact by phone, to their electronic communications, and finally, our visit to their office this afternoon. We were greeted immediately upon our arrival to the office and hardly had to wait at all. The nurse who assisted us was outstanding. I would highly recommend Passport Health to anyone preparing to travel abroad, and hope to have the opportunity to deal with them again in the near future. Thank you!"

"

Informative

"

"We found our visit to be informative and quite helpful as we plan our trip to Swaziland."

"

Excellent Experience

"

"What an awesome way to start an adventure! Starting my journey to Swaziland at Passport Health gave me an exciting push towards preparing for my trip! Although I learned about all of the many ways I should take precautions, they were shared in an amicable way! I appreciated the thorough yet nurturing instructions I received and I will definitely come back again!"

"

Excellent service

"

"Meet with our nurse to prepare for my trip to Swaziland. Received my vaccines and information regarding my trip. She was very thorough and answered all my questions. The information packet is very helpful. Highly recommend for anyone traveling or of the country. These only improvement would be a ballpark estimate of the cost before the appointment."

"

Great Clinic

"

"I visited Wilmington's Passport Health Clinic in preparation for a trip to the Swaziland. I was given a packet of information which was reviewed with me during my appointment. I was able to get booster shots as well as purchase items necessary for my trip. The woman who helped me, was extremely helpful, pleasant, polite, and answered my questions. She also provided me with information I hadn't thought to ask about. Great service overall!"

"

Wonderful Experience

"

"Our 15 year old daughter has chosen to go on a service adventure to Swaziland this summer. This is clearly a LONG way from home, so nervous Mom was very appreciative of the "hand holding" that Lisa Bell gave me – complete confidence that our daughter is well prepared medically for a trip of a lifetime!"

"

South Africa

"

"Sue was great. She was very thorough in explaining the vaccines and safety issues we may encounter in Swaziland."

Do I Need a Visa or Passport for Swaziland?

A passport is needed, but visas are not required for people who plan to stay less than 30 days. Travelers enter Swaziland from South Africa.

A yellow fever vaccine is required as South Africa will need proof for your return entry.

Swaziland Entry Requirements
Do I Need A…
For My Trip to Swaziland?
Passport
Tourist Visa
Business Visa
Vaccinations

Sources: Embassy of Swaziland and U.S. State Department

For more information contact a Passport Health Passport and Visa specialist by calling 1-844-366-8472 or by filling out our online form.

What is the Climate Like in Swaziland?

Swaziland has a subtropical climate affected by the moist air from the Indian Ocean. Here is what to expect from the climate in Swaziland:

Climatic Regions – There are three different regions of Swaziland. The west experiences wet summers and dry winters, and a subtropical climate. The east experiences a difference in climate in the mountainous Lubombo area. The mountains see a different kind of climate because of their altitude of about 4,000 feet.
Temperature – The lowveld part of Swaziland is warmer, in the mid-70s. The middleveld temperature is a bit lower. The highveld is warmer in the summer (January), but, the temperature drops to high-50s at night.
Rainfall – Moisture varies depending on time of year. October and March are the wettest seasons when 80% of rainfall happens. The highveld has the most rainfall between 35 to 59 inches. The midveld experiences 23 to 32 inches of rain.

How Safe is Swaziland?

Swaziland does have a high level of political and other demonstrations. It's recommended for travelers to avoid crowds, rallies, and demonstrations.

Petty and violent crimes also occur in Swaziland and are a threat to U.S. citizens. Carjacking is does occur in Swaziland as well. It is better for the victim to cooperate to avoid violence.

It's important to take precautions when traveling in Swaziland. Travelers should avoid congested, urban areas, especially at night. Cell phones and carrying large amounts of cash are not recommended.

Travelers should not leave items in their car. Use caution when taking local taxis. Make sure the taxi company is reputable. Do not enter a taxi with another person besides the driver.

Swazi Candles Craft Market

Avoid an Embarrassing Stop

It's a popular tourist attraction in Swaziland. Swaziland has many impressive markets for their traditional arts and crafts. The Swazi Candles Craft Market shows off their handcrafted candles by local artisans. This market has paraffin wax candles, beauty products, and many more unique finds.

These candles are molded by hand into different kinds of shapes and animals. The beautiful designs and vibrant colors of the candles make them perfect souvenirs.

What Should I Take To Swaziland?

Here are some essential items to consider for your trip to Swaziland:

Packing for Health — Be sure to bring any prescription medications with you. Traveler's diarrhea kits, suture/syringe kit, altitude sickness medicine, antimalarials are also recommended.
Passport and Visa — Travelers going to Swaziland need a passport that has at least three months validity. A visa is not required for travel to Swaziland.
Money — The currency is Lilangeni. Credit cards like American Express, MasterCard, and Visa are accepted at hotels, shops, and markets. There aren't many ATMs that accept international/debit cards. But, traveler's checks are widely accepted.

U.S. Embassy in Swaziland

The U.S. Embassy's mission is to advance the interests of the United States and to serve and protect U.S. citizens. The embassy offers the following services:

U.S. Embassy Mbabane
Corner of MR103 and Cultural Centre Drive PO Box D202
The Gables H106, Swaziland
Telephone: 268 2417 9000
Emergency after-hours telephone: 268-7602-8414
Facsimile: 268-2416 3344

Visit the Embassy to Swaziland website before departure to confirm correct contact details for the office.

Ready to start your next journey? Call us at or book online now!

On This Page:
Do I Need Vaccines for Swaziland?
Do I Need a Visa or Passport for Swaziland?
What is the Climate Like in Swaziland?
How Safe is Swaziland?
The Swazi Candles Craft Market
What Should I Take To Swaziland?
U.S. Embassy in Swaziland