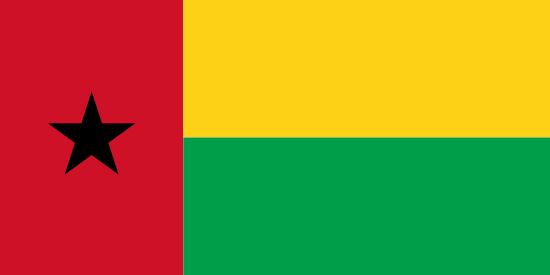 Travel Vaccines and Advice for Guinea-Bissau
Traveling to Guinea-Bissau is not an easy task. Getting a visa can be complicated and the cities have a high crime rate. Better known for its political issues and drug trafficking issues, it has a lot of charm and culture.
If you're willing to take the risks, it's a beautiful country with a lot to offers its visitors.
Located between Senegal and Guinea, it has a tropical climate and beautiful coastlines. One of the only African countries to take part in Carnival, it has a Latin vibe and is still heavily influenced by Portuguese culture.
Guinea-Bissau is perfect for any nature lover and adventurer willing to make the trip. Remember to be cautious of your surroundings, pack for the weather, and to have all necessary items for entering and exiting the country.
Do I Need Vaccines for Guinea-Bissau?
Yes, some vaccines are recommended or required for Guinea-Bissau. The CDC and WHO recommend the following vaccinations for Guinea-Bissau: hepatitis A, hepatitis B, typhoid, yellow fever, rabies, meningitis, polio, measles, mumps and rubella (MMR), Tdap (tetanus, diphtheria and pertussis), chickenpox, shingles, pneumonia and influenza.
COVID-19 vaccination is recommended for travel to all regions, both foreign and domestic. Check with your local Passport Health clinic if immunization is offered in your area.
See the bullets below to learn more about some of these key immunizations:
See the tables below for more information:
Recommended Travel Vaccinations for Guinea-Bissau

VACCINE
HOW DISEASE SPREADS
DETAILS

COVID-19
Airborne & Direct Contact
Recommended for all unvaccinated individuals who qualify for vaccination
Hepatitis A
Food & Water
Recommended for most travelers
Hepatitis B
Blood & Body Fluids
Recommended for travelers
to most regions.
Typhoid
Food & Water
Recommended for travelers
to most regions.
Yellow Fever
Mosquito
Required for all travelers over 1 year of age.
Rabies
Saliva of Infected Animals
High risk country. Vaccine recommended for long-term travelers and those who may come in contact with animals.
Meningitis
Airborne & Direct Contact
Located in the meningitis belt, vaccination is recommended during the dry season (Dec. – June)
Routine Vaccinations for Guinea-Bissau

VACCINE
HOW DISEASE SPREADS
DETAILS

Measles Mumps Rubella (MMR)
Various Vectors
Given to anyone unvaccinated and/or born after 1957. One time adult booster recommended.
TDAP (Tetanus, Diphtheria & Pertussis)
Wounds & Airborne
Only one adult booster of pertussis required.
Chickenpox
Direct Contact & Airborne
Given to those unvaccinated that did not have chickenpox.
Shingles
Direct Contact
Vaccine can still be given if you have had shingles.
Pneumonia
Airborne
Two vaccines given separately. All 65+ or immunocompromised should receive both.
Influenza
Airborne
Vaccine components change annually.
Polio
Food & Water
Considered a routine vaccination for most travel itineraries. Single adult booster recommended.
Proof of yellow fever vaccination is required for entry to Guinea-Bissau. Ensure you are vaccinated before leaving for your trip.
Guinea-Bissau falls in what is known as the 'meningitis belt'. This means from December to June, travelers and residents are at risk of contracting meningitis. A meningitis vaccine is recommended if traveling during this time frame.
See our vaccinations page to learn more about these infections and vaccines. Ready to protect yourself? Book your travel health appointment today by calling or schedule online now.
Are There Mosquito-Borne Diseases in Guinea-Bissau?
Yes, there are a handful of mosquito-borne diseases in Guinea-Bissau that you should be aware of before traveling.
Yellow Fever – An often deadly virus, you must be vaccinated against the disease to enter the country.
Malaria – While there is no malaria vaccine, antimalarial medication serves the same purpose. Speak with a travel health specialist to learn which type of antimalarial is right for you.
Zika – This virus can cause birth defects. Women who are pregnant or may become pregnant should avoid travel to the region. Mosquito repellents and netting are the best way to avoid the virus.
Do I Need a Visa or Passport for Guinea-Bissau?
U.S. travelers to Guinea-Bissau need a visa, passport, proof of yellow fever vaccination and proof of a return ticket. Your passport will need to be up to date and it will need to be valid for 6 months after your exit date.
Guinea-Bissau Entry Requirements

Do I Need A…
For My Trip to Guinea-Bissau?

Passport
Tourist Visa
Business Visa
Vaccinations
Sources: Embassy of Guinea-Bissau and U.S. State Department
Be sure to have your valid passport, visa, and return ticket (or ticket to another country) on-hand when exiting the country.
What Is the Climate Like in Guinea-Bissau?
Guinea-Bissau has a tropical climate and remains hot and humid all year. It's wet season with heavy winds and rain is June to November. The dry season is then December to May with little temperature fluctuation. The temperatures can vary with altitude changes and your proximity to the coastline. Here is what you should expect in a few key areas of the country:
Bissau – This city has a tropical savanna climate with more rain than most climates of its type. During its wet season, high humidity makes heat discomfort extreme. Early in the year the temperature can reach over 100 degrees. Make sure you pack to accommodate the heat.
Cacheu – This area is low-lying coastal region with many rivers, swamps and rain forests. It has a hot tropical climate with the two seasons: wet and dry. There's more rainfall the closer you are to the coast, with up to 120 inches.
Bafatá – It's the second largest city in Guinea-Bissau. It has the same average temperature range as the rest of the country with similar wet and dry seasons. Think mid-70's to high 80's for temperatures and an average rainfall of 39 inches.
How Safe Is Guinea-Bissau?
There are no travel warnings for Guinea-Bissau. But, there is a high crime rate and lack of law enforcement resources.
Enroll in the Smart Traveler Enrollment Program (STEP) before traveling. This will allow you to receive messages, get in contact with family and make it easier to locate you in case of an emergency.
Travelers should be aware of their surroundings. Take extra precaution when visiting due to political turmoil. The main crimes include pick-pocketing, petty-theft, and minor assaults.
There are land mines scattered throughout the country. Exercise caution when driving at night and try to stay on well-traveled roads as much as possible.
If you plan on using taxis, inform the driver that you do not want more patrons picked up along the route. The taxis in Guinea-Bissau are like a bus service where each passenger pays for a seat and not the route. There is also an increase in narcotics trafficking, which has led to the increase in criminal activity.
Penalties for drug possessing, using, or trafficking are severe with the increase in drug-related crimes. Anyone convicted can expect both a heavy fine and a long jail sentence.
Explore the Bijagos Islands
Avoid an Embarrassing Stop
Made up of an archipelago of 15 main islands, the Bijagós Islands of Guinea-Bissau are about 30 miles off the coast. They are all covered with lush vegetation and have sandy beaches. Each island has different features that make them unique. There are many other possibilities of camping and other ecotourism.
Many islands have French-owned fishing lodges. For example, Keré is a tiny island between Caravela and Carache. While no one lives on the island, there's a single hotel and fishing trips are the feature experience.
On the island of Orango it's possible to see freshwater hippos. It has the largest population of marine hippos and there are boat trips available to see them up close. On some islands there are even turtle nesting grounds. João Vieira-Poilão Islands National Park has the best spots for seeing turtles. You're able to see rare green turtles, hawksbill, leatherback, and olive ridley turtles.
What Should I Take to Guinea-Bissau?
If you're going on a trip to Guinea-Bissau, make sure to pack light and breathable clothes, such as cotton t-shirts, shorts, sundresses, and lightweight trousers. Bring comfortable walking shoes for the unpaved streets, sandals or flip-flops for the beach, and a light jacket or sweater for cooler evenings.
Protect yourself from the strong African sun with sunscreen, sunglasses, and a hat. Bring insect repellent, prescription medications, travel documents, and cash in the local currency. Guinea-Bissau uses European-style electrical outlets, so bring a universal adapter if needed.
Don't forget to pack a camera to capture the amazing scenery and wildlife, and a reusable water bottle to stay hydrated. It's useful to bring a language guide or phrasebook with English or French translations, since Portuguese is the official language.
U.S. Embassy in Guinea-Bissau
There is no physical U.S. Embassy in Guinea-Bissau. If you need help you can contact the U.S. Embassy in Dakar since it has jurisdiction over Guinea-Bissau. All U.S. citizens traveling or residing in Guinea-Bissau should to enroll online.
U.S. Embassy Dakar
Route des Almadies
Dakar, Senegal
Telephone: +(221) 33-879-4000
Emergency After-Hours Telephone: +(221) 33-879-4444
Email: DakarACS@state.gov
If you are planning to travel to Guinea-Bissau or another country, it is a good idea to check with the U.S. embassy to see what services they offer. They can help make your trip safer and more enjoyable.
Stay safe abroad with Passport Health. Call or book online now and start traveling safely today!
Customer Reviews
Passport Health – Travel Vaccines for Guinea-Bissau