Click on this
link
to apply today!
Or call 844-358-4357
Thank you for your interest in working for Passport Health! Passport Health is the largest and leading provider of travel vaccinations and immunization services in North America with 250+ clinic locations staffed by rigorously trained medical personnel.
For the past two decades, Passport Health has also been one of the largest onsite flu vaccination providers in North America offering full onsite services to Fortune 500 companies, US government contractors, as well as numerous small and medium sized businesses. We deliver high-value programs with comprehensive event management, reliable service, and excellent results.
We are currently hiring for the following positions: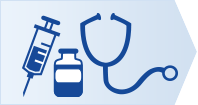 Onsite flu clinic nurses:
Nationwide in the United States


We are seeking RNs and LPNs who:
Hold a valid, unencumbered nursing license
Possess current CPR certification
Complete a Passport Health flu clinic educational module
Wear clean, blue scrubs to all onsite flu clinic events
Present a neat, professional appearance
Demonstrate a commitment to customer service and first class medical care
Qualified applicants will be contacted by a member of the Passport Health recruiting team.
Would you like to be part of Passport Health's
first class medical team?
Please click on this
link
to complete our application process.