Passports and Visas service is temporarily suspended
Due to COVID-19 and the health of our employees, we will not be accepting new applicants at this time.
Why Would a Passport Get Denied or Delayed?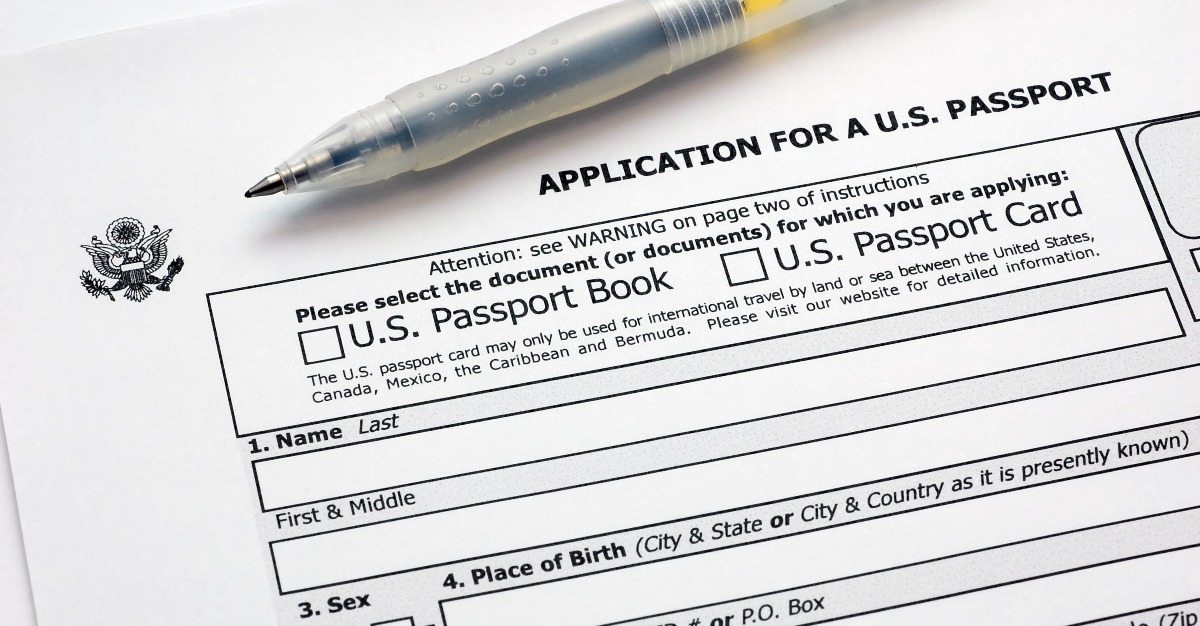 A United States citizen who's used to traveling the world is likely familiar with the country's passport. That also means they've seen the many steps to get that passport.
Before applying, travelers need to know the rules for that travel document and fill out the necessary information for a passport. From there, the approval process can take up to six weeks. If all the rules in place by the Department of State were followed, then it's not a difficult process.
But, there is a sometimes a hiccup in the passport process. It can be a simple mistake or overlooked detail, but some error could keep you from a passport.
By knowing the most common reasons for passport denials, you can help avoid any potential problems while applying for it.
Missing Information
One of the main things that can get your passport denied is leaving out information when you fill out application forms.
You need to fill out a Form DS-11 and show proof of citizenship with valid forms of identification as part of your application. If you don't have one of the accepted forms of ID then you should contact the U.S. Department of State. They can help with the alternatives that act as proof of citizenship.
Getting all that information right the first time can be a real time-saver. If you're missing any kind of information, then your passport application will get rejected and you'll need to start the process from scratch.
Failure to Pay
After turning in all the right information and paperwork, it would be awful to be denied because of a missed payment. Worse, you could even submit the wrong amount or pay the total incorrectly.
If you're writing a check or money order, make sure it's made out properly and for the right amount. Remember that there's a processing fee and could be extra fees. Those could be for faster service or research into your records. Make sure to double check and get those added fees.
If you're paying with check be sure to sign it legibly so it doesn't get delayed in the process.
If you're paying by credit or debit card bring a driver's license if they ask to see it.
Paying with cash? Some places will only take the exact amount, so be sure to remember what fees you might need to pay and come prepared.
Picture Blunders
While applying for a passport, you'll also need to include a photo of yourself on the document. Unfortunately, that picture needs to follow some strict guidelines.
Typically, if you go to a convenience store or local post office, you can get your passport picture taken and there won't be any issues with the background.
According to Conde Nast Traveler, incorrect passport photos are the most frequent issues with delayed passports. Some of the most common ways a passport photo can get your application denied is if your eyes are shut, you're wearing headphones, or are wearing non prescription glasses.
If your photos don't follow the guidelines set forth by the U.S. Department of State then your passport application could get denied.
Legal Reasons
Most importantly, there are several legal reasons a passport application could get denied.
If you owe money on child support, you're ineligible for a passport, even if you fill everything out correctly. All money has to be paid through the appropriate state agency before you can submit the application.
Another financial aspect comes with a defaulted loans. If you've failed to make payments on a loan from the Department of State you would need to pay it off before sending in your application.
Certain court orders, being convicted of a felony, or if you're wanted on an arrest warrant, can also result in a passport denial. A convicted felon you would also need to check with their parole office before applying for a passport.
If any of these apply to you then check with the U.S. Department of State before filling out all the forms. Once again, it would waste quite a bit of time to fill out all the forms correctly, only to find out you're ineligible.
As you can see there are many reasons why the U.S. Department of State can deny your application or passport renewal.
Be sure to follow all the guidelines the U.S. Department has set in place and these should be avoidable. Otherwise, you may have to postpone or cancel that foreign trip.
Still running into some issues with your passport application? Passport Health can help! Give us a call at or check out any of our other passport and visa services.
Written for Passport Health by Brianna Malotke. Brianna is a freelance writer and costume designer located in Illinois. She's an avid coffee drinker and enjoys researching new topics for writing.