Five Items to Help Stay Flu Free at the Office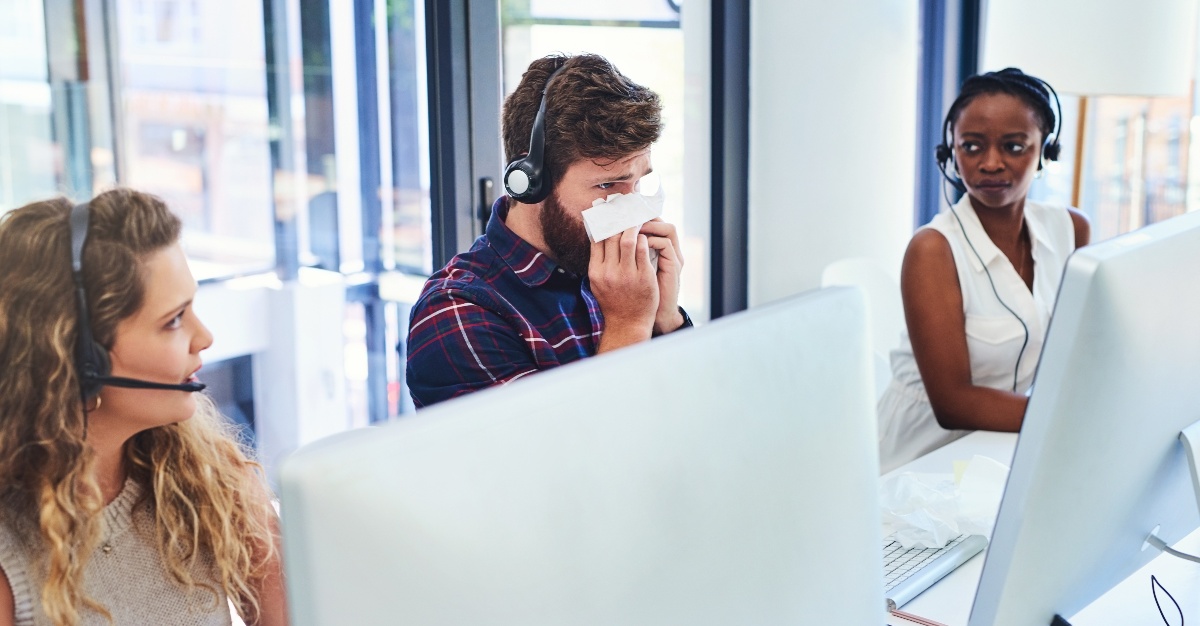 Every year influenza infection causes approximately 200,000 hospitalizations and 35,000 deaths. Even if a patient's infection does not develop dangerously, standard symptoms include fever, chills, fatigue, muscle aches and cough, making the respiratory illness one to avoid.
But, as people around you start coming down with the virus, staying flu free can be a challenge.
Luckily, there are many steps you can take to protect yourself from the infection. That's why we have tips on five items to help you fight getting influenza at the office.
The Flu Vaccine
The best form of protection against infection from influenza is the flu shot. Health organizations such as the CDC and the WHO recommend annual flu vaccinations for everyone over the age of six months.
Each year the vaccine is updated to try and target that season's flu strains. Because the virus mutates constantly, this task can prove challenging. In some cases the guess will not be correct, but getting vaccinated means any infection you may get should be less intense.
Research estimates that vaccinations prevented roughly 5.1 million cases of illness during the 2015-2016 flu season. Roughly 2.5 million flu-related medical visits and 71,000 hospitalizations were also avoided with the flu shot.
Passport Health offers a variety of flu vaccinations, along with other services to fight the virus. Onsite flu clinics can greatly reduce the risk of an outbreak in the office. Flu vouchers are also available, allowing for employees to get the vaccine on their own time.
If you'd like to learn more about the ingredients in this year's vaccine, read our analysis.
Hand Sanitizer
Although using soap and water is the most effective way to get rid of germs, hand sanitizer is a viable alternative if soap and water are not available.
And, As Mayo Clinic infectious disease physician and researcher Dr. Pritish K. Tosh points out, hand sanitizer is also an impressive convenience. He states: "Even if the efficacy may be lower, its overall ability to prevent infection may be greater because it's easier to do more often."
Just make sure to use hand sanitizers with at least 60% alcohol according to CDC advice. These sanitizers are strong enough to help you avoid getting sick. They'll also help prevent you from spreading germs to others who aren't infected.
Wondering about hand sanitizer's power against the flu?
A recent Japanese study has been making headlines after the research team discovered it could take approximately four minutes for sanitizer to eliminate flu-infected wet mucus from the hands. But, it took a little under eight seconds for the same sanitizer to deactivate dried flu mucus.
This shows the cleanser can still be a valuable tool to prevent the spread of the virus.
Tea
Coffee may be the caffeine of choice in offices, but it doesn't do much for fending off viruses. Certain teas though, they can do much better at keeping your immune system ready to fight off the flu and other illnesses.
Small studies have shown that components of drinks such as turmeric tea and black tea appear to boost the body's defenses. In some cases, the immune system can improve up to five times as much as before the tea drinking experiments.
What is the connection between these teas and the immune system?
The L-theanine substance in black tea primes the response of our gamma-delta T cells. T cells are described as "the first line of defense of many types of bacteria, viral, fungal and parasitic infections" by Harvard Medical School and Brigham and Women's Hospital researcher Dr. Jack F. Bukowski. Turmeric component curcumin is famous for anti-inflammatory effects and can also activate T cells.
Personal Drinking Containers
If you prefer to water to tea, it might be better to forego the drinking fountain in favor of a personal container. While drinking fountain water itself isn't typically harmful, bacteria on fountains can be excessive.
In an NSF International study of two Michigan elementary schools, classroom water fountain spigots contained 2.7 million units of bacteria per square inch. The National Association of School Nurses did further research into the flu's spread. They found the influenza virus on up to 50% of commonly used surfaces such as water fountain toggles.
If you do bring your own personal bottle or cup, remember that there are environmental and health benefits to using reusable drinking containers specifically.
It takes more than 1.5 million barrels of oil to create the plastic water bottles Americans use in one year. Only a quarter of those bottles get recycled.
But, health risks can also occur if you reuse the bottles without washing them. Bacteria may grow and minor chemical leaching could occur.
Tissues
Particles from a sneeze can travel as far as 26 feet and stay in the air for up to 10 minutes. Air conditioning circulation can also keep germs in the air. Since influenza spreads through these particles, catching your sneeze in a tissue helps keep everyone safe.
To protect yourself from influenza, get the flu shot today at a Passport Health location near you. Call us at and speak to a travel health nurse, or fill out a contact form for more information.
Will you be using these items to help prevent flu at the office? Were you surprised by anything on this list? Let us know via Facebook and Twitter.
Written for Passport Health by Katherine Meikle. Katherine is a research writer and proud first-generation British-American living in Florida, where she was born and raised. She has a passion for travel and a love of writing, which go hand-in-hand.