How Can a Walking Meeting Improve Office Productivity?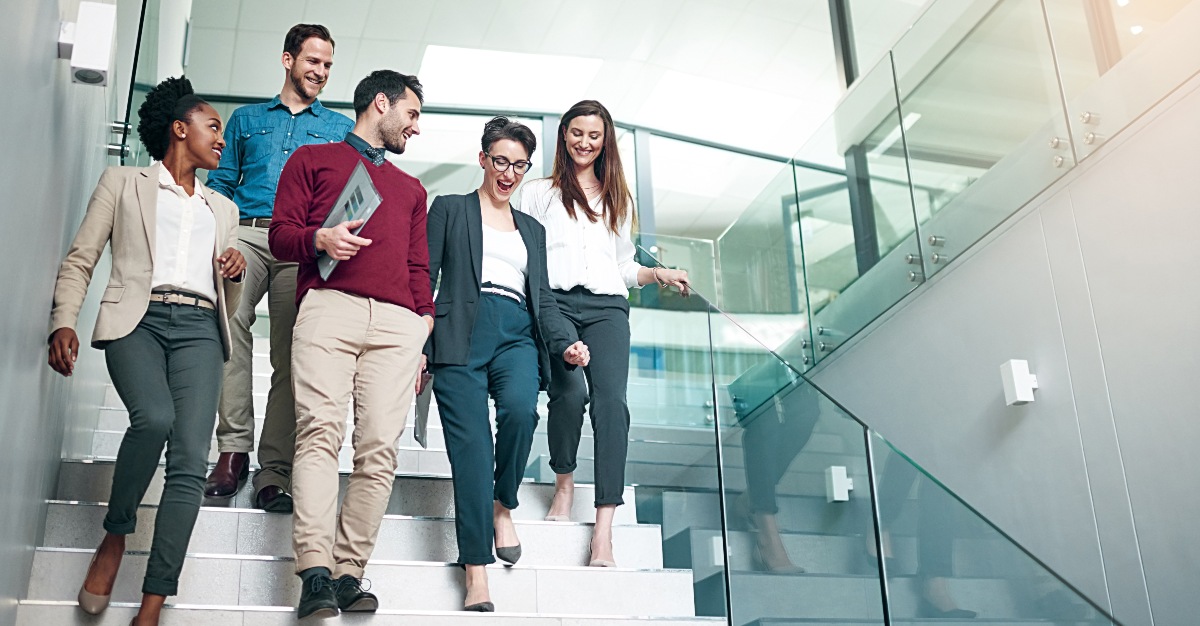 Employers have become more health conscious for their employees and are making strides to install and offer healthy options at the office.
For example, some companies offer free gym memberships to go along with wellness competitions. Others offer healthy food choices when they have luncheons or holiday celebrations.
Another trend that's becoming more popular is walking meetings. Business executives recognize the dangers of a sedentary life while working in an office. To combat the problem, they encourage a more active environment and have begun holding walking meetings within their organizations.
What are walking meetings?
They are just that; meeting with your colleagues while going for a walk. It is a way for you to incorporate exercise into your company as you conduct business and address issues. Walking meetings can be indoors, like at a mall, or gym auditorium, but the point is that is held outside of the boardroom or office. There are many benefits to hosting walking meetings, but you do want to consider the fitness of your overall group.
There are several ways to conduct a walking meeting too. Some ideas are below:
One-on-One – This is the easiest and most obvious way to talk with a coworker. It's easy to give each other your undivided attention and speak in a relaxed tone.
Small Group – A small group should be no more than five people. It may be harder for people to all walk side-by-side because of narrow sidewalks, but a group of this size is still manageable and productive. Everyone can listen to each other and interact without losing track of the conversation.
Medium Sized Group – This group should have between 6 and 12 people, maybe 15 maximum. It's harder to carry on one conversation in groups this size. The leader may need to "regroup" every few minutes to see what ideas are discussed and to ensure that everyone is on the same pace. Stopping now and then will allow time for people to catch up while reorganizing the meeting.
There are many benefits to walking meetings, both physical and mental.
For example, walking meetings break the hierarchy in the office because of the absence of a physical desk. Usually, when a boss has a meeting with someone or a few people for that matter, they sit across from his desk. This creates a physical and mental impression that the manager outranks employees. But, on walking meetings, everyone is on equal footing, pun intended.
This creates a more casual environment where bosses and staff members can have a meaningful conversation that is open and constructive.
Studies also confirm that 20-30 minutes of physical activity increase creativity by almost 60 percent. Results also show improvements in productivity compared to those who didn't take part in the meetings. The theory behind this is that individuals do well in a relaxed setting while they think on their feet.
Research also suggests that the body releases the hormone serotonin while taking a walk. A walking meetings is also an excellent way for people to "unplug" from the daily bombardment of technology and interact with each other. An employer may notice better teamwork and collaborative efforts later.
Doctors have always said that walking is one of the best ways to exercise. It's easy on the joints but gets the heart rate up and increases circulation and oxygen to the body. So, keep taking care of your employees and encourage them to take full participation in the walking meetings your company offers.
Looking for other ways to improve health around your office? Passport Health can help! Call to book an appointment at a nearby travel clinic or fill out a contact form now.
Written for Passport Health by Sabrina Cortes. Sabrina is a freelance writer with a Bachelor's Degree from Georgian Court University. She currently lives in the Smokey Mountains of western North Carolina.